A birthday experience was complete with a visit to Crayola Experience with our oldest daughter. What great memories we made and hopefully you can create the same memories.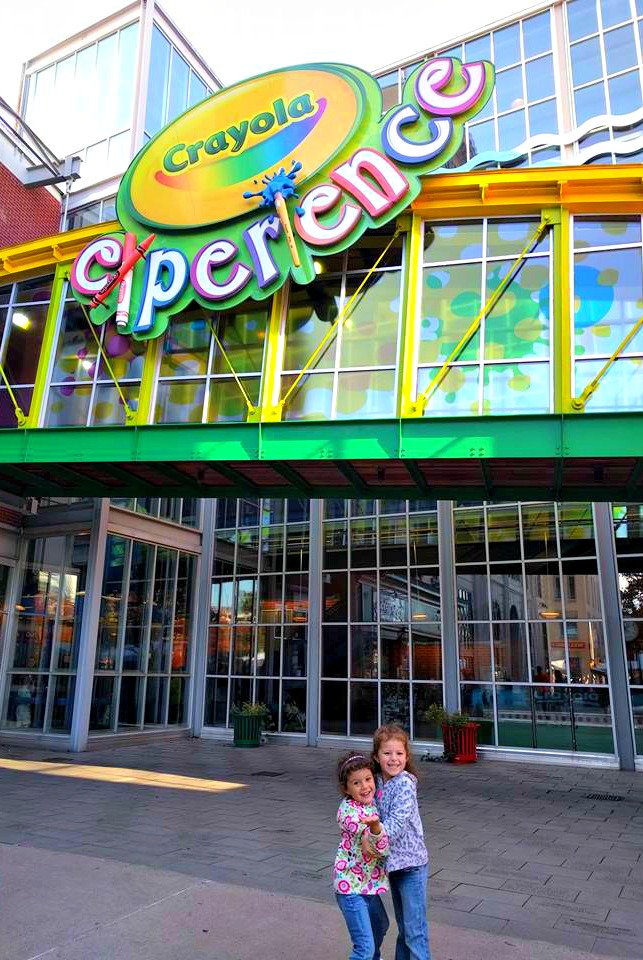 Time flies
My oldest daughter turned 5 this past and I simply cannot believe how quickly time has gone by. It was just yesterday that we moved into our townhouse in the Philly suburbs. I was 6 months pregnant with my middle daughter and my oldest was just around 10 months old. It actually makes me tear up because I miss that baby stage now that I see my youngest turning into a real toddler.
This year we decided not to do a birthday party but decided to give our daughter an experience. While she expected the party, we did not tell her our plans until the week of her birthday. She was not immensely disappointed but instead when she heard that her birthday was going to be spread among a few days, she was elated. Who would not be?
Festivities at Home
Since our daughter's birthday fell in the middle of the week, we opened her gifts that day and I made her a nice full breakfast. She pretty much had a great day because she had her birthday gifts opened and she was the line leader at her school which also meant she was in charge of bringing a snack. I cam in to read her favorite book to the class instead of having sweets since there are so many allergies in her class. It was great!
On Friday I prepared a special cake that she had requested made with mangoes. Even though it was out of season, I was able to work around this using frozen mango and mango products from the local Indian market. She simply loved the cake so that made the evening great.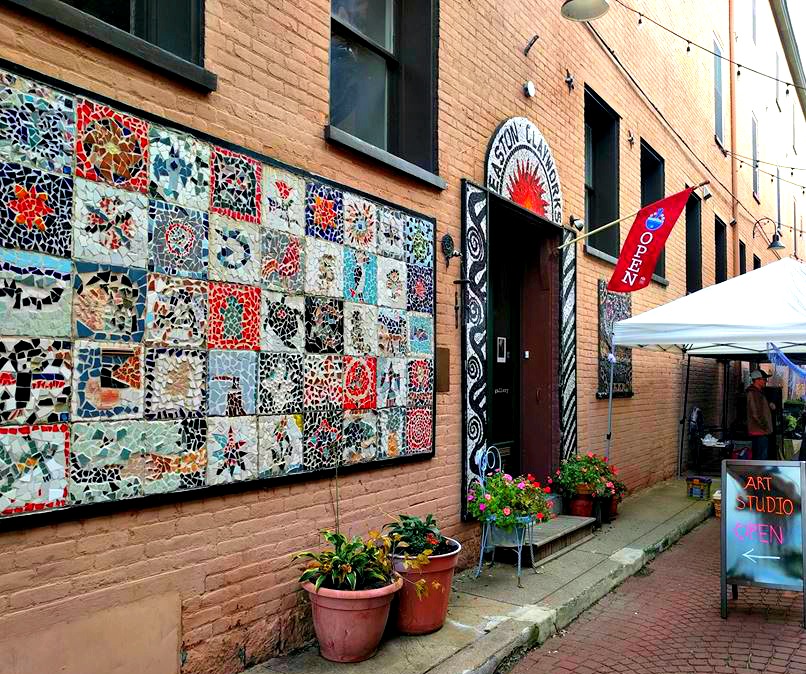 Our daughter totally was excited to visit Crayola Experience for the first time with only mommy and her middle sister. My husband stayed home with our 15-month old so that we could have a smoother time. I am glad we did because it was a packed day! After driving an hour and a half to Easton, Pa, we arrived to horrific traffic. Why was there horrible traffic you may ask?
In addition to our planned activity there was also a BACON FEST happening in town! It took about 15 to 20 minutes to get into the town and then another 10 minutes to find parking. I think we only found parking because some people leaving the market told us that we would do better using metered parking, so we waited for them to get out. PRIME location parking. We only had a 5 minute walk to Crayola Experience and we skipped on the crazy traffic trying to get to the parking garage.

Crayola Experience – Fourth floor
I had purchased our tickets beforehand so that we could get through the line. We each received plastic baggies with tokens and a map of what each floor offered. I decided we should start on the top floor so that we could work our way down to the bottom floor.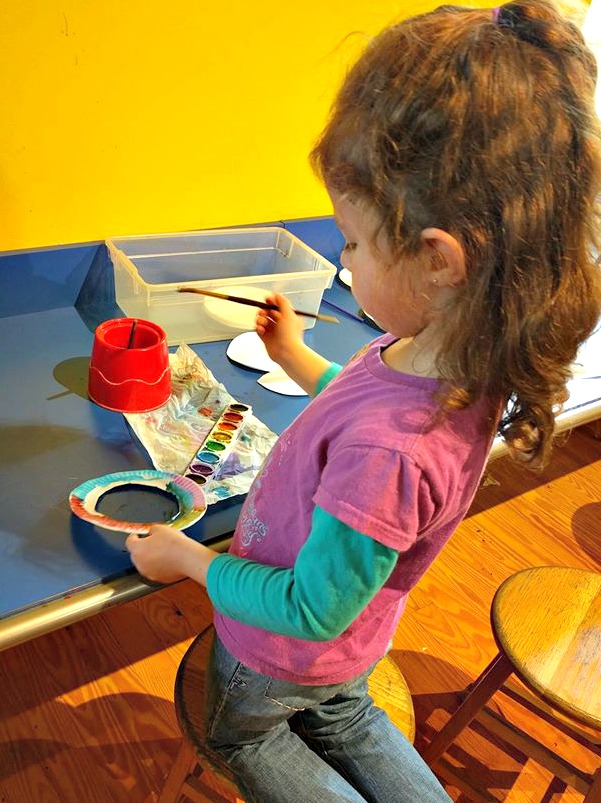 We arrived at noon even though my goal time was to arrive at 11am but it was fine. The top floor consisted of molding and projects with melted crayons. Before we left home, I made sure the girls did not have on nice clothes for this experience but somehow we got stuck with nice fleece jackets on. Whoops. I was trying not to freak out on unwanted melted crayon on anything.
I breathed in and relaxed. It was my daughter's birthday and it was her day. I looked over and she was having a great time already. There were not any signs around letting us know what to do in the stations laid out. I then noticed that there were 3 staff members working a WHOLE floor for three stations. For a busy Saturday, I think it required more personnel. We finally figured out the melted wax station where kids made their own creations using different melted crayon liquid.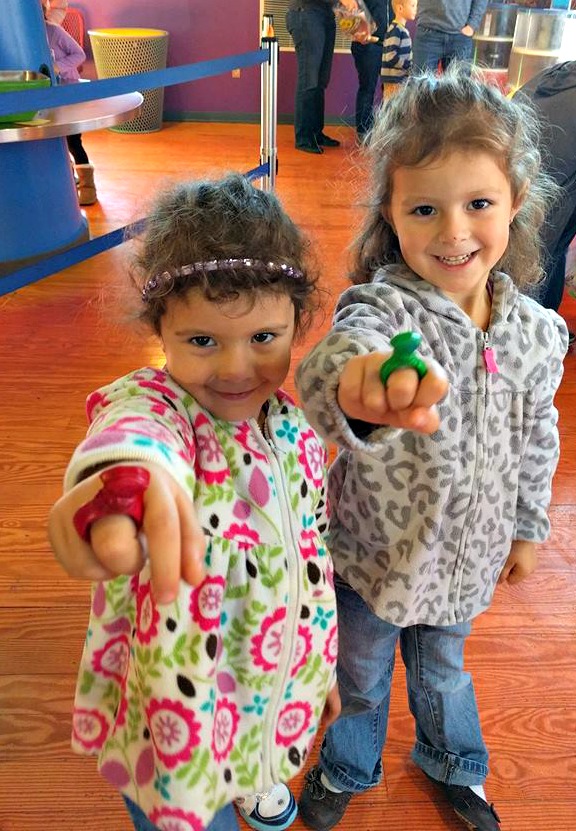 The girls then melted crayon and chose to make a mold of a ring. It was cool to see the process and then end up with a crayon ring. We all decided to switch when we each received our own mold.

Crayola Experience – Third Floor
This was probably the best floor for the girls. There was a large indoor play area in the middle of the room surrounded with multiple stations with different crafts. After 30 minutes of playing I coerced them to come out and join me in a craft. They each made a pretend magnifying glass that they made out of a paper plate. They used watercolors to decorate the ring and then dried it. They proceeded to tape and attach string to end up with a cool craft!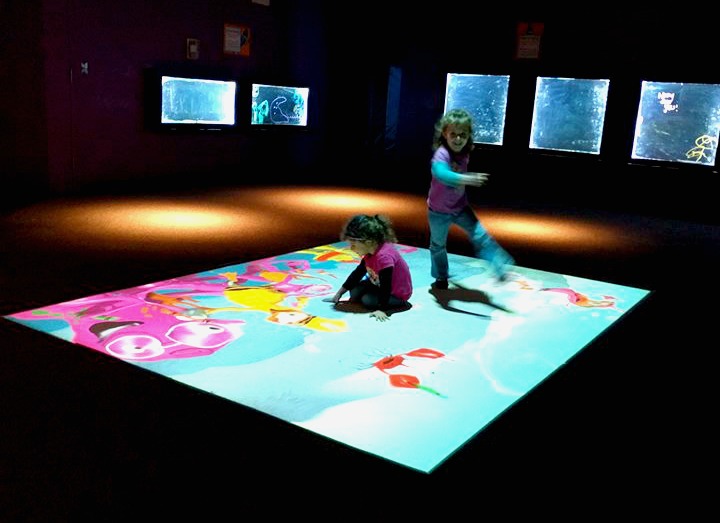 Birthday girl wanted to go back to the playground so I let her play for 10 minutes before I decided I really could not see her. There were a lot of people and I felt like she would feel lost trying to find me if she grew tired. We then chose to try Doodle in the Dark. They loved they glow in the dark aspects especially with the coloring. We then moved on the Create your Own Puzzle station. They LOVED this area. The great thing is that parents get to interact and participate. The girls each colored and created their own pictures and then they placed the paper in a cutting mill where it created a 6-piece or 12-piece puzzle. It was a smash.
Lunch
Since we arrived right at lunch time, I decided to feed them a snack to hold them over. Right at 2:15pm I decided to call a break, for my sake as well, and have lunch. I thought choosing a food truck outside the premises at the Bacon Fest would have been easy but it was not. The whole world seemed to be at the festival and it proved to be claustrophobic and not a great place for kids. We ended overspending at some indoor market which made me wish I had just packed our lunches. I later saw there was a corner cafe offering discounts for those at the Crayola Experience.
I think, if the Bacon Fest had not been in town, we would have had better luck eating somewhere fun but we will only know next time. After lunch, I added more money to the parking meter for another 3 hours and headed back to our amusement.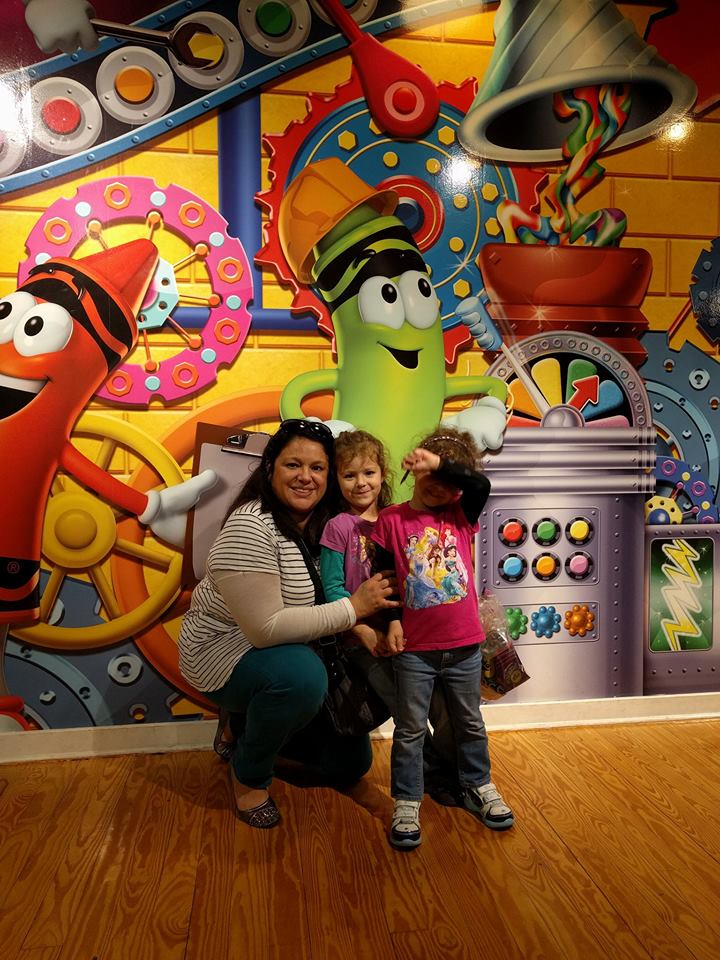 Crayola Experience – Second Floor
The second floor was lots of fun, with the girls making their own labels and choosing their crayon colors. They named their crayons and even thought of their little sister at home. It was so cute! The tokens we had in our bag were used for this room but no one explained where else these tokens COULD be used.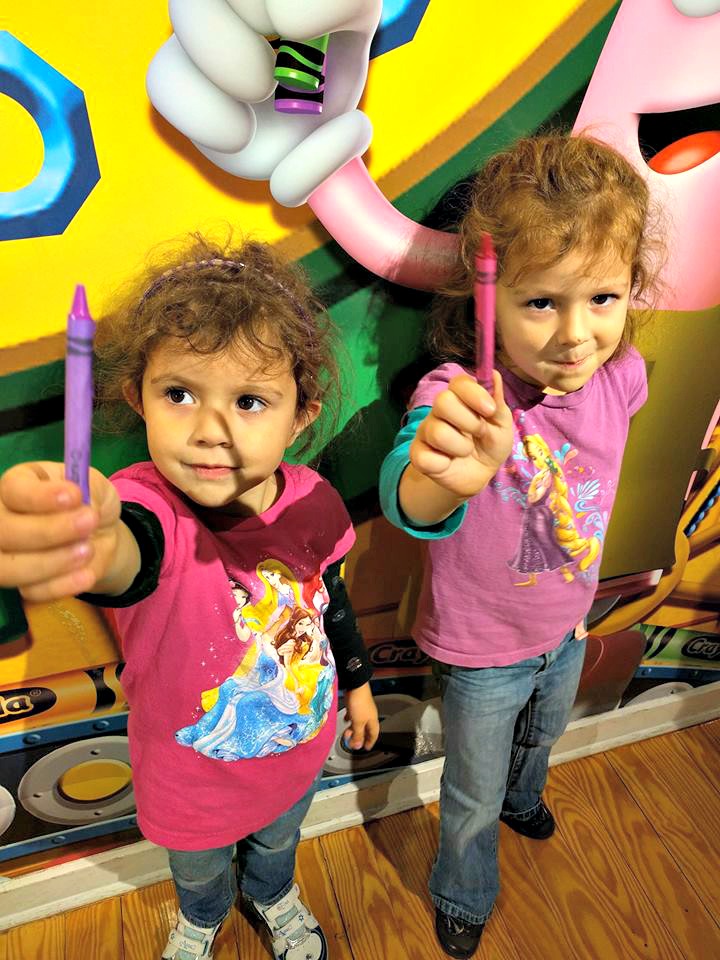 After that station we got to a creative computer section where the girls used screens to color or design their photos. After they finished they could email them to me or send it on big screen for them to find. It was LOTS of fun and the girls really loved using the screen to color. Since we do not use screens at home, places like this and the library to use computers to make their pictures.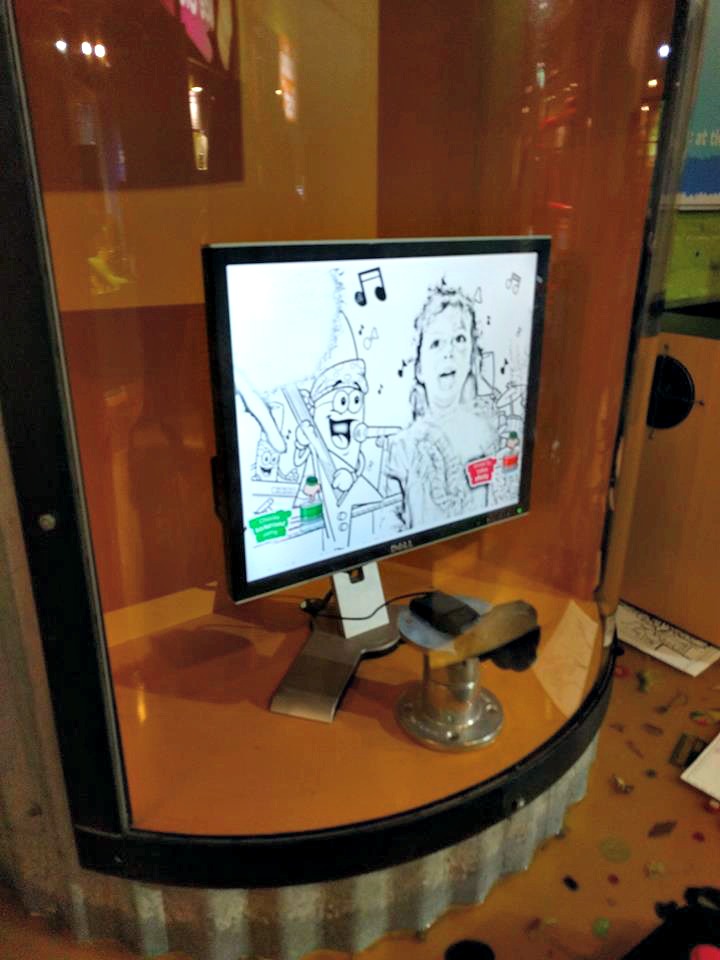 The rest of the floor required either more tokens or purchase of products to create projects but before we left we came across a giant crayon for coloring pages and another station where there was a photobooth that created coloring pages of themselves posing with different scenery. It was hilarious and the girls could not wait to come home to color our faces.

Birthday Experience
I lean heavily on experiences that spending too much money for memories that will not last. The birthday girl loved the day and everything we did. We left with so many crafts, laughs and memories. We were there for FOUR hours and we probably could have stayed another hour. Despite running through the girls' nap time, they still were energized, even though there were some tired legs.
Several things for you to think about when you go visit.
Give yourself enough time.
Use metered parking because it is SO much cheaper because it is $4 versus $12.
Pack lunch for the break and then go out for dinner after the visit because there are great restaurants in the area. 
Leave your littles at home. We left our 15-month old at home because as I predicted it would have been hard for her to enjoy the crafts or even to do something that would not be appropriate for her.
If you want to save on tickets, go online and save $4 on the ticket by buy online. This is good until 12/31/16. If you are a teacher you can also take your immediate family and save 50% on tickets on Saturdays. What a deal!
Hope you enjoy this post and that is helpful! We will definitely go back in the future to Crayola Experience and to Easton, Pa.
Related