When we start planning for small getaways with our family we always look for a place that is family friendly. Family friendly holiday stays are becoming more enjoyable each year so I am glad to know that after 5 years of living in Philadelphia suburbs that there is so much to see in the state itself. The Pocono Mountains are always a place that friends talk about especially by those who do not care much for the beach even during the summer season. This past weekend we had the pleasure of staying at The Inn at Pocono Manor. Read below how we enjoyed our stay.

Thanksgiving Surprise
When we found out that we were heading out-of-town the day after Thanksgiving, I was really debating cooking for Thanksgiving because it did not sound restful. Since our families live too far away (Texas!) to see regularly at Thanksgiving, my husband and I extended an invitation to a family in the area whose family is even farther away…Washington! It ended being a nice evening of delicious food coupled with energetic toddlers and a teething baby. 
The evening ended with us telling our girls that they needed to be ready for our adventure close to 2 hours away. We had told them about going to a hotel up in the mountains a few days prior and they were SO excited. Our girls LOVE staying overnight at hotels so when they find out we are going anywhere, they cannot stop talking about it.
Free Shipping on Orders Over $25 at Melissa And Doug. Use Code FS25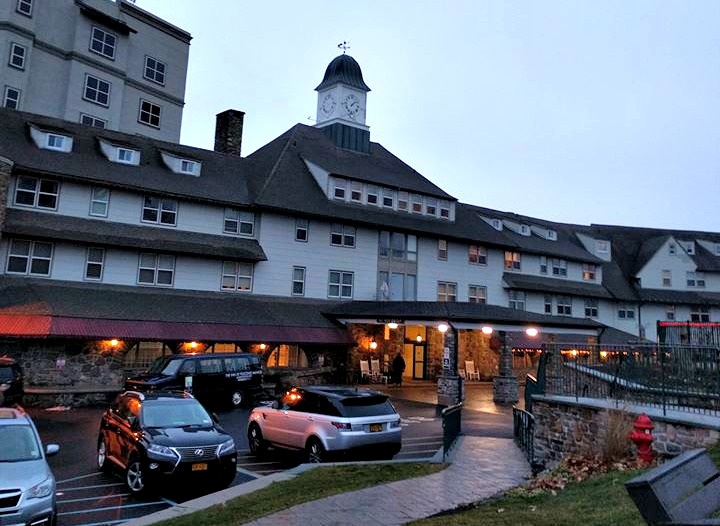 The Inn at Pocono Manor
After a two-hour drive with three toddlers in our back seat, we were happy to see a lovely place nestled in the mountains. The invitation to stay was attractive as we drove into the property. We could not wait to discover what waited for us especially since we arrived 2 hours early before check-in time. We were allowed to pre-check and enjoy the grounds while our room process was completed. The Inn at Pocono Manor is definitely beautifully kept especially since it was opened in 1902. Every space was already decorated with Christmas decorations and ready for anyone to pose or take pictures for the holidays.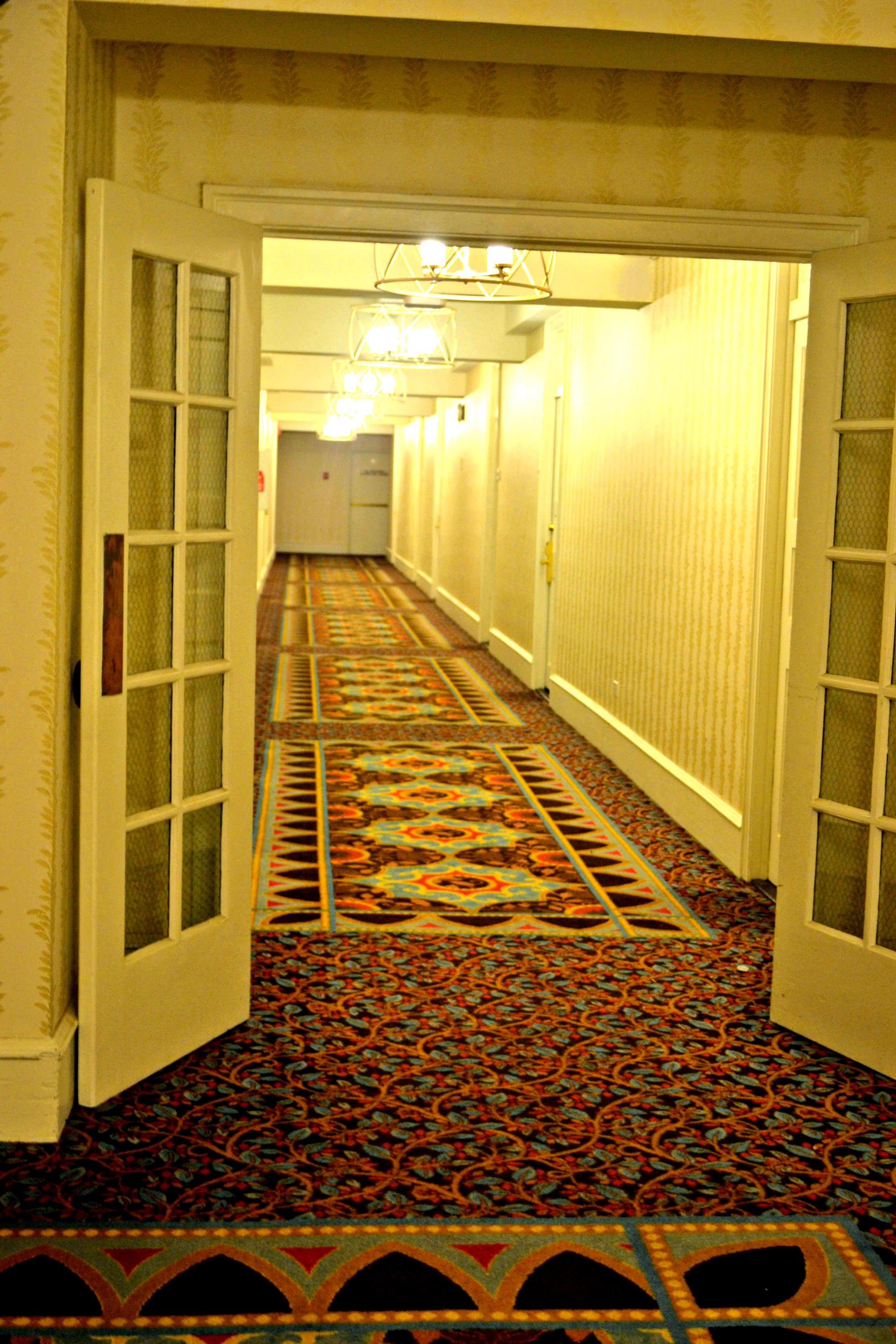 Despite the amount of people who were checking in that afternoon, we meandered through each floor from the lobby to the lower level where the game room and home theater were located. The home theater was nice and spacious and was paired with the game room. There was a sitting area with nice leather chairs and a non-active bar but it was a nice space for card-playing or lounging.

Amenities
Our room was definitely spacious for a two-bed non-suite room. We had two double beds with a pack 'n play included and a nice large bathroom. Although our view was not of the mountains, we could see the front of the resort along with the fire pit. We all had two great nights of comfortable sleep even with three toddler girls. After having no naps during the day, our girls were tired and ready to rest. 
While the resort is an 114-year old resort, take in mind that the structure is built differently. Our room had a connecting door and even though it was a busy weekend, we were able to hear lots of movement from other families moving to and fro especially late at night. If you are a light sleeper, this might pose a problem, but nothing a glass of wine cannot take of.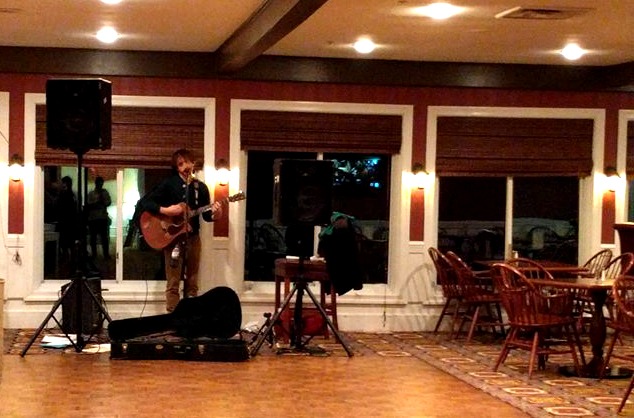 There was a pool available to us but we did not take advantage of that amenity. There were two active restaurants on property one called The Exchange that offers more upscale menu options and setting and a bar restaurant that offers music on the weekend evenings and a standard menu ranging from sandwiches and pizza to simpler main course dishes. I was able to enjoy the music one evening with a delicious IPA.

Meals at the Inn
We dined at The Exchange on both evenings during our stay. We chose earlier times to dine because we have younger kids. We were given a nice big round table to spread out and ordered our meals. The Exchange is a restaurant that definitely paces itself so if you are going with kids, you either want to let them know you want the service to be faster because we arrived at 5:45pm one evening and left around 7:30pm.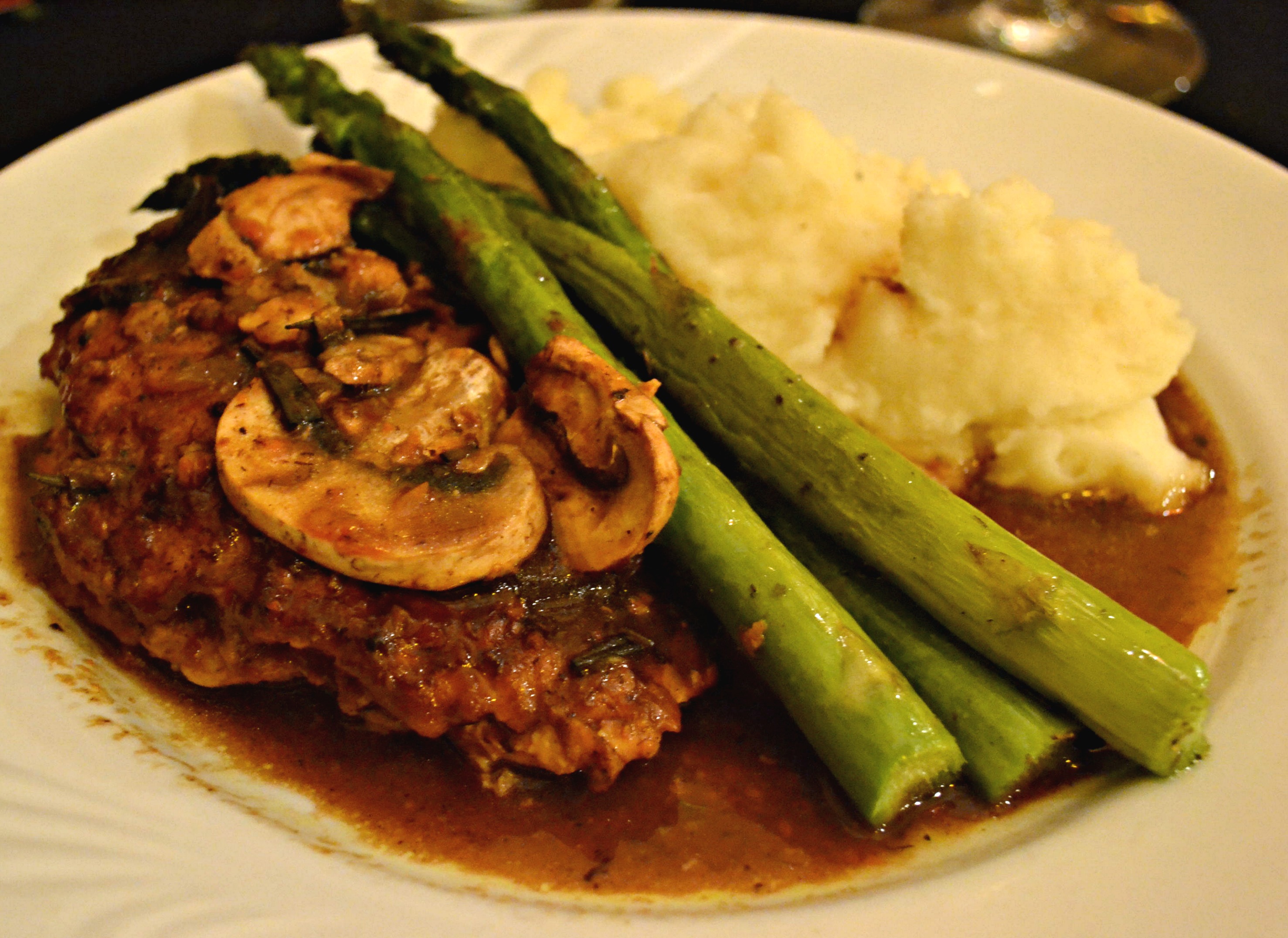 The menu was extensive offering appetizers, salads to start with main dishes including steak, lamb, fish, and chicken. Every evening the waiter would tell us the soup and vegetable of the day. Our first meal was not as enjoyable as the second evening but that might have been because we asked for our service to rushed a bit. The restaurant also offered a nice wine list to go with the meal.
Our service the next evening was definitely paced a lot better so that we could have our girls enjoy their dinner while we enjoyed our. The meals are pricier than the bar restaurant but the portions are generous ranging from seafood, meat and chicken options. On one evening we had the girls split a pasta dish but then by the second night they girls had fun children's meals with delicious crispy chicken fingers. I think our experience might have been better at the bar restaurant but here's to next time!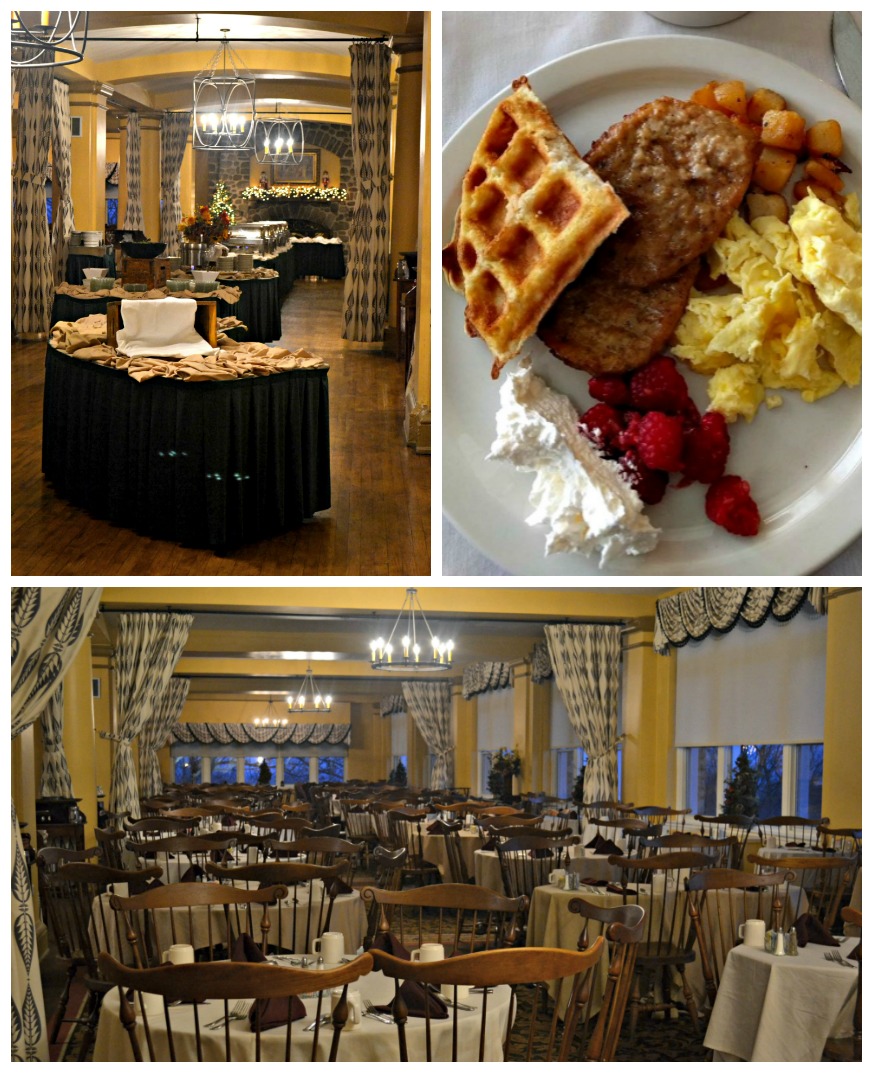 The breakfast was held in the Mountain View Room which was set up so nicely. It looked like a ballroom but it had tables everywhere and a center area with a buffet-style breakfast with an omelette station at the end. The views of the mountains were very nice as well! Our breakfast options were numerous and ideal for those people who like simple cereal and fruit for breakfast down to the heartier breakfast consisting of eggs, bacon, sausage and biscuits with gravy. We definitely had a filling breakfast because it allowed us to have energy for the activities planned for the day.

Family Friendly Holiday Stay and Activities
We definitely wanted to take advantage of everything available at the resort so when we found out there were two trails available from the inn, we decided to take the moderate trail with our girls. It was a perfect morning for a nice walk with our coats and boots ready for our adventure.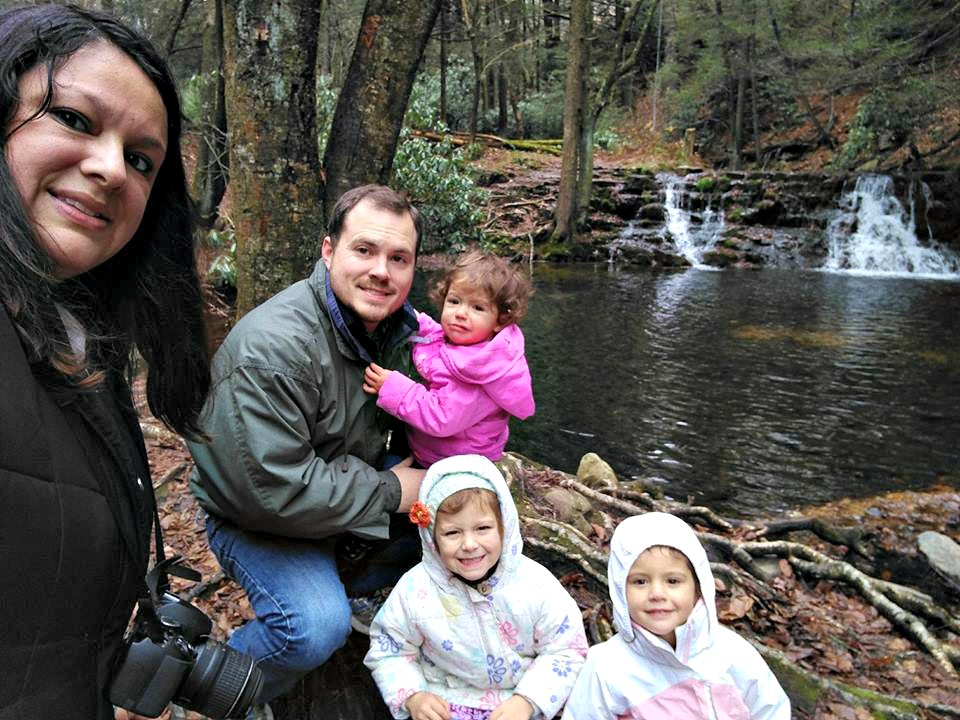 Both trails lead to the waterfalls so the moderate trail was super easy until we reached the decline toward the falls. During the fall and wet season it could be slippery but otherwise we survived as a family of five. The rain caught us on the way but halfway through I called the resort's shuttle service to pick us up. Two hours later we enjoyed our afternoon by the fire at the lobby with hot chocolate. What a great way to enjoy my two toddlers after an adventure in the woods.

Magical Fireside Christmas
One experience I knew my girls would love was the Magical Fireside Christmas. My girls love everything about the season so we were excited to visit one of the lodges that was decked out all the way. As we entered the lodge there was a fire lighted and a nicely decorated Christmas tree on our right. To our left was a train display and a sitting area to welcome Santa. In the middle area were tables set up for families to sit while kids could decorate Christmas cookies. There was a bar available for the adults to enjoy their beverages in addition to a hot cocoa bar for those not imbibing. Behind the fire was another area with Christmas movies playing with a life-size bear to hug.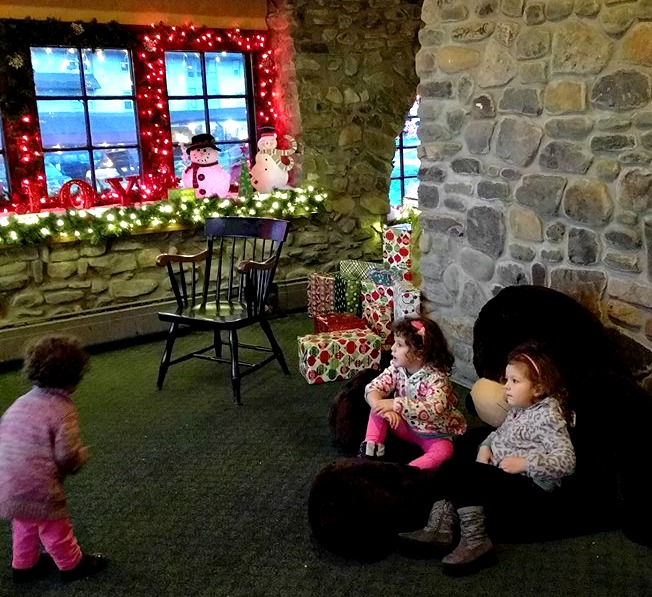 As we moved to the second floor, a huge gingerbread house was decorated with all kinds of candy. As we walked around the room there was a variety of crafting stations available for the kids. My girls had a great time making necklaces and crafts! They also had a chance to write a letter to Santa.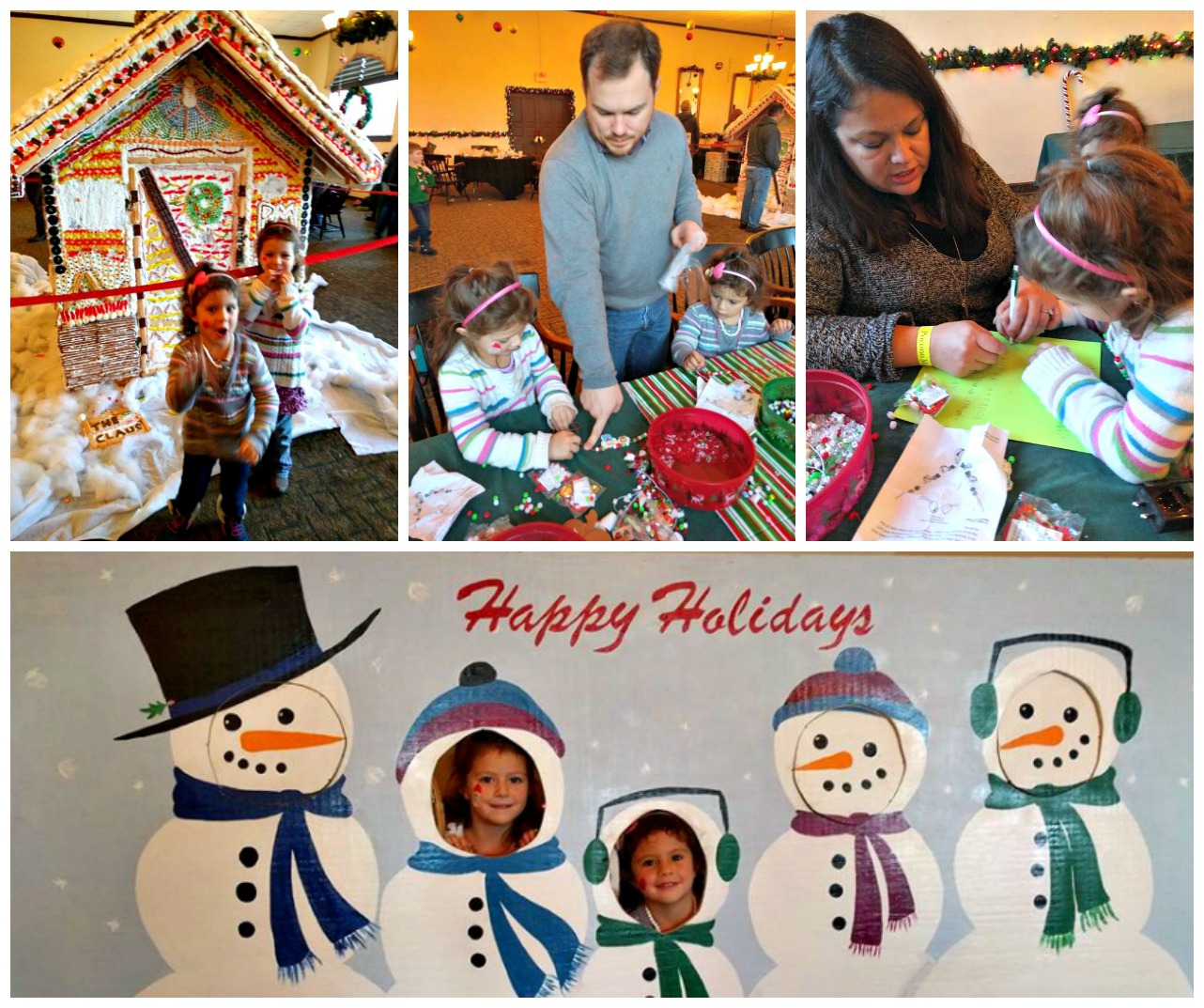 On both evenings we had a chance to schedule the resort's Elf Turndown Service complete with milk and cookies as well as a jolly holiday story read by one of Santa's helpers.The girls were SO excited especially since they got milk and cookies before going to bed. That certainly was a treat!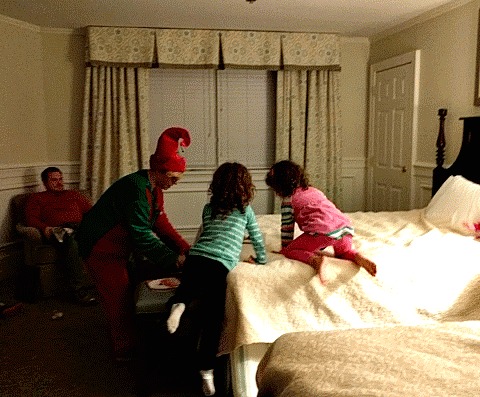 This experience is open to the public and is $10 per person to enjoy what I described above with the exception of the bar and hot cocoa bar station are additional as well as additional snacks available on the second floor. It is available until December 25th and is a great place for family photos and even for a nice getaway.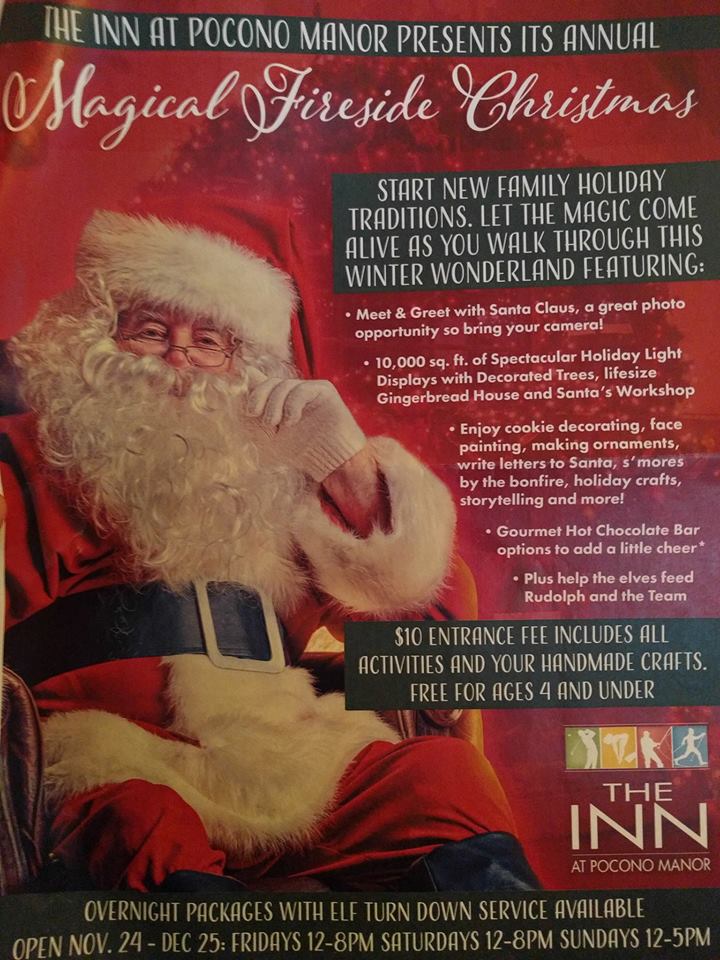 Family Getaway
If you have a chance to get away, consider visiting the Pocono Mountains by making a visit to this spacious, historical site. There is definitely more to offer with options for horseback riding, use of the fitness center and spa, and more. Check out the website for more options and plan your next quick getaway with your hubby or your family to this picturesque resort. The staff will take care of your every need when the time comes.  Check out their Facebook with a current giveaway.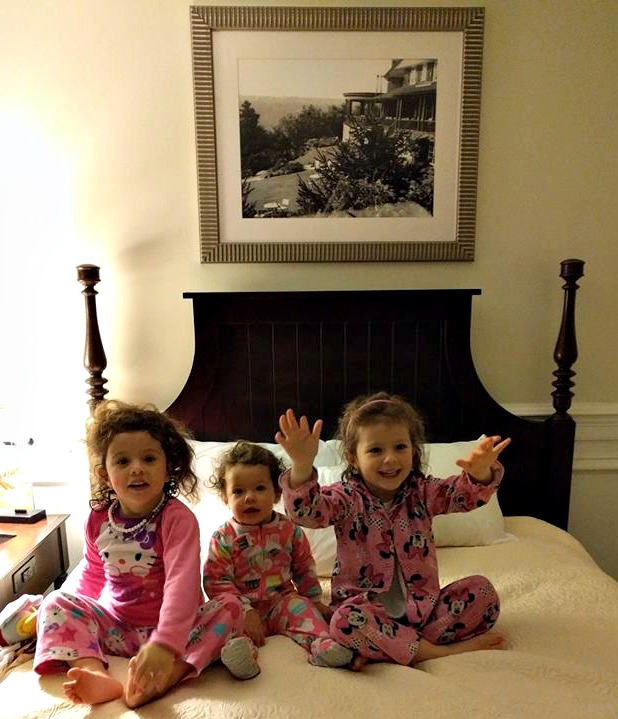 The Inn at Pocono Manor
One Manor Drive
Pocono Manor, PA, 18349 
Disclosure: Our family were guests of the Inn at Pocono Manor. We are thankful for their generosity for taking care of us during our stay.
Related