This past Friday, the older girls and I got a chance to check out the new LEGOLAND® Discovery Center at Plymouth Meeting Mall. Thanks to the Brownstein Group for hosting us.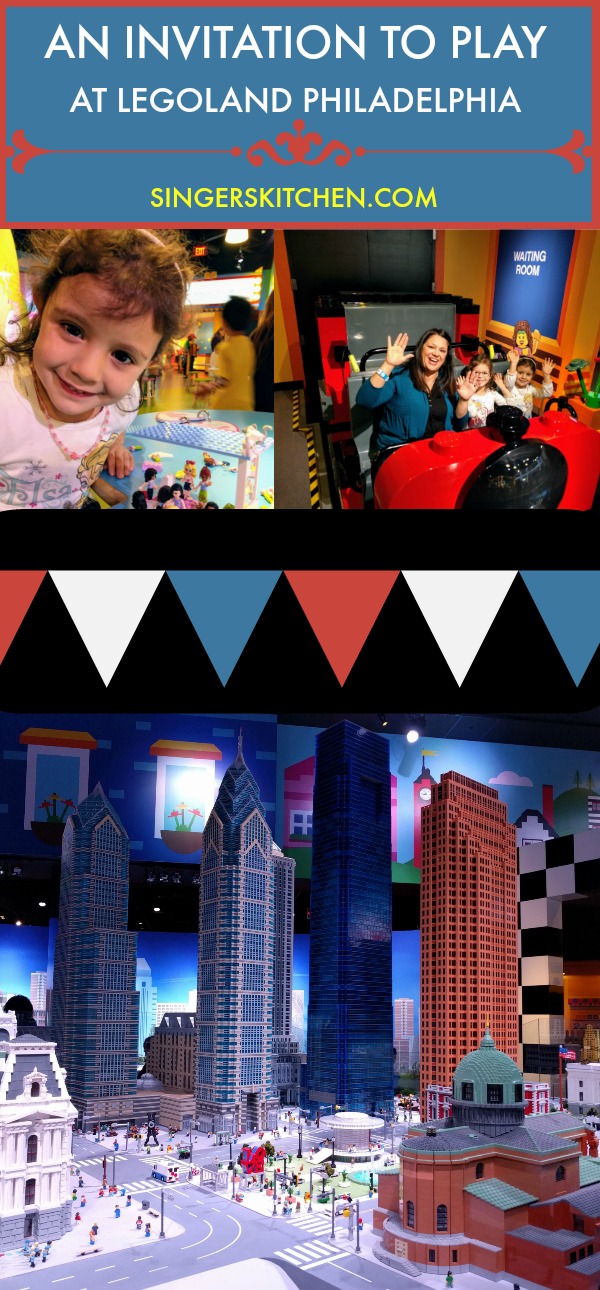 An Invitation to Play
My girls have recently become a lot more interested in LEGO® bricks in the last few months. They started very young with LEGO® Duplo sets and have been loving building princess castles and such. When I heard that there was a new LEGOLAND® opening nearby, I jumped at the opportunity. When we arrived, we noticed a whole new entrance by the Boscovs with a large yellow giraffe made entirely of LEGO®. Even though it was a rainy day, it was a perfect time to be indoors exploring.
When we arrived we took a little car ride with Imagination Express that brought us into the discovery zone. Once we arrived, we did not know where to start. There were stations around the vast space inviting the girls to play. My girls were immediately drawn to the sculptures and objects around the area built entirely of LEGO® bricks. They were so amazed at how life-size cars, sculptures and cities could be built just with LEGO® bricks. There were stations with an invitation to play and design. I loved the fact that there were prebuilt sculptures for kids to add to with their own ideas. Although we were not handed a map, we decided to go exploring. The girls started at the soft playground area that was pretty impressive.
A World of Discovery
It is places like these that I most enjoy seeing my girls being excited about learning and playing in creative ways. While there is always time to play, a time to use the imagination is imperative. The girls first checked out Pirate Adventure Island, which is a soft play area aboard a LEGO®-themed pirate ship. Since it was a media day, it turned out to be a little more crowded than expected since I learned there were some school LEGO® clubs invited the same day. My girls climbed and checked out the floors and were done in 10 minutes after a hoard of older kids flooded the area. We then decided to check out the NINJAGO Training Camp.
The training camp ended up being a laser maze that was ideal for any child 5 and older with different levels of expertise. I do not usually send in my kids to go and play. I am always there to learn and discover with them so when I found out that each child was to go in by themselves into a dark room, I was not so sure. My girls had never experienced laser maze but they were really wanting to know what it was all about, so the attendant agreed to let the girls go in by themselves at the beginner level. I waited at the exit and was able to check their ninja skills. Well, they were out within a minute. It seemed way simple for them but then they knew what to expect. We decided to skip the line to come and try another turn later.


Fun for all ages
We passed the DUPLO park and I immediately knew that my almost 2-year old would love that area. I decided to leave her home and scope the place for her for the next time. I believe she would love the place a lot! The girls went down the mini slide in the area a few times before being mesmerized by MINILAND®, an interactive city made from over a million bricks! It was really fun to see Philly made of LEGO® bricks.
We skipped over the LEGO® Racers and Build Challenge Circle to check out LEGO® Friends which consisted of 4 stations. One of those stations was to add on to a built area but the other stations allowed the kids to create on their own. My middle daughter requires a little more prompting but after showing her characters and how to set them up, the girls were at the station for more than 30 minutes. There was an option to attend a Creative Workshop, which gets kids to listen in on an expert for tips, but the girls were already so engrossed in their projects.
Dining and Watching
Before we headed to the 4D Cinema, we had a snack. We noticed there were two rooms set aside for those folks interested in hosting a birthday party. They were cozy room that looked like they could host around 20 kids and 10 adults. Next to that area was a coffee shop and café where they sell snacks and lunch. There were a good amount of tables inside the café as well as outside of it. No outside food will be permitted inside the facility except for those families who bring babies.
The girls very much enjoyed the 4D Cinema. It included special effects like water sprays, lights and more to add on to the experience of watching. The girls were very engaged as it was their first time experiencing any dimensional viewing. We noticed that there will be other options for shows starting in the summer but it was a nice break from meandering through the center.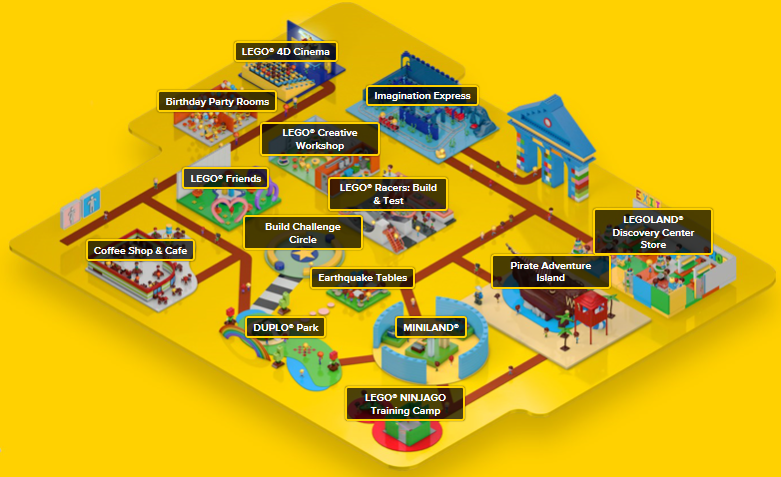 Summary
I really look forward bringing the girls back to LEGOLAND®. I am quite sure that it will be PACKED on the weekends but the last entrance is around 5pm and the center closes at 7:30pm so I say that the evenings might work best. The other issue I was foreseeing was the sanitizing process. With so many kids coming through, I wondered how the center would focus on cleaning after a full day. I hope to hear back and report soon!
My girls are already planning on their next visit with their younger sister. If you get a chance to visit OPENING day is April 6, 2017. There are special deals going on now for a limited time for annual passes. Five dollars ($5 off) off of $59. Normal admission is $24 at the door per person with kids under 2 being free. IF you buy online you also save $5 with a timed ticket.
Full Address:
LEGOLAND® Discovery Center Philadelphia
Plymouth Meeting Mall, Unit #1055
500 West Germantown Pike
Plymouth Meeting, PA 19462
Related