This Skinny Sweet Corn Vegetable Flatbread post was sponsored by Sunshine Sweet Corn as part of an Influencer Activation for Influence Central and all opinions expressed in my post are my own.

Where is Spring?
The weather teased us the last few weeks indicating marvelous with its sunshine.  I know that April brings showers but, the weather has been slightly cooler than expected. I guess we can be glad that there is no snow, am I right? The past few weeks have proven to be a little more on the challenging side since I severely sprained my ankle the first week of April. I know, I have failed to really update you, my readers, but if you follow on Instagram, I have been sharing those updates there.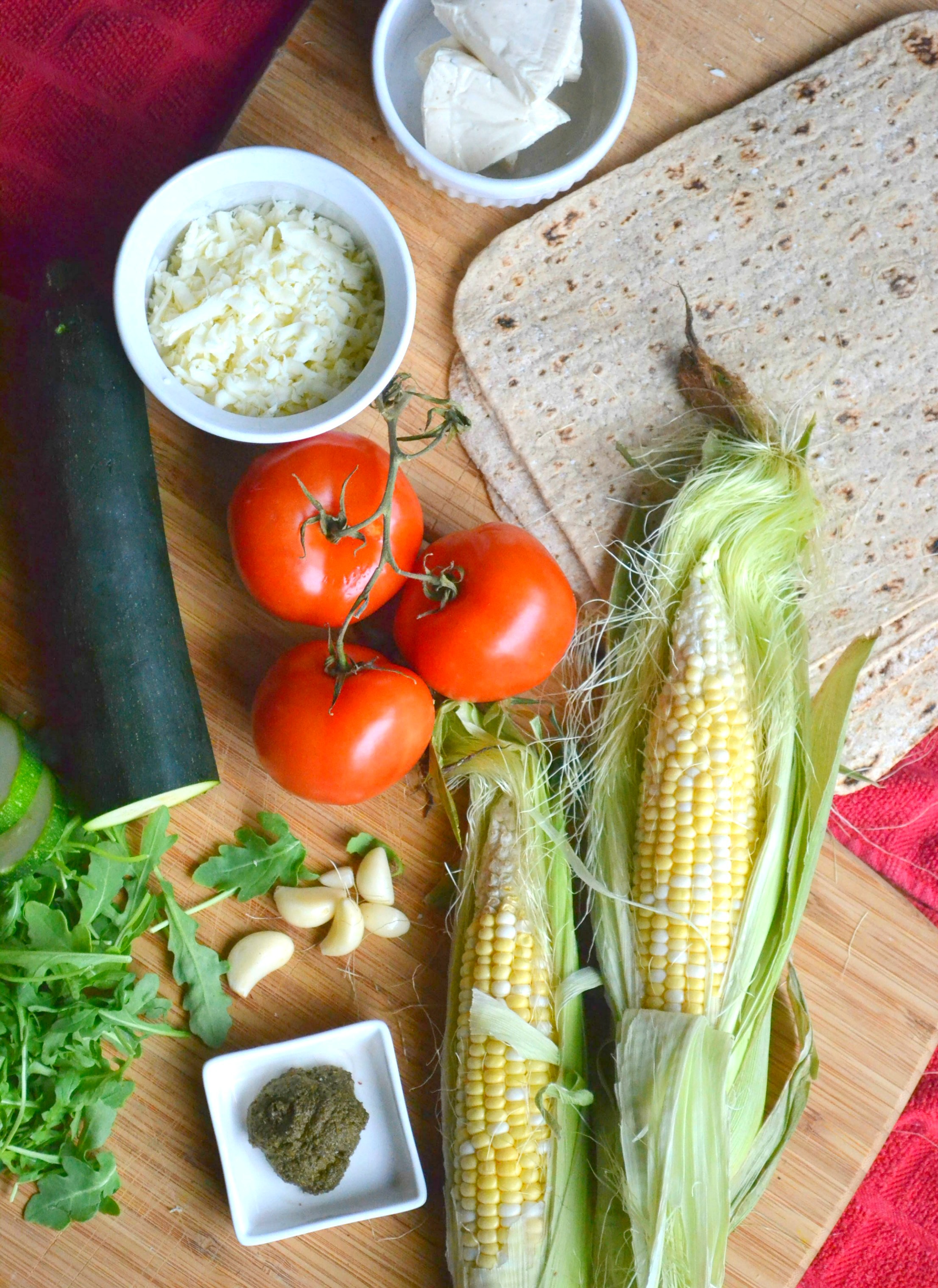 While my stringent exercise routine has been placed on hold, I feel like my workouts have taken a different approach. I have been stuck to crutches and a boot to continue to heal the ankle before I can get back to my normal activities. Some of those activities include cooking!!! You never know when life is going to change pace, so this has brought on a new perspective and is daily teaching me more patience.

Creative Cooking for a Demanding Lifestyle
Due to these series of events, preparing meals and cooking has proved to be challenging in the most creative ways. I have had to give instructions to my husband to cook and we have had to eat out a lot more often. Unfortunately, that takes a toll on my creative side and even for our health. When meal planning has not proved the best for our busy lives as musicians and parents, it has worked a little better these past few weeks.
I still love having the essentials in my fridge like a variety of fruit and veggies since we have some with every meal of the day including snacks. Seasonal produce is so exciting and makes for creative cooking in my kitchen. One of the most recent discoveries was finding out that I no longer had to wait until summer to enjoy sweet corn. Sunshine Sweet Corn from Florida was introduced recently and is now readily available in the spring seasons.

Sunshine Sweet Corn
I love the fact that those summer cookouts and sweet corn recipes can be highlighted in my spring recipes. Since it is grown in Florida, I imagine that the warmer weather allows for this non-GMO, cream of the crop to be available and extra sweet and tender. Now that I know that this veggie is available earlier than usual, I know that we can now add it as our springtime staple. Despite that, I was drawn to use the Sunshine Sweet Corn in a fancy yet simple meal that would bring a little sunshine in my home.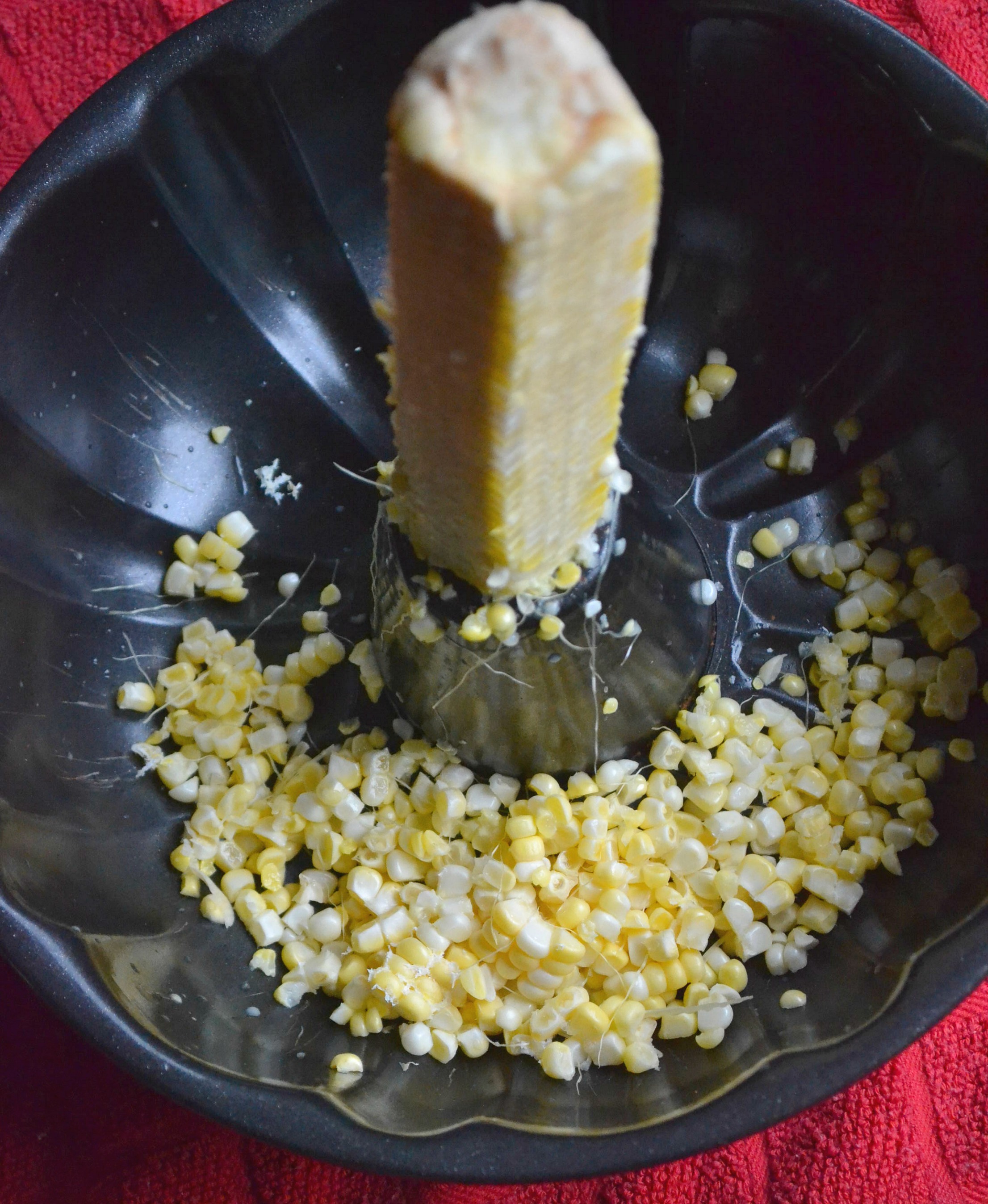 Sunshine Sweet Corn's website has a delightful online selection of recipes but one that really caught my eye was the Sweet Corn and Vegetable Flatbread. Although it was a little higher in calories it did not deter me from creating my own version, especially since I am on Weight Watchers. The original recipe was close to 1700 calories for each flatbread but I was able to make my version for under 400 calories making it 11 smartpoints per flatbread.

Skinny Sweet Corn Vegetable Flatbread
This recipe was so ideal because I love loading my plate with veggies. Pizza is not something I enjoy quite often but since I have this lighter recipe, I can add a little chicken on occasion or enjoy the vegetarian version. These would make a great appetizer for friends or a light lunch with girlfriends with cocktails.
by Noelle Kelly
Prep Time: 15 minutes
Cook Time: 10 minutes
Ingredients
6 Spreadable Herb and Garlic Cheese Wedges
¼ cup roasted garlic, chopped
1 cup Sunshine Sweet corn kernels
1 zucchini, sliced thin in circles
4 small vine tomatoes, chopped
1/2 red onion, shaved thin
2 cups baby arugula
12 ounces light mozzarella cheese, shredded
4 Tablespoons herb paste
4 100-calorie flatbreads
4 Tablespoons balsamic glaze
Instructions
Pre-heat the oven to 425 degrees F.
Lay out the flatbreads and pre-bake for 2-3 minutes, directly on rack.
Remove from oven and cool for a minute.
Spread 1 1/2 wedges on each flatbread.
Then sprinkle 1/4 cup sweet corn, divide the zucchini slices and add about 1/4 cup diced tomatoes.
Scatter about 2 tablespoons of thin red onions.
Grate 2 light string mozzarella cheese (about 3 ounces) and sprinkle evenly on top. Sprinkle with a half teaspoon of kosher salt.
Place each prepared flatbread in the oven and bake until crispy about 7 minutes.
Cut the flatbreads into 8 pieces.
Divide arugula between the flatbreads and drizzle 1 teaspoon of balsamic glaze.

More on Sunshine Sweet Corn
Sunshine Sweet Corn is now available and is on sale at your local grocery store. For more ideas on recipes or to know more about the brand, check out their social links below.
Related