This recipe for Southern Mexican-Style Salted Cod has been entered as part of the CFE International Blogger Recipe Challenge.  This product can be found at Cousins, H-Mart, Jetro, Price Chopper, Price Rite. Affiliate links are present in post and is helpful in keeping this blog active.

My Love for Cooking
I am asked many times how I come up with all my meal creations. I really believe that if you grow up a certain way seeing how meals are prepared, that is where the inspiration and gift of cooking is instilled. My fraternal grandmother was amazing in the kitchen as was my grandfather and my mother as well as my maternal grandmother created such great dishes, without recipes!!
Most recently, I was asked what type of cuisine I loved preparing, but I could not pinpoint it. While I am half Mexican and half Chilean, thanks to my parent's marriage, my inspiration in the kitchen is quite different. I do not solely cook one cuisine but have always tried different cuisines. So while I am gifted in the kitchen, thanks to God and my family, I do not focus on one cuisine. I finally realized that I really love preparing Middle Eastern food.

Salted Cod or Bacalao
One of the challenges I have made for myself was to learn dishes that my maternal grandmother made while I was growing up. Every time we headed own to Mexico, especially during the Christmas holidays, I remember the spread she and my aunts would make. It was so amazing and very memorable. One of the dishes I distinctly remember NOT liking was a salted cod called Bacalao Mexicano. The dish was so fishy, pungent and really salty. I could not even bring myself to really enjoy it but now as an adult I was determined to take another look at this dish.
Before I could even start making this recipe I knew I would have to call my grandmother to make sure I was going to be making it the way I remembered. Last time I called her for a recipe, she told me not to waste my time in the labor intensive recipe. I laughed because it was not what I expected. This time around, she was much more compliant. Where does one find salted cod, you might ask? The particular brand I was sent, called Cristobal, can be found at Cousins, H-Mart, Jetro, Price Chopper, Price Rite.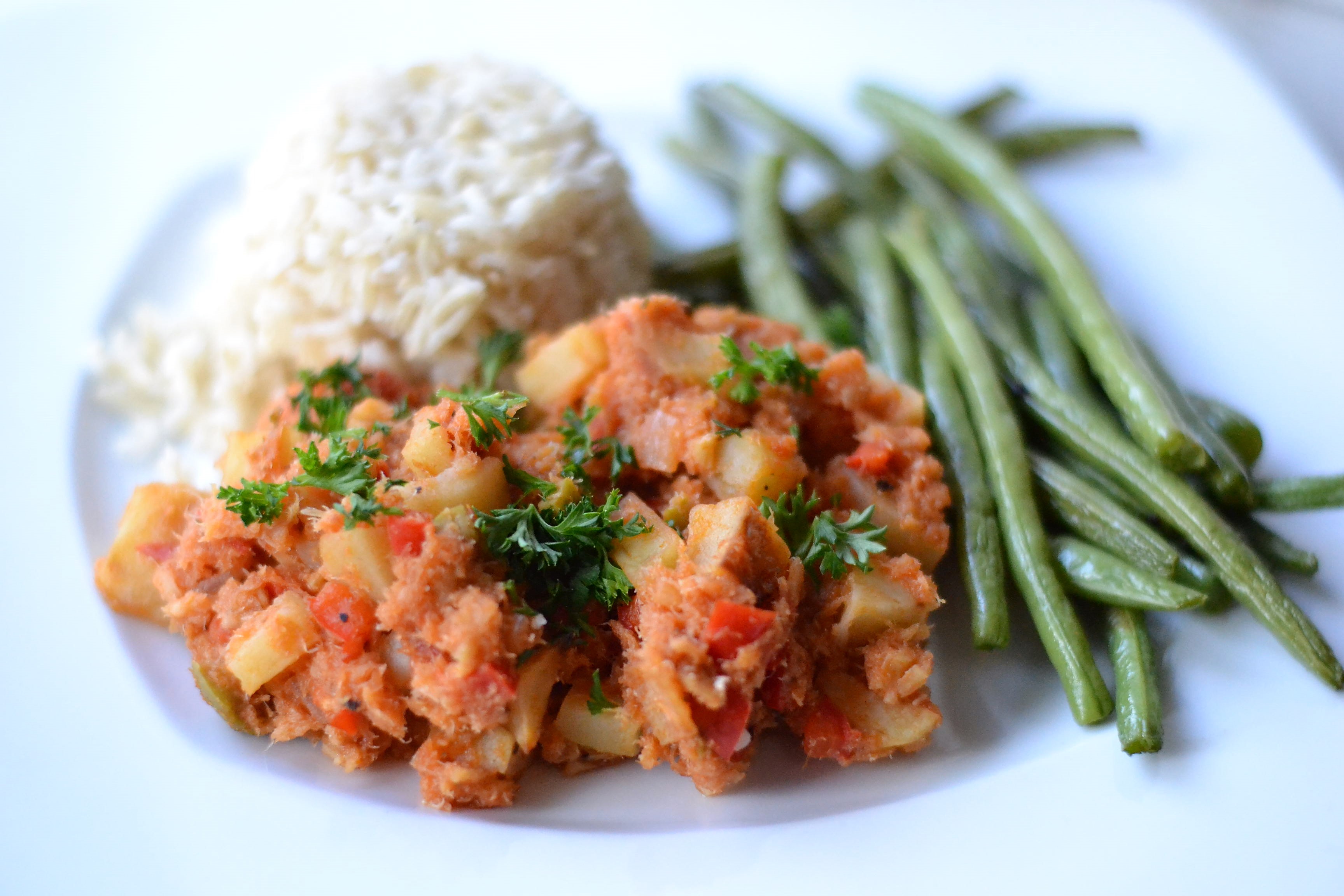 Southern Mexican-Style Salted Cod
After I got an idea of the way my grandmother made her dish I decided to try the dish twice made her way, and then made with my own spin. After I finished the whole meal, I served it as dinner for my family with steamed brown rice and a side of green beans. It was still a little cool otherwise I would have paired the dish with a cabbage salad. The key to this dish is how long the salted cod is soaked in water. The longer it stays in the water the less salty the dish will be upon consumption.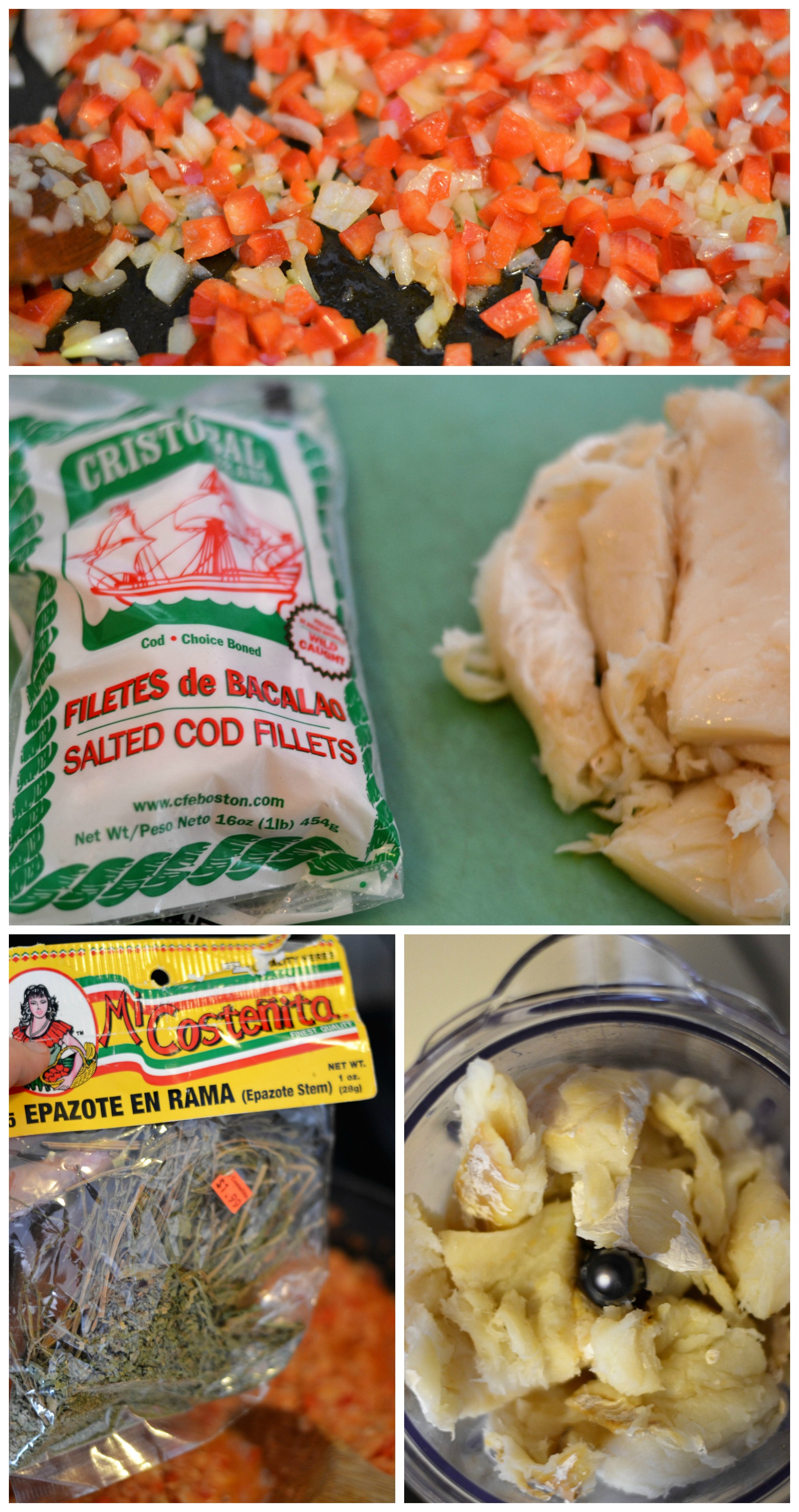 I soaked the fish for 36 hours in the fridge. I drained the water after 18 hours and added fresh water for another 18 hours. I then drained the fish again and tried to remove as much water from the fish. I placed it in the food processor and chopped finely. Meanwhile, I sautéed onions and red bell pepper in a large pan. I placed crushed tomatoes into the sautéed veggies and added minced garlic and added a spice called epazote that is mostly used in Mexican dishes. I found it at a local Mexican grocery store.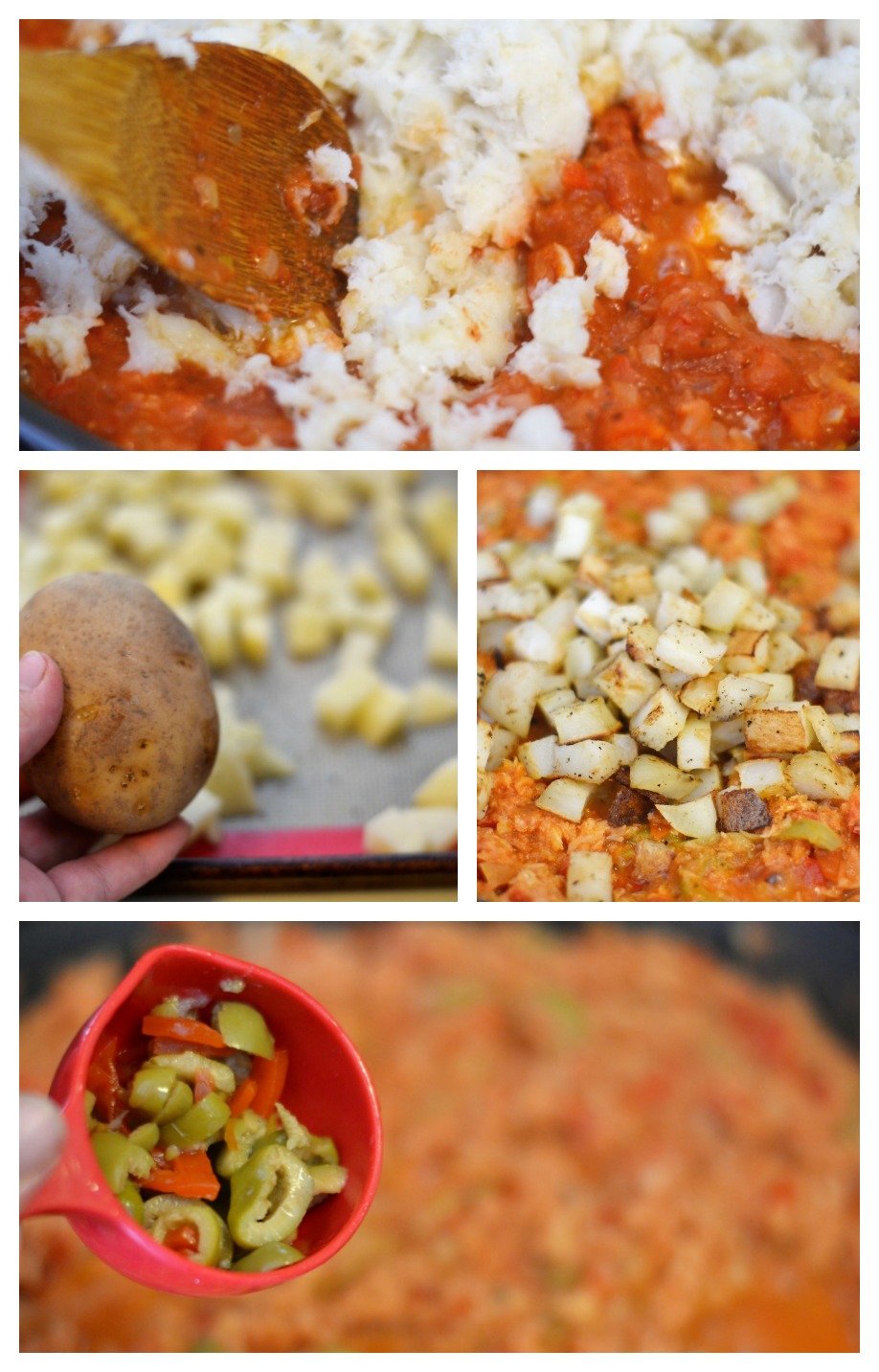 Once I processed the salted cod, I added it to the tomato and veggie sauce and then added green olives. Don't get me wrong, but the saltiness of the olives adds a different depth and not more salt to a salted cod. I roasted the potatoes in the oven before folding them into the cod and tomato mixture. I decided that roasting the potatoes would add a caramelized aspect and even a sweet note. I was right! I loved it roasted rather than steamed. Once all the ingredients were folded into the tomato mixture I added a little more water and I allowed it to simmer on low for about 45 minutes to an hour.
Easy Family Recipe even for Toddlers
Southern Mexican-Style Salted Cod
by Noelle Kelly
Prep Time: 36 hours
Cook Time: 60 minutes
Keywords: saute soup/stew entree seafood sugar-free gluten-free low-carb fish potatoes cod Christmas Mexican summer winter
Ingredients (serves 5)
Salted Cod
16-ounces Cristobal salted cod
For Southern Mexican-Style Salted Cod
1 1/2 yellow onions, chopped (about 1 cup)
1 1/2 red bell pepper, seeded, cored, and chopped (about 1 cup)
4 garlic cloves, minced
2 Tablespoons olive oil
2 cups canned crushed tomatoes
3 ounces green olives, chopped
2 epazote twigs or about 2 teaspoons epazote flakes
1/2 cup water
1 chicken bouillon cube
For roasted potatoes
3 yellow or white potatoes, peeled and diced in 1-inch pieces
Instructions
Salted Cod
Remove fish from packaging and place in a bowl. Cover with water and place in fridge. Drain water from fish after 18 hours and cover again with fresh water for another 18 hours. Drain water again and dry fish removing as much water from fish.
Place fish in a food processor and pulse until finely chopped. Set aside.
Roasted Potatoes
Preheat oven to 425F and place diced potatoes on baking sheet and cook for 15-20 minutes. Prepare the salted cod dish. Set aside potatoes out of oven until next instructions.
Southern Mexican-Style Salted Cod
In a large skillet, add olive oil. Heat on medium heat and add onions and peppers. Cook for about 7 minutes or until soft. Add the tomatoes, water, garlic, and bouillon cube. Fold the fish into the tomato mixture and add the epazote. Cook for about 45 minutes. Add the green olives and roasted potatoes and cook for another 15-20 minutes.
Sprinkle with fresh chopped parsley. Serve with brown rice and a side of green beans.
CFE International and More Recipes
Want to know more about CFE International?
And if you want to check out more recipes use the following hashtags on social media #saltfish #bacalao #Cristobal #IslaBrisa #BacalaRico #Buenaventura to see the entries.
Related