I have partnered with Sabra to create these Grilled Mushroom and Hummus Topped Brown Rice Cakes as part of their Tastemaker program. While I have been compensated for this post, my opinions are entirely my own.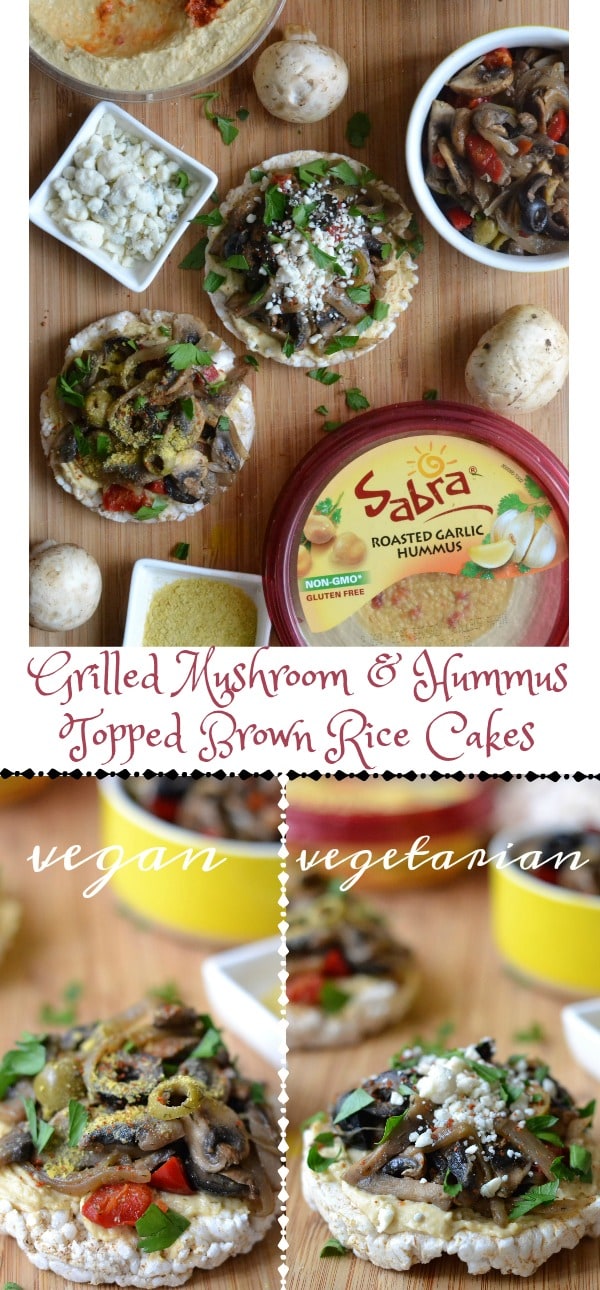 Snack time for a Busy Mom
One of the things I am learning as a mother of three young girls is that snacking is so necessary even for me. Many times I thought that not eating would be better especially since I was busy with the girls and life in general. Since I have changed my way of eating since January, I have learned that it is so different from what I imagined. Eating frequent healthy meals is a MUST!! Here I was planning snacks for my kids and forgetting about myself, not realizing I was doing myself more a disservice.
Self-love and self-care are words that I am learning to keep in my vocabulary. As a hypoglycemic, I was the worst person delaying my meals because I was serving everyone else. In fact, being a mom martyr was not my calling. Loving my kids meant taking care of myself and what made me a better person. Learning to eat healthy and having ready made snacks was essential for a happy household.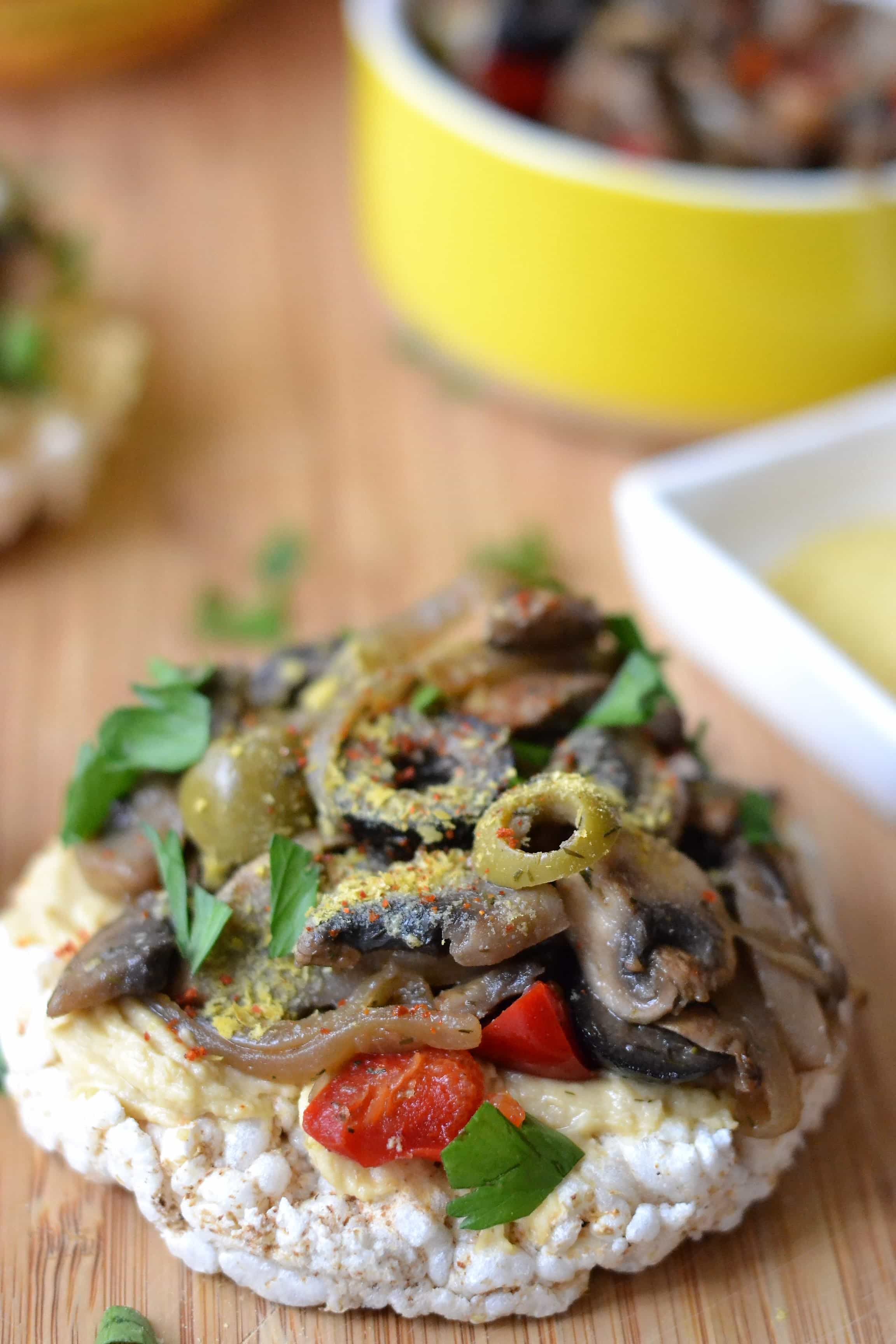 Meal planning on steroids
At the beginning of the week, I make an assessment of what I have in my refrigerator. If you open my refrigerator you would see it stuffed with vegetables. Some weeks it is overwhelming to think about preparing those vegetables but then I think of the rushed and stressful feeling of not being prepared in the week and then it is all worth it. I mostly roast and steam my veggies so they are ready to pair with either brown rice and grilled chicken or fish.
Snacks are also important to plan ahead especially if on the go with little ones. Having things prepared ensures that I can just quickly pack and head out the door. I do not like to dine out lately because I am easily swayed by making a wrong choice especially if I am terribly hungry.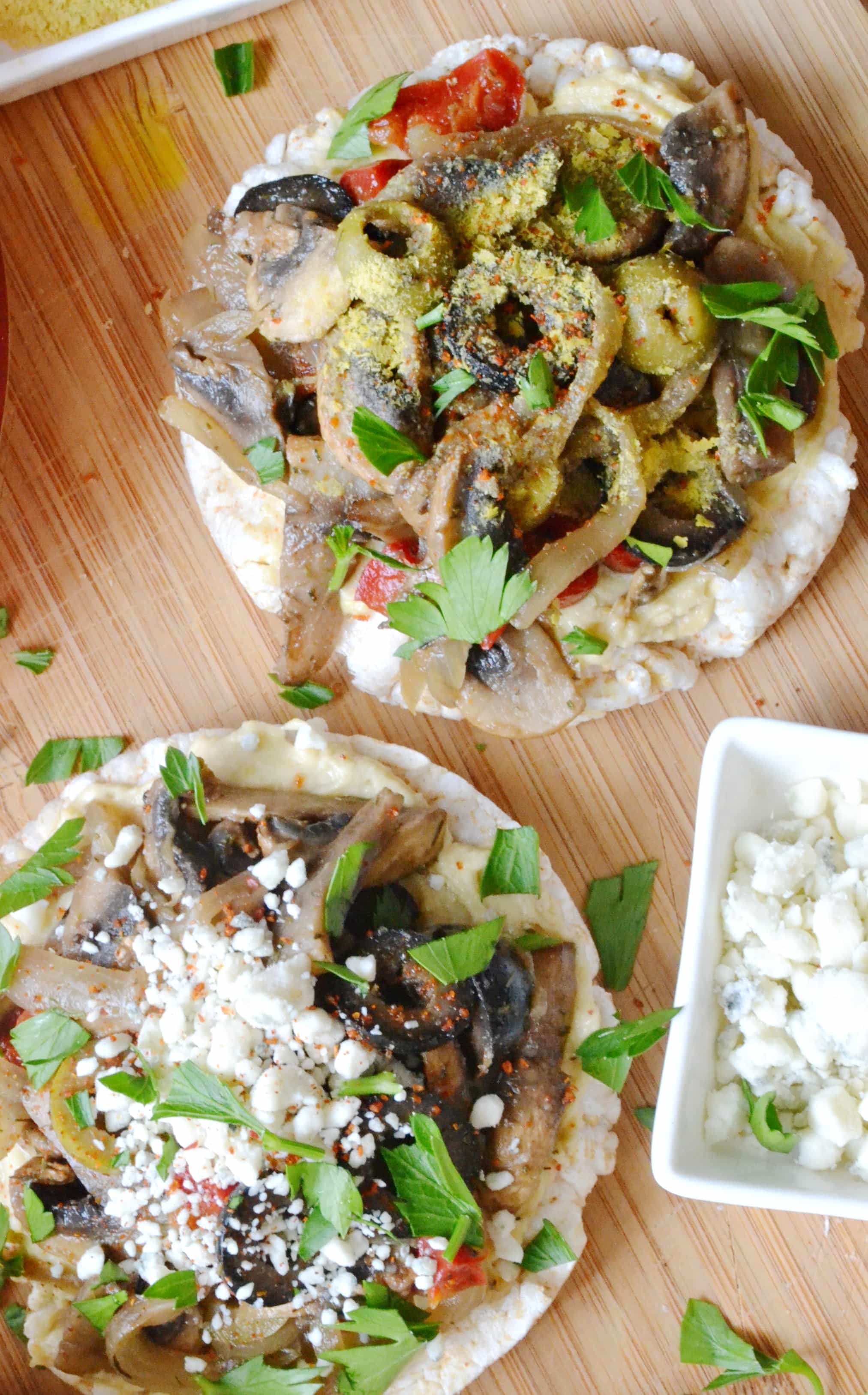 The Unofficial Meal
Let me talk about my latest easy snack and my go-to Unofficial Meal. It is about 11am and 3pm that I have my normal every day snacks. I have seen my metabolism get back in track by adding and incorporating little pick-me-up so I could make it to the next meal. Sabra hummus is definitely helpful to have on hand because we are always eating hummus in our household. My oldest daughter, age 5, can eat a whole tub if I do not monitor but then again, hummus is so healthy and is usually the protein of the meal, so I cannot complain.
My Unofficial Meal is usually very satisfying and is focused on being vegan or vegetarian. I am all about filling meals so I like giving more bulk to my snacks by adding a good portion of fruits and veggies. I keep hearing that snacking is totally not necessary and that they are bad habits that keep people eating all day, but I really do not care about that statistic. I do what works for my blood sugar and my families.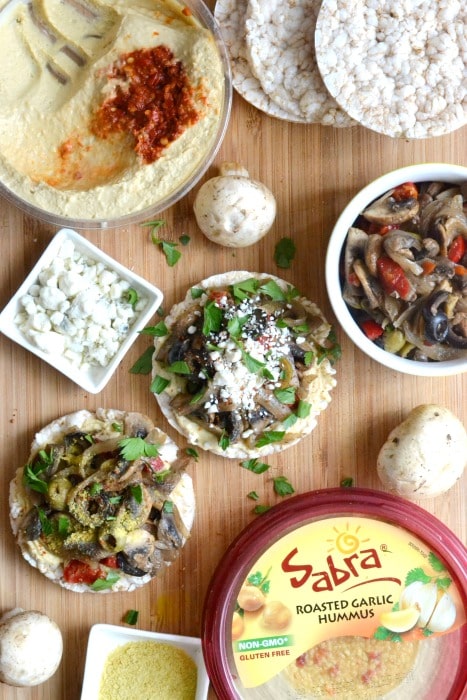 Grilled Mushroom and Hummus Topped Brown Rice Cakes
When people ask me what my favorite snack is, I usually cannot really tell them because I am constantly creating new snacks and meals. Personally I think it keeps the healthy eating journey exciting in order not to sway to unhealthy choices. Something that I keep in my pantry are rice cakes. They have really gotten a "bad rap" for being so boring or unexciting but they are in fact so fun to eat and very low-calorie. When they are paired with the correct toppings, rice cakes can easily become a mini Unofficial Meal for you to share with your friends or loved ones.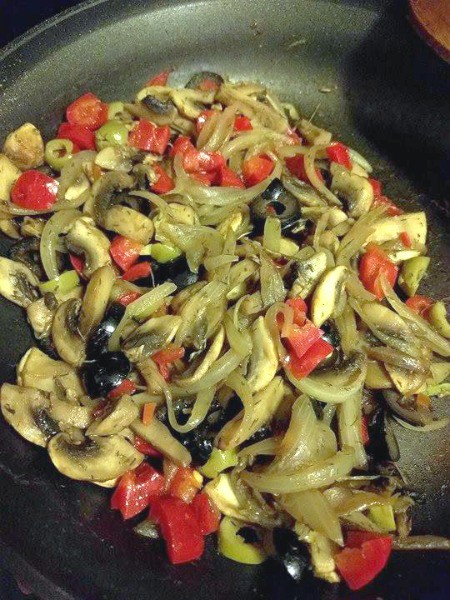 I quickly sautéed some button mushrooms with white onions with garlic and then added sliced green and black olives and some sweet peppers. I then used my favorite Sabra hummus dip and layered the rice cake with 2 Tablespoons of hummus and about 1/4 cup of the mushroom mix. To make it vegetarian I sprinkled some gorgonzola or feta cheese on top or if I wanted it vegan I added some nutritional yeast. It is an amazing informal meal and was a hit with my husband too! After a day, I chilled the mixture and it was even more delicious chilled.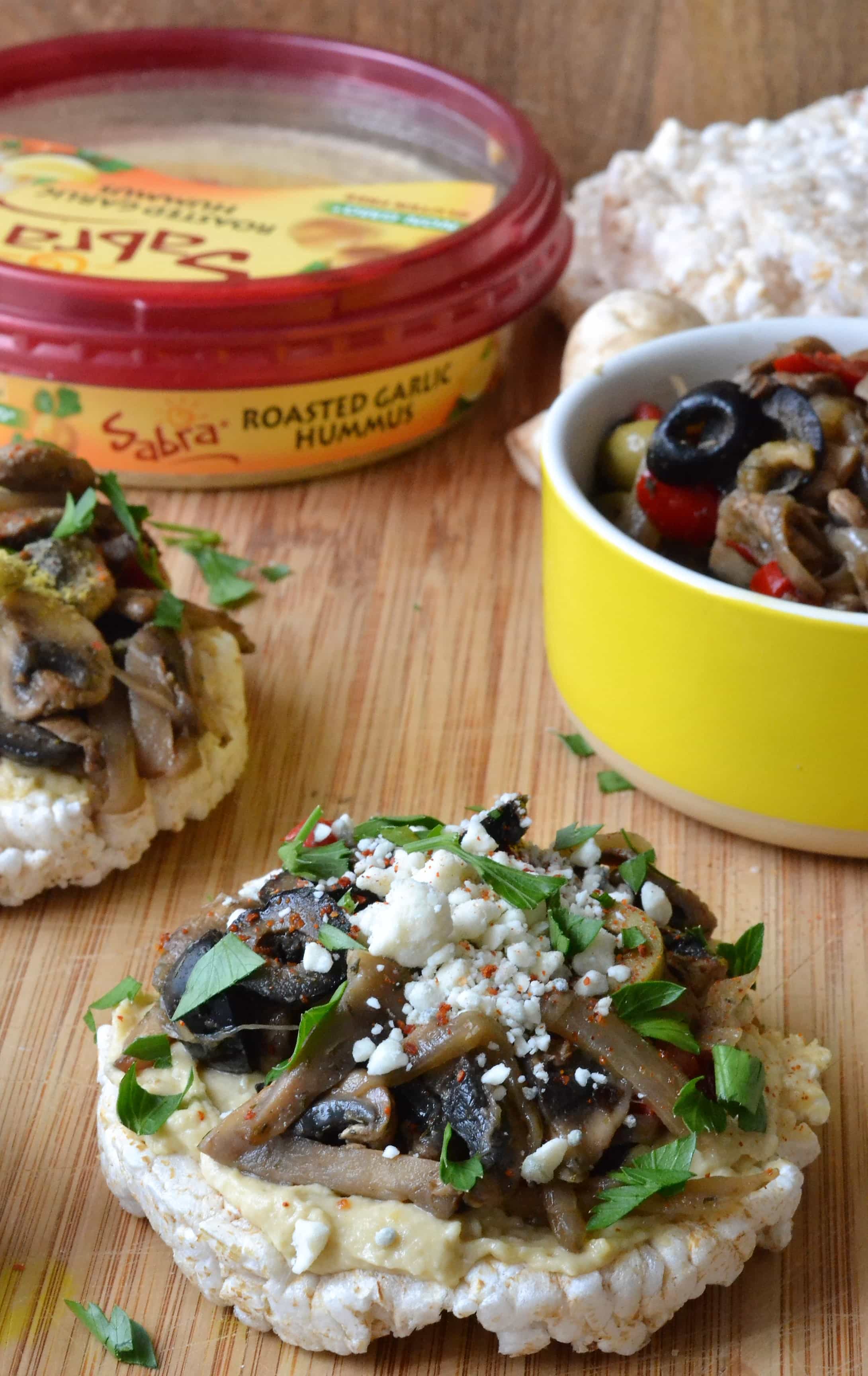 Recipe
May 13th is National Hummus Day so this recipe is an easy way to celebrate! Grab your favorite Sabra hummus dip and make your own Grilled Mushroom and Hummus Topped Brown Rice Cakes. If you are on Weight Waters, each serving is 3 smartpoints.
Need a few more ideas? Check out my Baked Turkey Sausage Pizza Bites, Spicy Mexican Sopes, Mediterranean Gorditas, or these Summer Vegetable and Basil Hummus Phyllo Pockets.
Grilled Mushroom and Hummus Topped Brown Rice Cakes
by
Prep Time: 15 minutes
Cook Time: 10 minutes
Ingredients (6 servings)
Mushroom Mix
1 1/2 cups white button mushrooms, sliced
1 small onion, peeled and sliced
1/2 teaspoon kosher salt
2 garlic cloves, ,minced
1/2 teaspoon crushed black paper
1/2 teaspoon dried dill
1/4 cup black olives, sliced
1/4 cup green olives, sliced
1/4 cup hot and sweet cherry peppers, chopped
Additional ingredients
1 tub Sabra garlic hummus
1 tub Sabra spicy hummus
6 rice cakes
1/3 cup gorgonzola crumbles (for vegetarian version)
1/4 cup nutritional yeast ( for vegan version)
1/4 cup flat parsley, chopped (for garnish)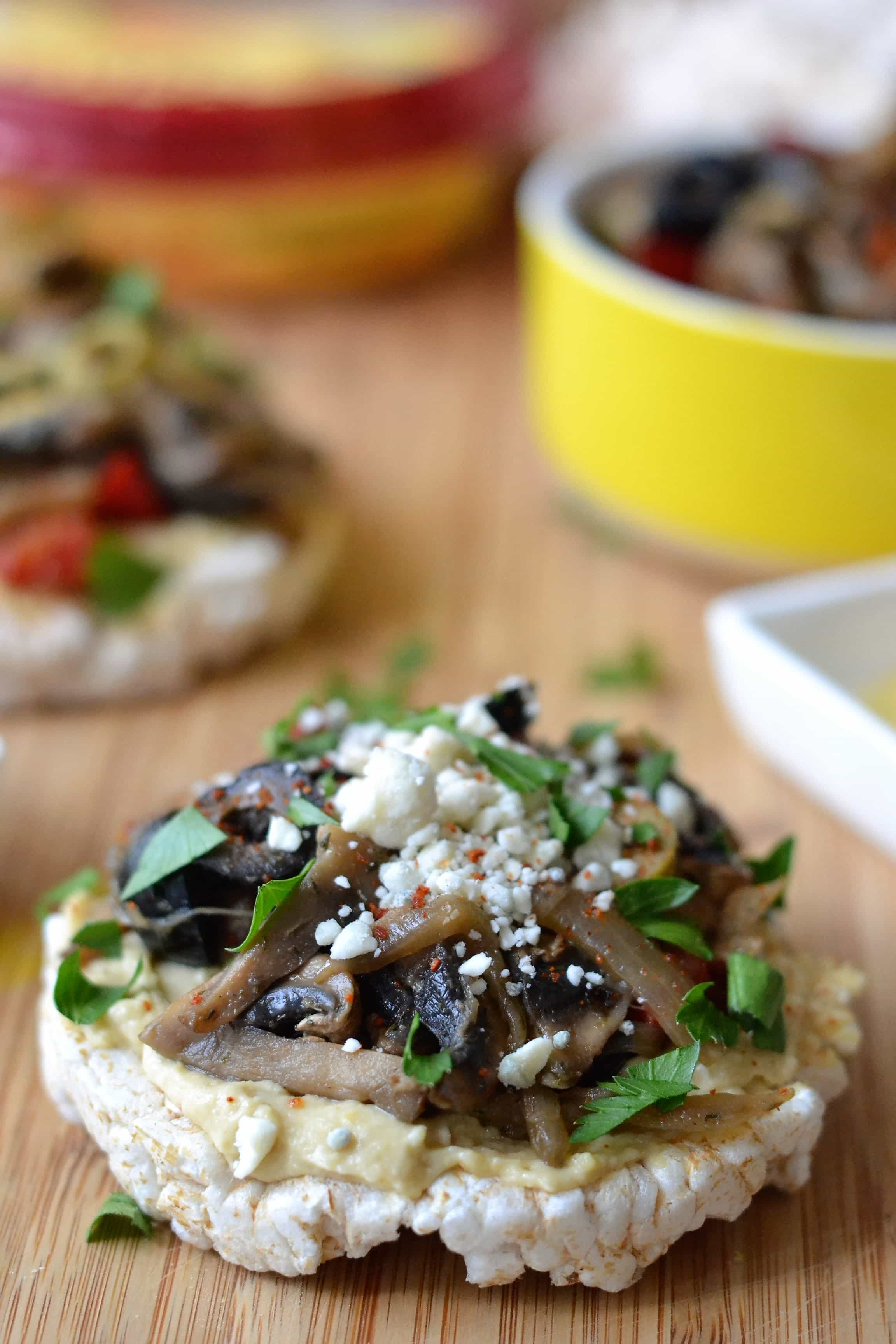 Instructions
Mushroom Mix
In a medium non-stick pan, heat pan on medium heat. Slice mushrooms and onions. Spray with olive oil and add mushrooms and onions and sauté for 5 minutes. Add the minced garlic, salt, pepper, and dill and continue cooking for another 5 minutes. Add the black and green olives and then the sweet peppers. Remove from heat and set aside.
Spread about 2 Tablespoons of either the Sabra garlic or spicy hummus onto one rice cake. Top with 1/4 cup of the mushroom mix and top with either 1/2 Tablespoon of gorgonzola or 1/2 Tablespoon of nutritional yeast. Repeat with the rest of the rice cakes. Sprinkle the cakes with chopped parsley.
The mushroom mix can be made ahead of time and served chilled and it is quite delicious.
Related