Happy New Year everyone! I cannot believe that 2018 is here already. So much has happened and much of it seems like it happened in a whirlwind! I finally feel like I am finding a new normal in our new home. I need to take advantage of the great kitchen I have in our new house. Thanks to Bertolli® for being one of our favorite brands to help make this Low Carb Chicken Tetrazzini.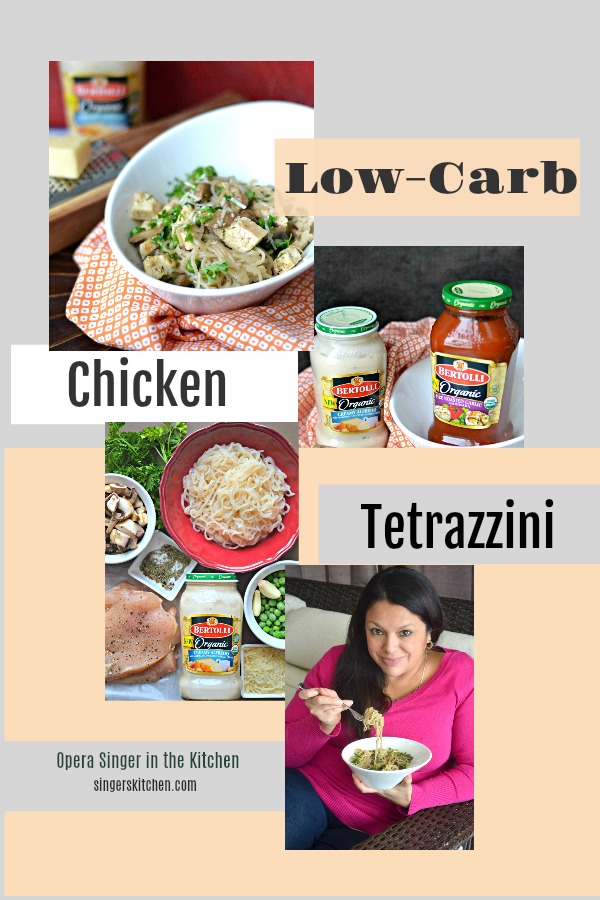 When it comes to the New Year we always expect to see our friends come up with resolutions. I think my husband and I have always been the type not to fall into that category. We love chatting about goals for our family but it is something we always do. One thing we have definitely committed to since 2017 is living a clean eating lifestyle. We focus on eating low-carb as much as possible with minimal sugar in any meal.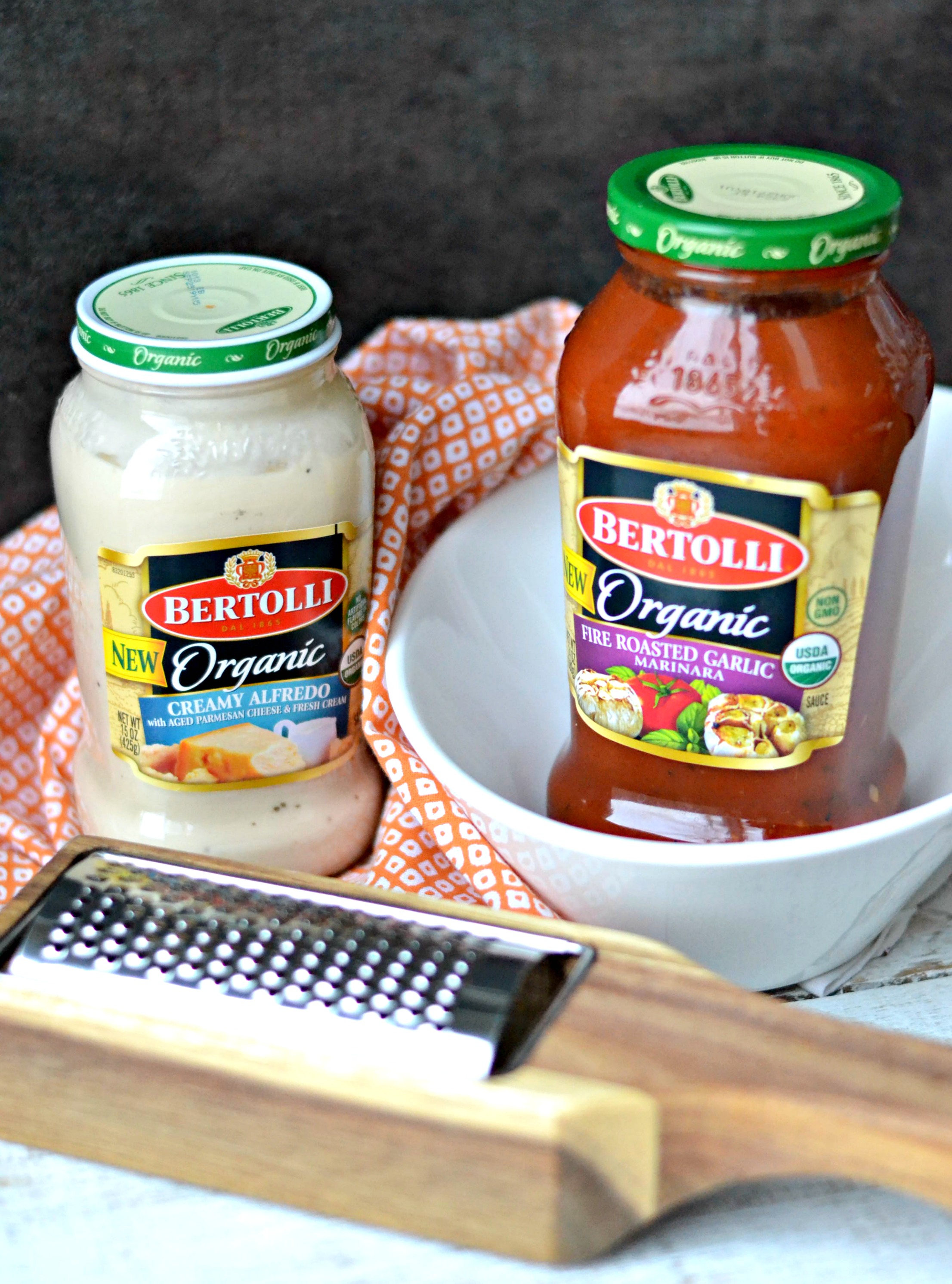 Of course, we are humans and we miss enjoying certain meals and foods and sometimes we indulge or I create a meal that seems indulgent so that we can still enjoy it. When it came time to create with the new Bertolli Organic Creamy Alfredo Sauce, I knew that I had to enjoy a family favorite without compromising. Bertolli makes their sauce with organic ingredients, like fresh cream, milk, real butter, and aged Parmesan and Romano cheeses bringing a rich and authentic flavor to each dish.
One of the things I miss about Italy is the food. Specific to the Tuscan region, the food is beyond compare. The Tuscan Way of eating involves fresh and quality ingredients including olive oil to seal all the flavors.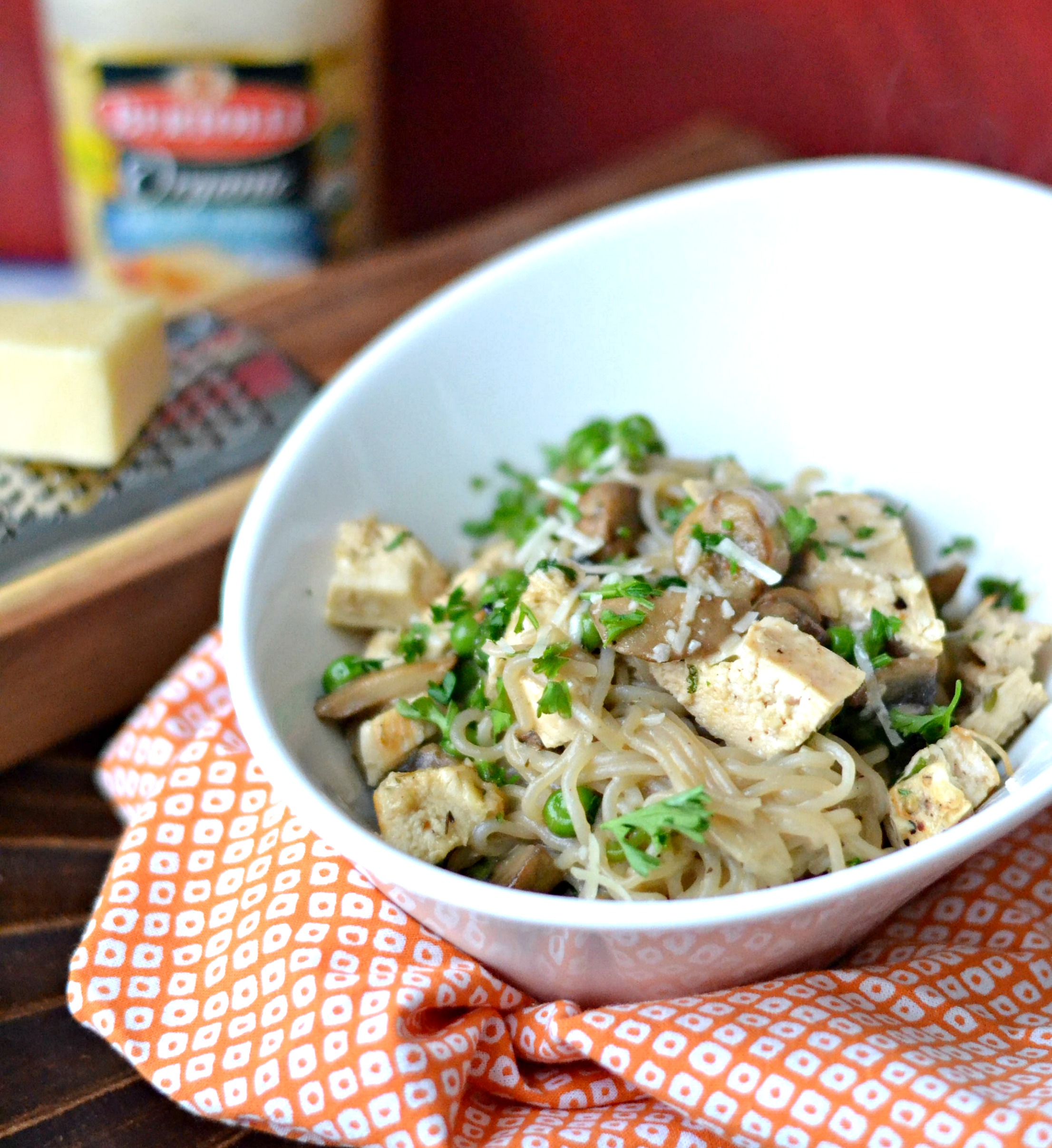 Bertolli focuses on using this art of cooking in order to Bring Tuscany To Your Table. While I am very familiar with their line of sauces I was really excited to try their Organic Sauces. I was able to taste the Bertolli® Organic Fire Roasted Garlic Marinara Sauce on simple roasted spaghetti squash. The sauce was an incredible blend of roasted garlic, onions and herbs and spices. All I had to do was heat and serve to my family!
Bertolli sauce is considered USDA Organic and non GMO using only the finest organic and natural ingredients like their plump tomatoes, extra olive virgin oil and Romano cheese.  On busy nights in the kitchen I am excited to have healthy options to make quick meals for my family.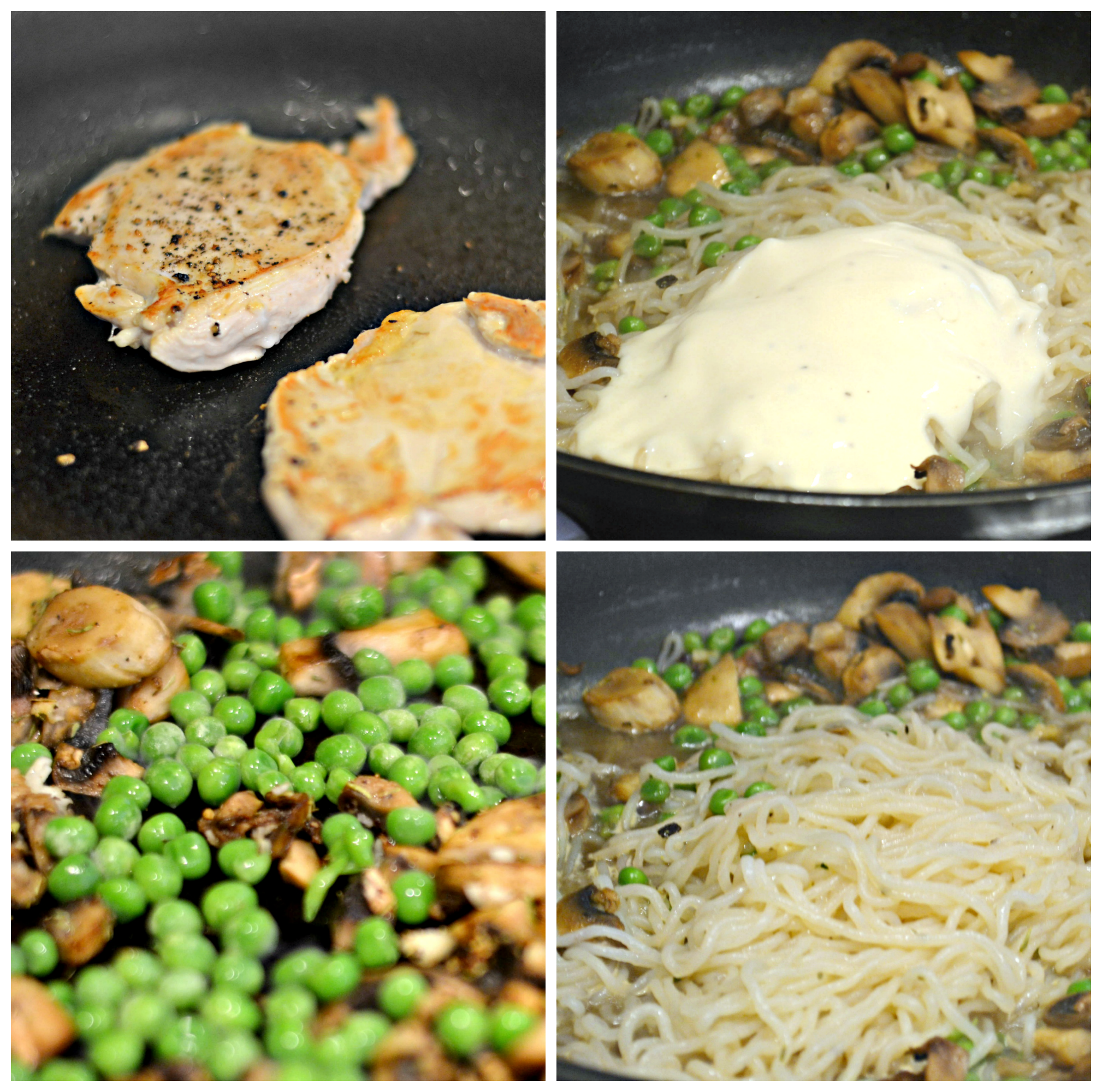 On weekends I usually have a bit of time to meal prep for the upcoming week. I roast lots of vegetables, lean meats and make a list of meal options. Since I had the NEW Bertolli® Organic Creamy Alfredo Sauce I really wanted to make my Chicken Tetrazzini.
I usually make it with turkey leftovers after Thanksgiving, but this year I did not make a turkey. I decided to make an easy recipe for a weeknight indulgent dinner. Some nights I just cook for one person so this meal takes all by 20-30 minutes to from start to finish.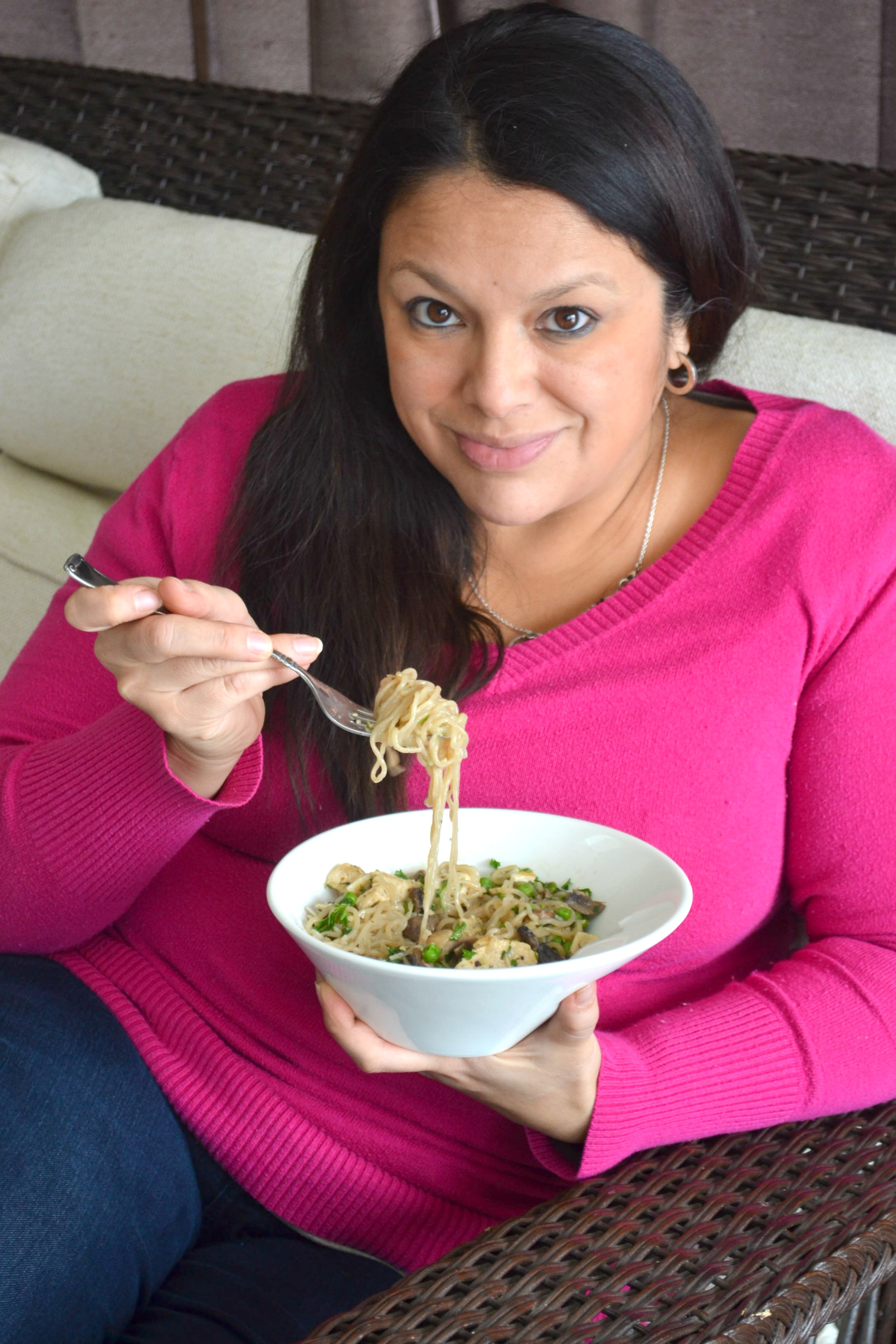 I was able to enjoy an Alfredo pasta sauce for the first time in a long time without much work in the kitchen and without sabotaging our low-carb lifestyle. Thanks to Bertolli for making the first nationally-branded organic Alfredo sauces in the category.
Easy Recipe: Low Carb Chicken Tetrazzini
by Noelle Kelly
Prep Time: 10 minutes
Cook Time: 20 minutes
Ingredients (1-2 servings)
olive spray
6 ounces chicken breast
1 cup sliced button mushrooms
1 teaspoon thyme
1 teaspoon mineral salt
1 teaspoon ground black pepper
2 garlic cloves, minced
1 small onion, diced
1/2 cup peas
16 ounces shirataki noodles ( found in the refrigerated section with tofu)
1/2 cup Bertolli Organic Alfredo Sauce
1/2 cup water
1 teaspoon chicken bouillon
2 Tablespoons fresh parsley, chopped
1/2 cup freshly grated parmesan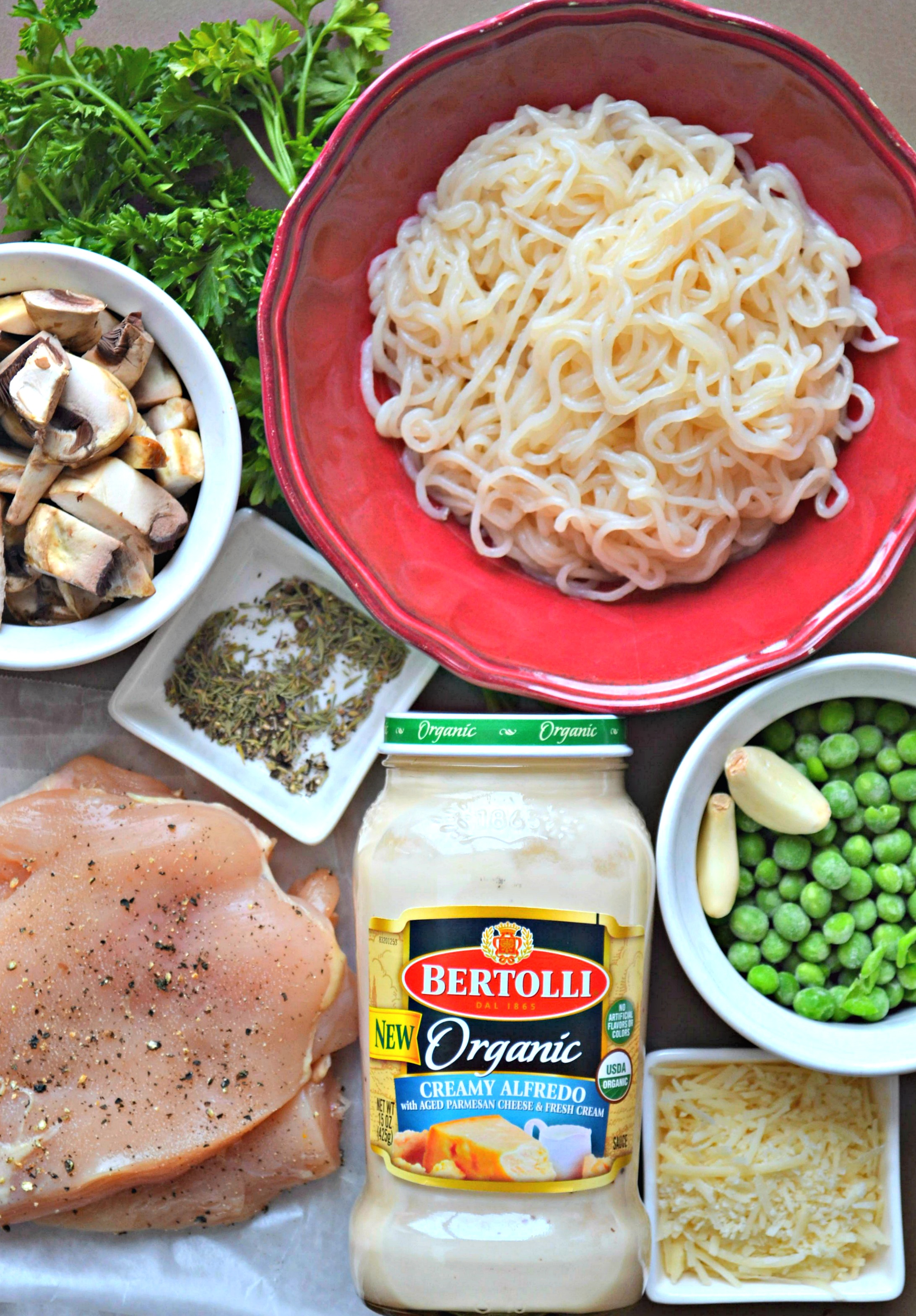 Instructions
Heat a non-stick skillet on medium medium heat and spray with olive oil spray. Season the chicken breasts with salt and pepper and pan fry for 7 minutes or until meat temperature reaches 165F.
Remove chicken from skillet and set aside. Add mushrooms, onion, garlic, thyme and salt and pepper. Cook for 5 minutes and add peas, water, bouillon, Bertolli Organic Alfredo sauce, and 1/3 cup of the Parmesan cheese.
Simmer for another 5 minutes on medium high heat. Meanwhile, slice and dice the grilled chicken and add the mushroom mix along with the shirataki noodles.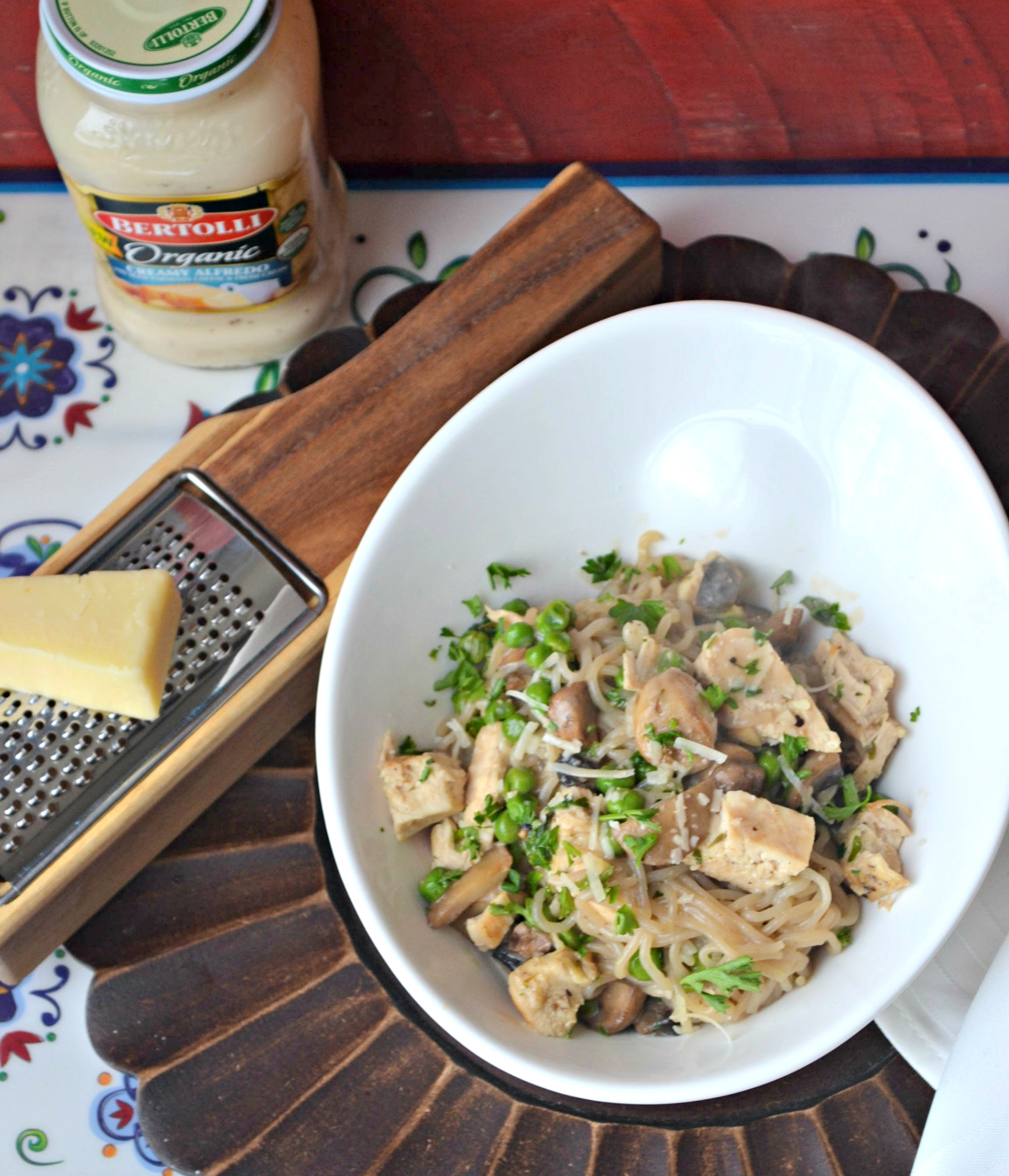 Make sure to follow the instructions on the bag for the low-carb noodles. Toss the noodles well with the mushroom and chicken mixture and divide mixture in half and serve. Sprinkle with parsley and the rest of the Parmesan.
Related