There are things that I find myself hardly eating because of our low-carb lifestyle, but then I figure that adding a little here and there with better planning is not bad. I created this Baked Chicken Parmesan with Garlic Marinara Sauce for Garlic month. As an influencer for Cucina Antica, we are given fun incentives to create amazing dishes with this tasty and flavorful sauce.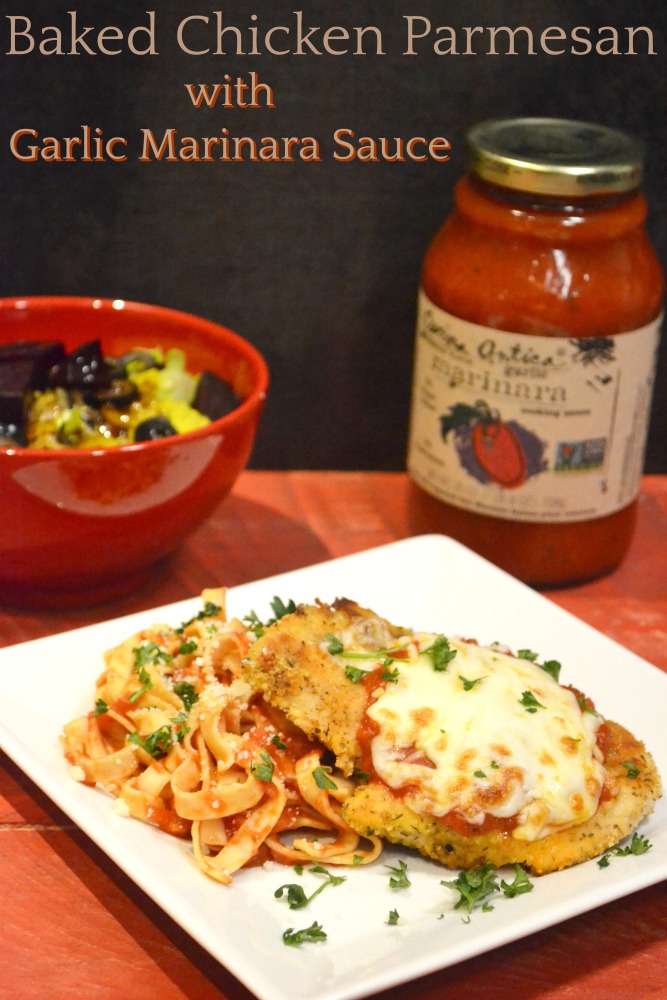 When I think of Italian food I think of two things, pasta and cheese. These are usually two ingredients I try to stay away from but I am learning that enjoying them in moderation and in creative ways keeps me from being grumpy about the foods I cannot eat on a low-carb lifestyle.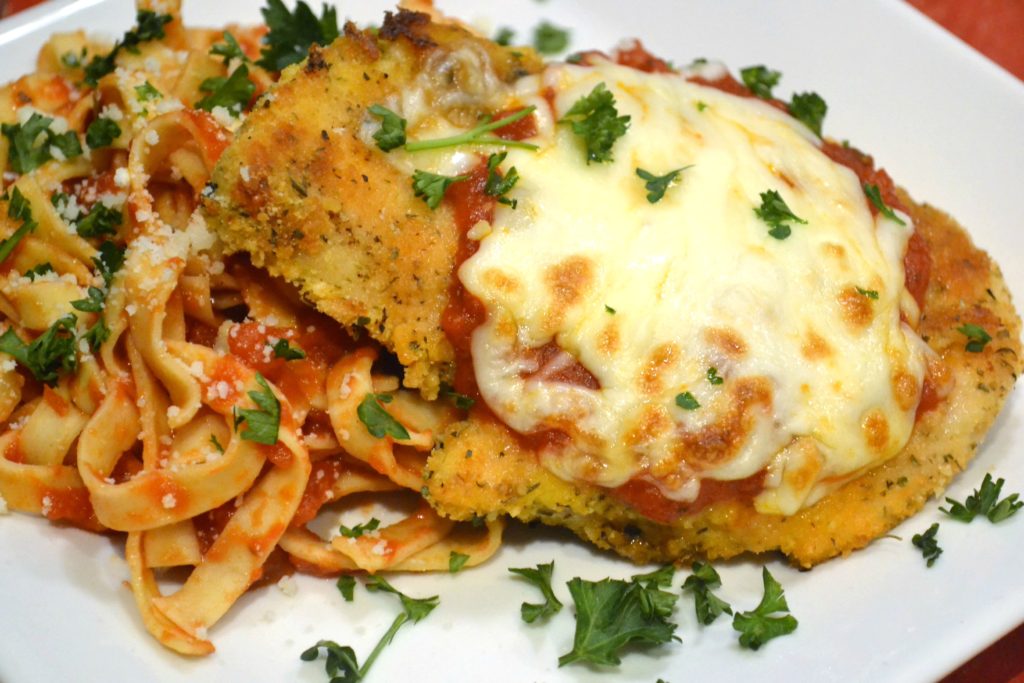 Cucina Antica boasts a variety of sauces in their line for every occasion. This is why I have been enjoying these sauces lately: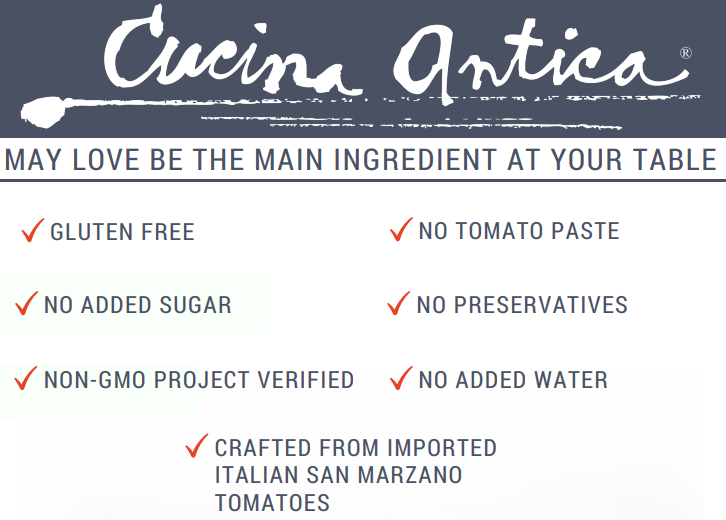 My husband has even given them a thumbs up and he is usually very verbal and picky about his sauces. The Garlic Marinara Sauce had a balanced garlic flavor which means that the garlic was not overdone. It was just right! I actually could have enjoyed the sauce out of the bottle, or maybe warmed up as a dipping sauce.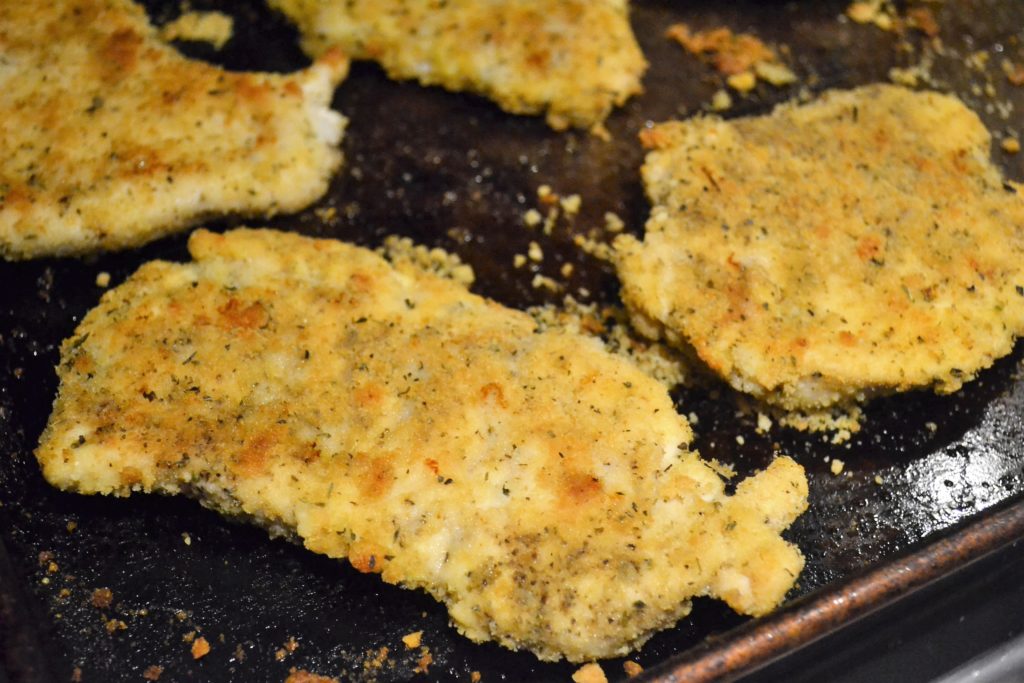 Since we have moved to Delaware County, I have noticed a lot more small grocery shops and one that I happened upon Pagano's, a small Italian deli / shop. I picked up a nice container of bread crumbs and fresh Parmesan cheese for my breading because I wanted to go as fresh as I could.
I prepared 40-ounces of chicken breast and divided into 5-ounce pieces and created an egg wash and my breading with the breadcrumbs, cheese, and seasonings. I dipped the chicken in the egg wash and then one round of breadcrumbs. I then added to a lined baking sheet ready to go in the oven.
When I baked the chicken, I added olive oil spray to each side of the chicken and cooked at 375 degrees Fahrenheit. In order to imitate the crispiness of the fried version, I broiled the chicken the last 5 minutes and it was perfect!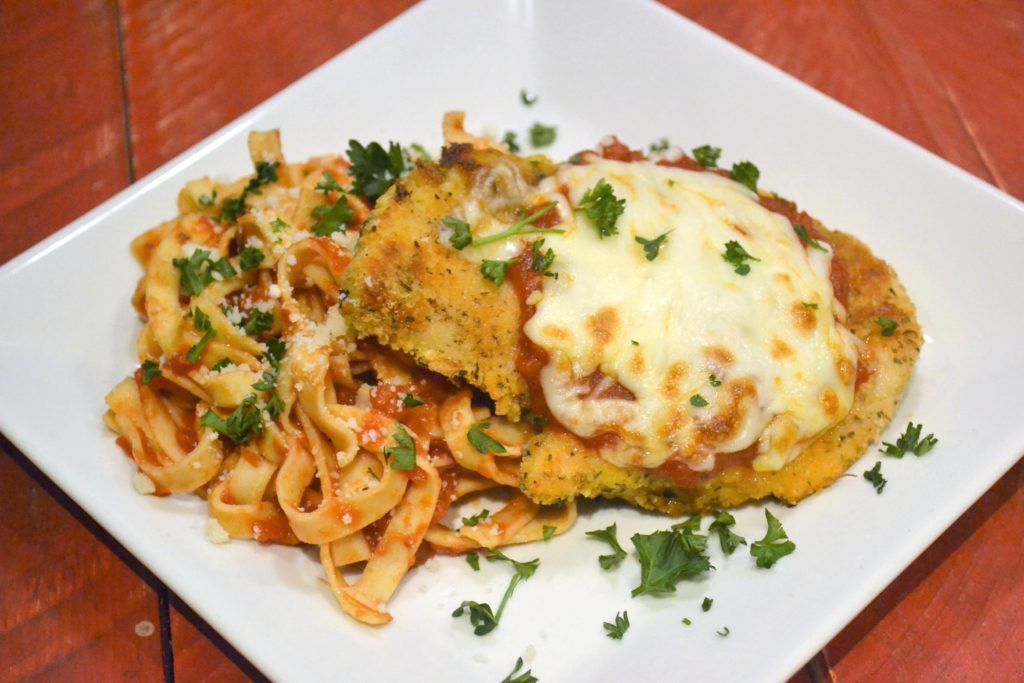 We keep Al Dente's low-carb pasta called Carb-Nada in stock for our pasta nights because it is a low-carb's dream. I heated up the sauce and added a bottle to the pasta and then I had another bottle warmed in order to add some to the chicken when I served.
Each 5-ounce serving came out to 3 Weight Watchers smartpoints along with 3 smartpoints for 1 1/2 cups of the pasta. It made it easier to enjoy a glass of red wine with our dinner. I have already made this meal twice this month because it has been so delicious! If you make it, take a picture and tag me #singerinkitchen.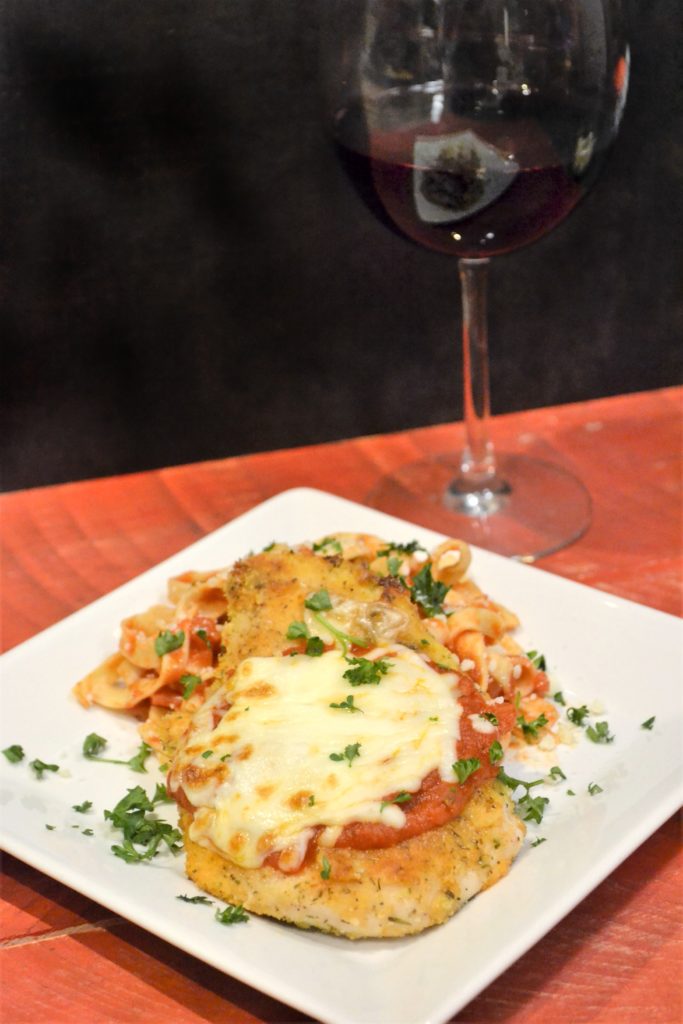 Baked Chicken Parmesan with Garlic Marinara Sauce
by Noelle Kelly
Prep Time: 20 minutes
Cook Time: 20 minutes
Ingredients (10 servings)
Chicken
40-ounces chicken breasts, divided in 5-ounce servings
season with a pinch of salt and ground pepper
Seasoned Breadcrumbs
1 cup homemade or store-bought breadcrumbs with no additional ingredients
1 teaspoon garlic powder
1/2 teaspoon onion powder
2/3 teaspoon salt
2 teaspoons dried basil
2 teaspoons Italian seasoning
1/4 cup (1 ounce) packed freshly grated Parmesan
Additional ingredients
2 eggs
2 bottles of Cucina Antica garlic marinara sauce
1 1/2 bags Al Dente Carb-Nada pasta
1/2 cup Trader Joe's Lite Mozzarella Cheese
Instructions
For Chicken
I like my chicken thin and tender so I used a meat tenderizer to get each chicken breast about 1/2-inch thick.
Sprinkle with a pinch of salt and pepper on each side of the chicken breast.
Chicken Parmesan Assembly
Preheat oven to 375 degrees F. Line a baking sheet with parchment paper. Also, start heating a large pot of water for pasta. In another medium pot, add the marinara sauce to warm.
Mix the breadcrumbs and additional ingredients and add to a shallow dish.
Whip the eggs and add to another shallow dish. Dip each chicken breast into the egg mixture and then coat the chicken in the breading and place on a lined baking sheet. Spray the chicken with olive oil spray on each side.
Repeat with the rest of the chicken and bake the chicken for 15 minutes.
Meanwhile, add the pasta and cook for 3 minutes. Drain and add half the sauce to the pasta.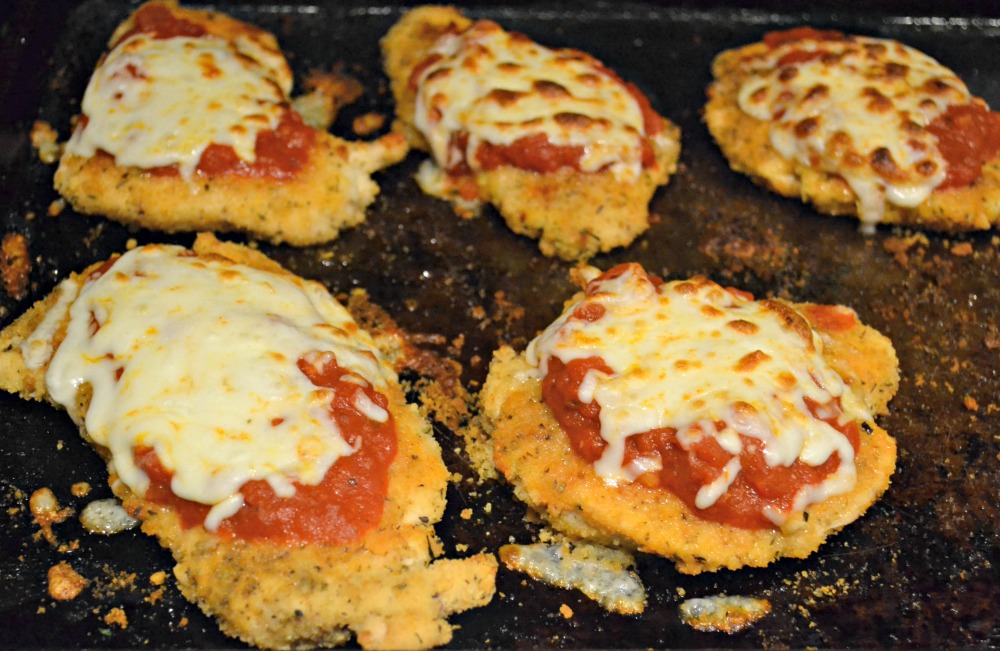 In the last 5 minutes, remove chicken from oven and add 2 Tbsp of sauce and 1 tablespoon of cheese. Place the chicken under the broiler and cook for 5 minutes on one side and remove from oven.
Plate with 1 1/2 cups of pasta and 5 ounces of chicken.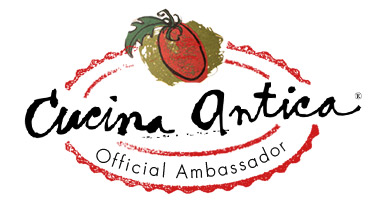 Disclosure: This post contains affiliate links that help support this blog. Every product I recommend I personally.
Related