I love entertaining a lot so when it comes to creating a dish, I usually try something new with my guests. I know it is not the general rule, but sometimes I like taking risks. These Cranberry Corn Fritters with guacamole will have your guests asking for more.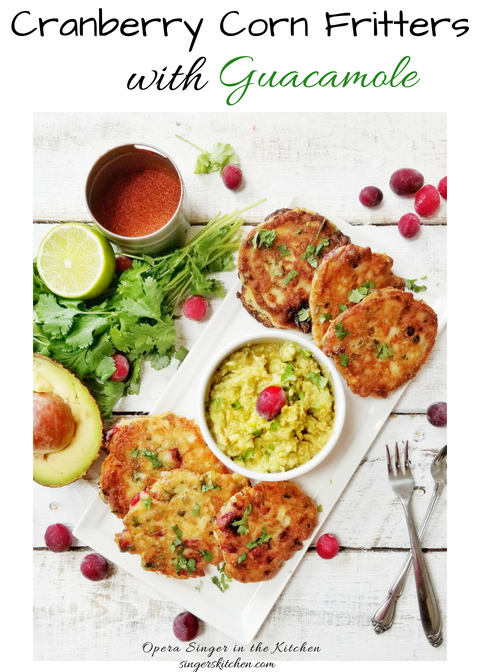 Cranberries: Not just a Fall ingredient
Cranberries can mistakenly be thought of only as an ingredient to be consumed during the fall and winter season but cranberries are really versatile in drinks, salads and even savory dishes. We love eating them dry and sweetened or even in muffins or squares.
Cranberries can also be very intimidating since they tend to be very sour. With the help of a couple of ingredients, you can have a delicious recipe in no time.  I made these fritters with corn kernels, Cape Cod Select frozen premium cranberries, jalapenos and corn flour. They whip up pretty quickly and fry in delicious coconut oil.
A simple guacamole adds as the dip that pairs well with these delicious savory fritters.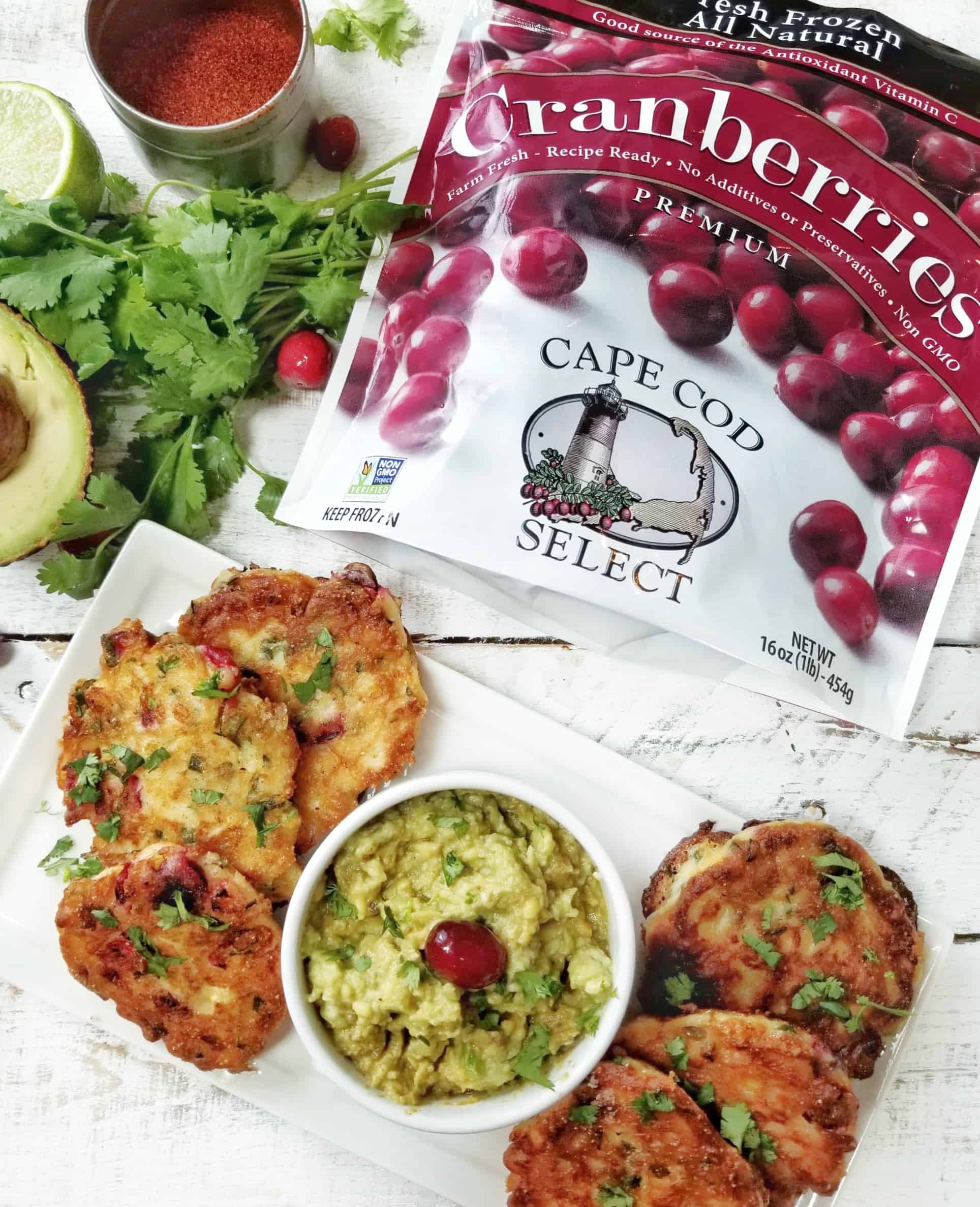 Cape Cod Select Cranberries
Cape Cod Select is a small women-owned family business where they have been growing cranberries on their 800 acre cranberry farm for more than 75 years. It is now in its fourth generation. The cranberries are grown to some of the industries highest standards and are Non-GMO verified and hold GLOBALG.A.P. Certification (https://www.globalgap.org/uk_en/for-consumers/)
The lovely thing about Cape Cod is that you can buy fresh cranberries from them seasonally or you can buy them all year long in frozen bags. Check out their store locator online to find where you can purchase them. I see them all the time at Giant Food Stores near me so I love having them available. You can also order online.
I received frozen cranberries in order to create a few recipes for a recipe contest, so I was happy to create this yummy recipe. It pairs well on a cheeseboard too!
Check out Cape Cod Select on social for info and inspiration.

Cranberry Corn Fritters with Guacamole
A simple guacamole makes for great dipping with these Cranberry Corn Fritters. They were a hit with my little girls as well.
by Noelle Kelly
Prep Time: 15 minutes
Cook Time: 6 minutes
Ingredients (12 fritters)
Cranberry Corn Fritters
2/3 cup corn flour (masa harina)
1/3 cup cornmeal
1/2 teaspoon baking powder
3/4 teaspoon salt
1/2 teaspoon onion powder
1/2 teaspoon garlic powder
2 tablespoons cilantro, chopped
2 eggs
1 cup milk
2 small jalapenos, deveined and deseeded, chopped
2/3 cup Cape Cod Select premium frozen cranberries
1/3 cup cheddar cheese, shredded
2/3 cup corn kernels, fresh or canned
Coconut oil for frying
Guacamole
2 avocados, pitted and peeled
1 lemon, juiced
1 teaspoon salt
1/2 teaspoon black pepper
1/4 cup red onion, diced
Instructions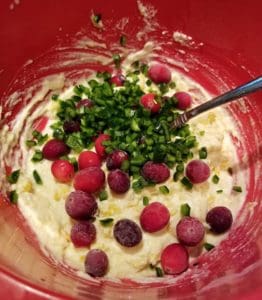 Cranberry Corn batter
In a small bowl, add the corn flour,cornmeal, salt, spices, cilantro.
In another bowl, add the milk, eggs and mix until the eggs are whipped.
Add the wet to dry ingredients and mix well.
Add the diced jalapenos, cheese, cranberries, and corn kernels.
Mix well and set aside.
Guacamole
Mash the avocados in a small bowl. Add the lemon juice, salt, black pepper and onions and mix well.
Frying
Add 1/3 cup coconut oil to a cast iron pan and heat on medium. Allow oil to heat up, about a few minutes.
Add 1-2 Tablespoons of batter into the hot oil and flatten. Repeat 3 other times in the pan and fry for about 3 minutes. Flip the fritters and cook another 3 minutes or until golden brown.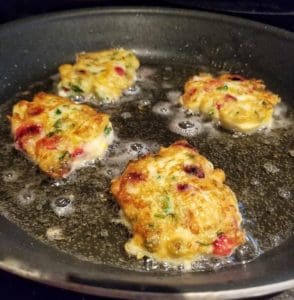 Repeat with the rest of the batter. Makes 12 fritters. Serve with guacamole.
Related