These Tutti Frutti Coconut Swirl Popsicles are a hit for the whole family. Not only is it healthy using Barleans Superfruit Greens, but when you use the Zoku popsicle molds will ensure everyone will have one to enjoy on a summer evening.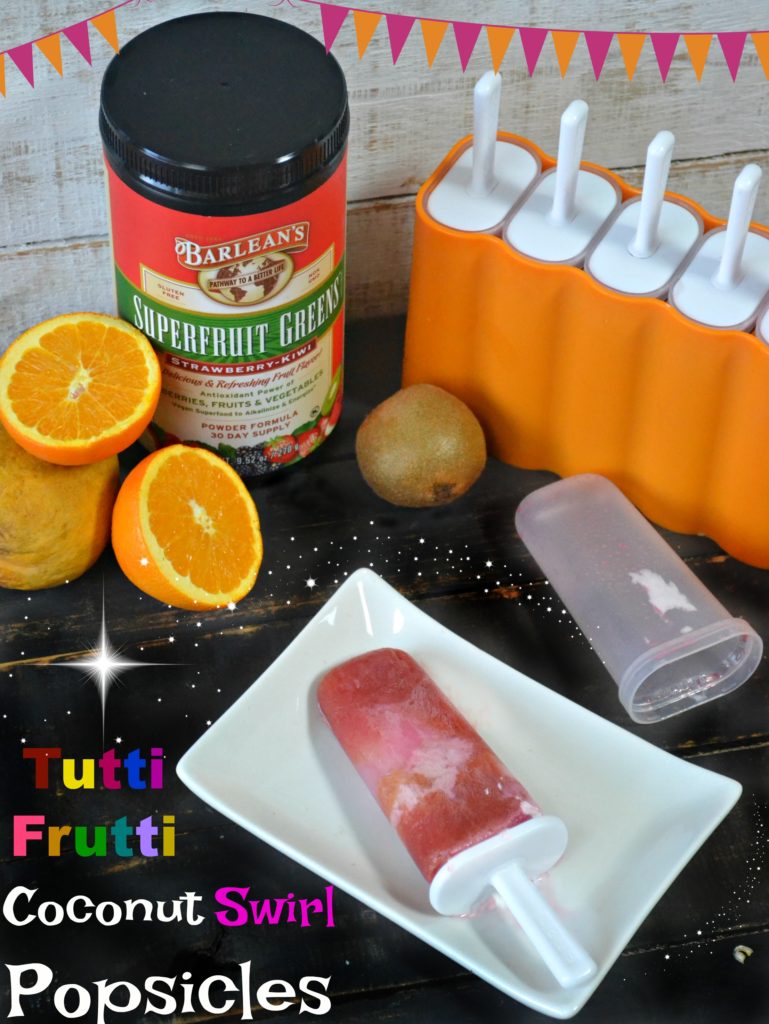 Summer is in full bloom here at out house. Despite all the rain and crazy weather, we have been making the most of it by going to the beach, visiting museums, and exploring new playgrounds. We have only been in our area for 8 months and there is still a lot to discover especially with kids. 
I love exploring and going out so we dedicate at least 2-3 days to go exploring for a day. Even so, there are some days we just stay home or go to local places in order to take care of every day tasks. When I do that, I make sure to have something fun or exciting for my girls.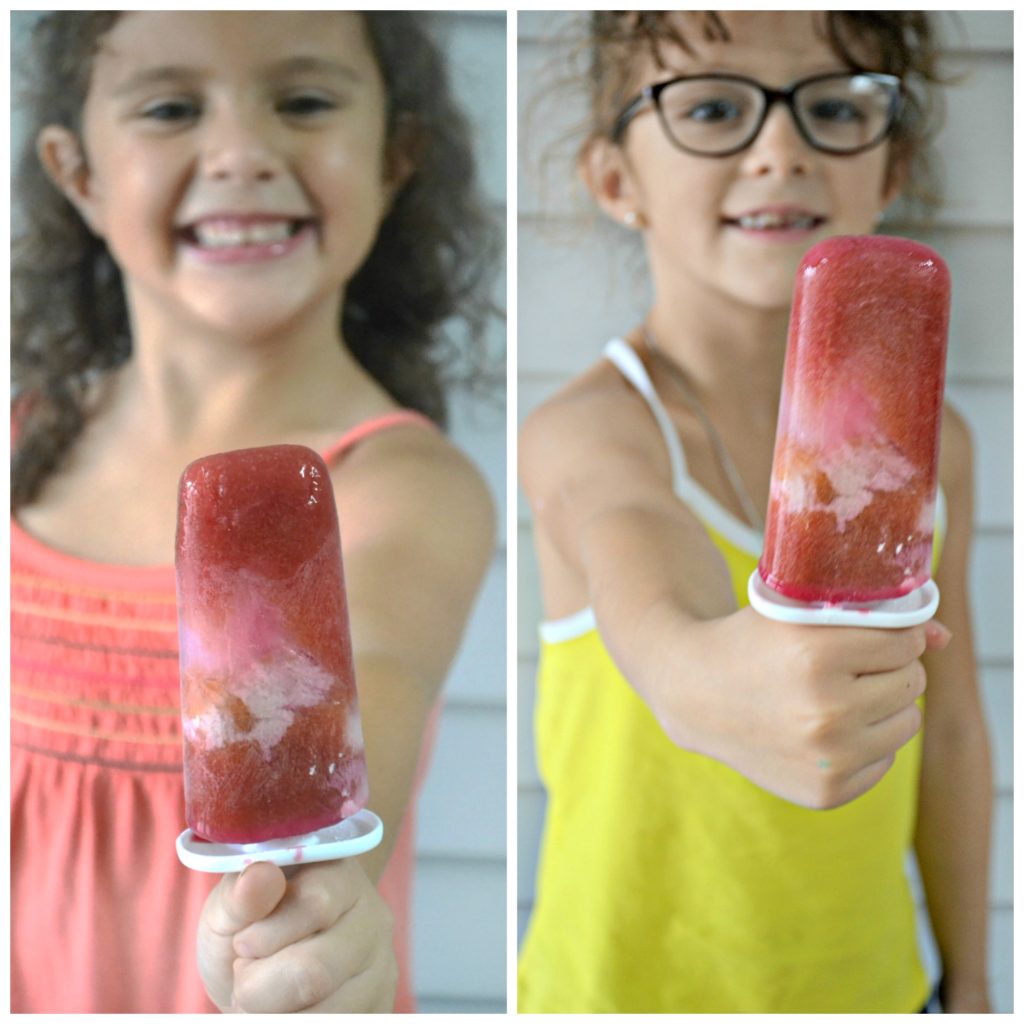 Since it has been hot, we have not been turning on the oven very often so we have been enjoying making popsicles. Zoku popsicle molds have come in VERY handy and fit very well into my freezer, making 6 popsicles at a time. Sometimes we have leftover morning smoothies and I just add the rest to the molds to have as a breakfast popsicle or as a treat after a hot outing.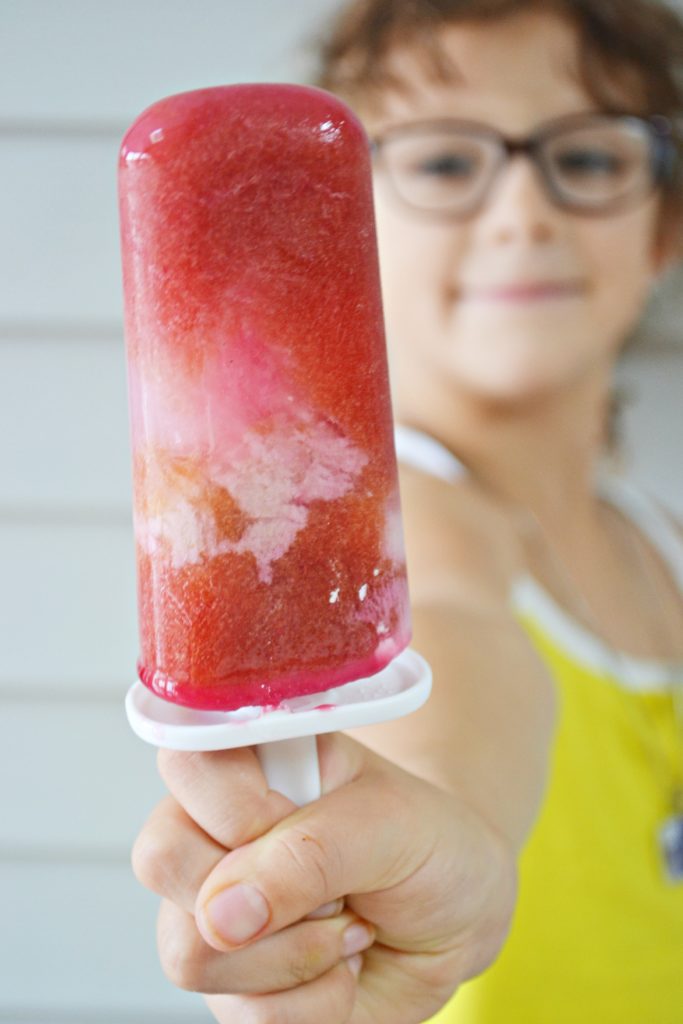 When it came to creating a popsicle on an afternoon with my girls, they each chose what fruit to have in their popsicles. They each chose their favorite fruit to add to the blender.
Mango

Orange

Kiwi
I then peeled and sliced 1 cup worth of mango and added it to the Vitamix, along with 1 kiwi, and one peeled and 1 orange that had been juiced. I added about 1/4 cup water and added 1 scoop of the Barleans Superfruit Greens to the mix.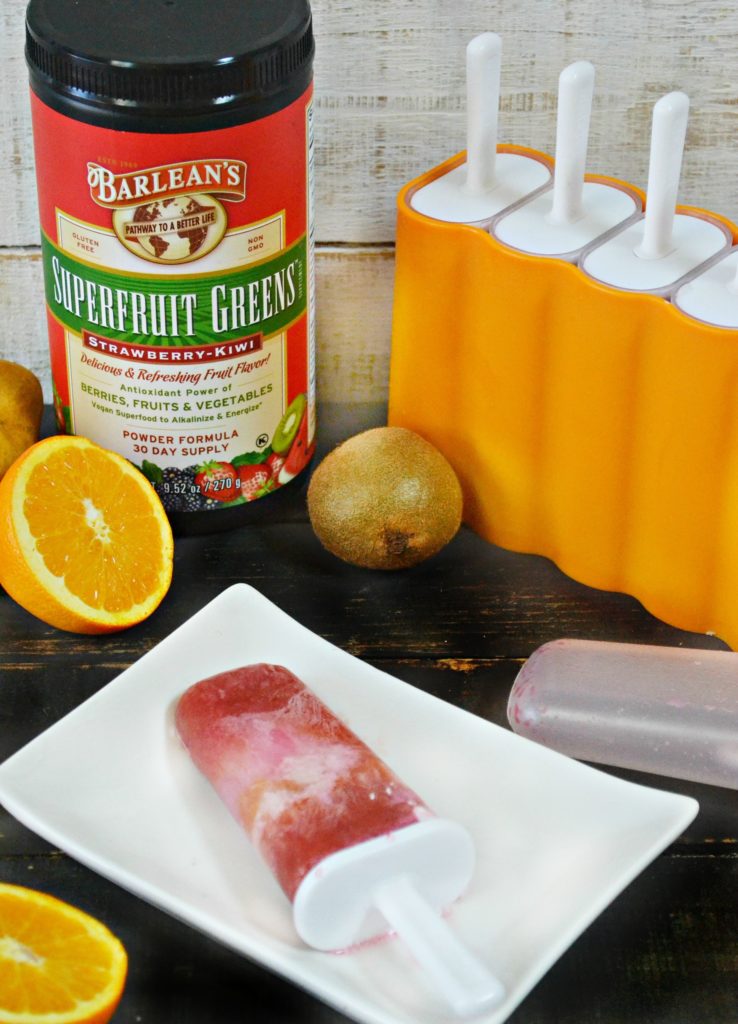 Barleans Superfruit Greens comes in different flavors but I used the Strawberry-Kiwi flavor. It is a vegan antioxidant powder consisting of the following:
Greens, Fruits and Vegetables Blend: spirulina, broccoli juice, parsley leaf, and more.
Fiber Blend: chicory inulin and flaxseed powder
Antioxidant Blend: acerola extract, milk thistle extract, matcha green tea, and more
When I added 1 scoop to the popsicle blended fruit, it made it a vibrant red color. After I blended everything in the blender I filled the popsicle molds 3/4 of the way. I then blended lite coconut milk with Barleans Culinary coconut oil and stevia drops. I then divided the milk between the popsicle molds. I froze the molds over 6 hours and the popsicles were ready to eat.
How delicious do they look?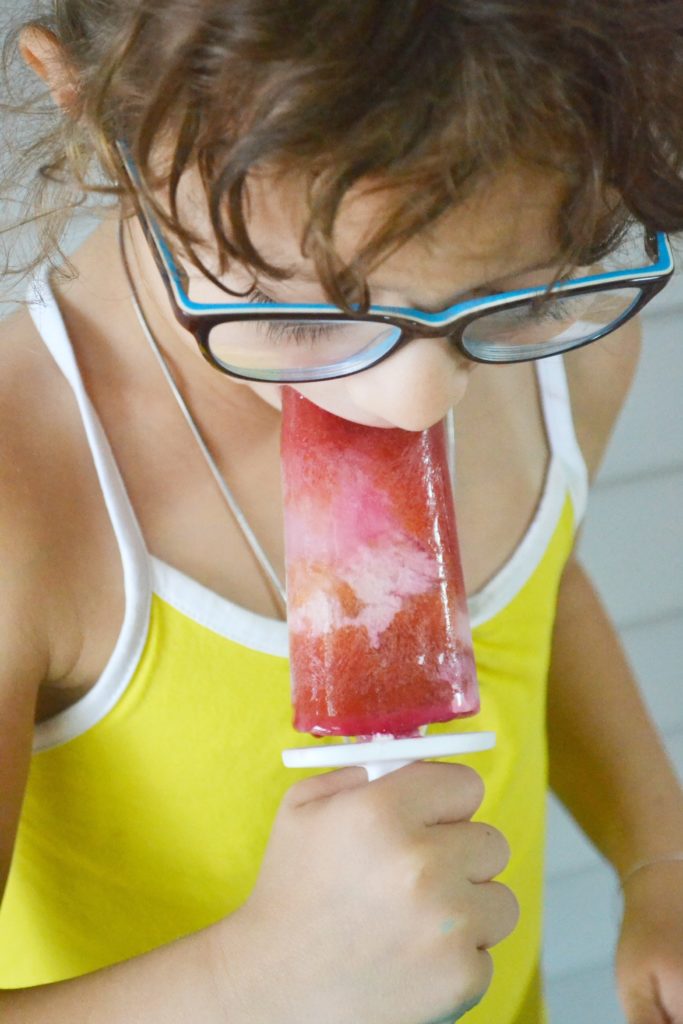 Giveaway
Want to try a tub of the Barleans Superfruit Greens? Leave a comment here or on any of my social media posts sharing this popsicle recipe. Winner will be announced August 14th. Thanks!
Tutti Frutti Coconut Swirl Popsicles
by Noelle Kelly
Prep Time: 10 min and 6 hours for freezing time.
Ingredients (6 popsicles)
Tutti Frutti blend
1 large mango, peeled and sliced (1 cup worth)
1 kiwi, quartered
1 orange, juiced
1/4 cup water
1 scoop Barleans Superfruit Greens Strawberry-Kiwi Blend
10 drops stevia ( I use NuNaturals)
Coconut Milk Blend
1/2 cup light coconut milk
10 stevia drops
1 teaspoon vanilla extract
Instructions
Add the peeled and sliced mango into a Vitamix or high-powered blender.
Add the kiwi and orange juice and the rest of the ingredients. Blend for 45-60 seconds until completely smooth.
Divide the blended fruit into the 6 molds, making sure it only reaches 3/4 of the way.
Wash the blender and add 1/2 cup light coconut milk, stevia and coconut oil and blend well.
Add the blended coconut to each popsicle mold until it reaches the fill line.
Using a long skewer or knife, slowly swirl the coconut milk with the tutti frutti.
Seal the popsicle molds according to directions. Place in freezer for 6 hours.
Remove and thaw slightly according to mold directions. Enjoy.
Related