Spring is officially here! Even though the temperatures have been very volatile,  I'm choosing to embrace April.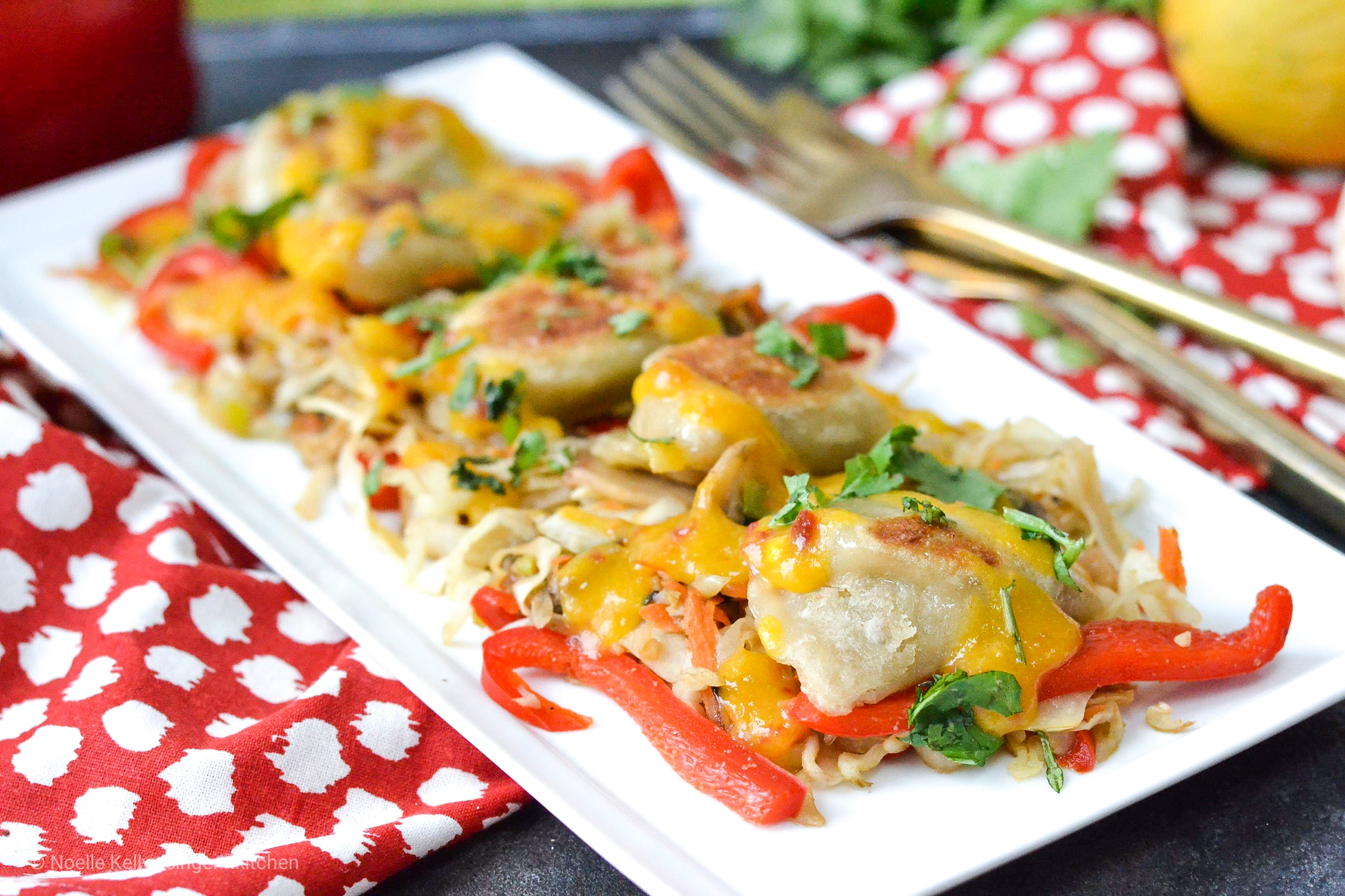 Now that we've been in our new house about 18 months,  I feel like I'm able to manage decorating for every season and holiday. I'm currently setting up my home to look like spring and Easter.
Do you like doing that? What inspires you?
If you've been following me for a while you would know that I love cooking according to the seasons. Local produce and colorful meals make for inspired meals.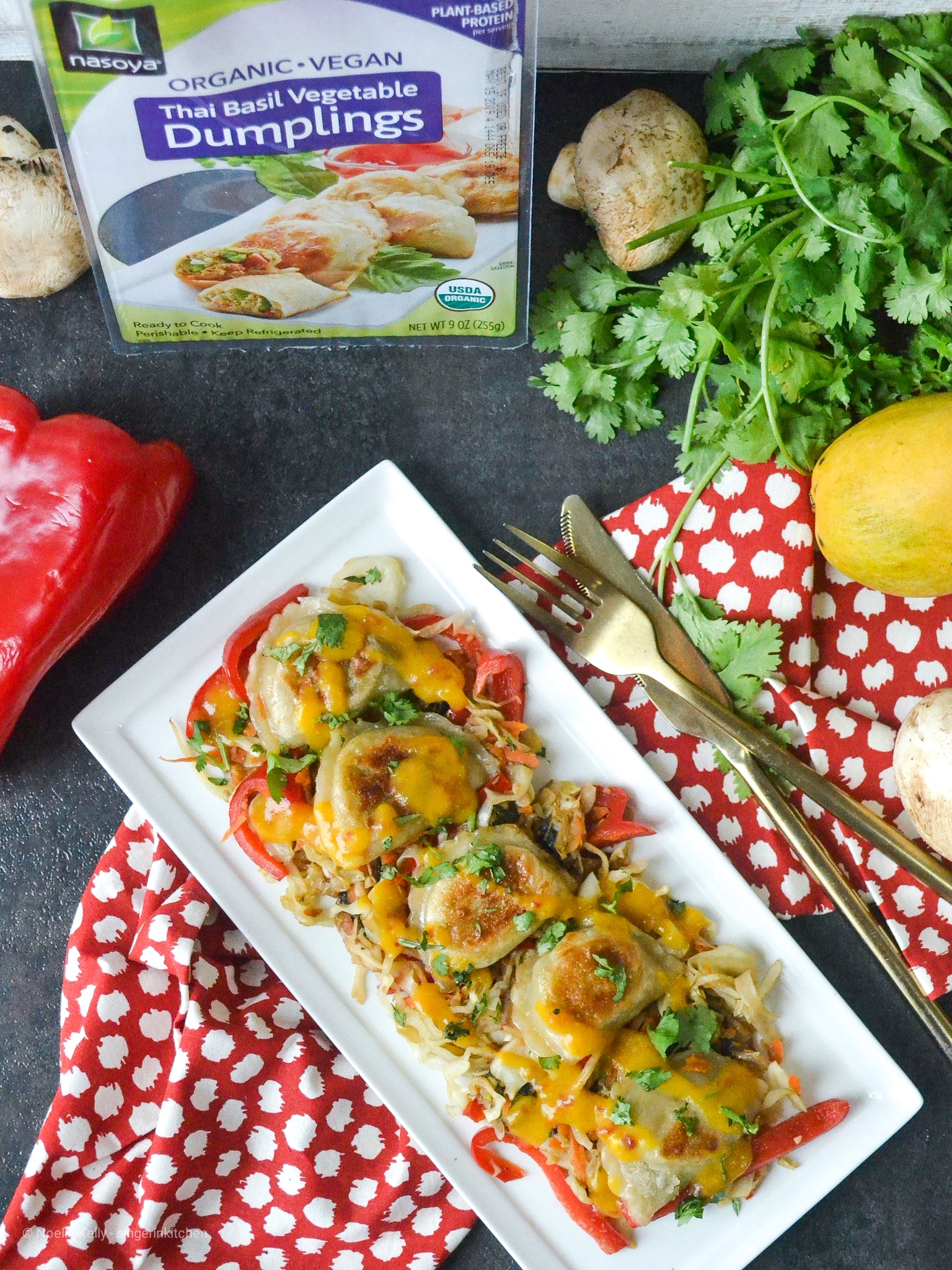 Thanks to Nasoya for challenging me to create a completely vegan meal.  10 years ago I went vegan for 2 years but then I got pregnant and craved meat.
Fast forward to now and I occasionally prepare meatless meals especially ones with tofu.  I have an awesome tofu press that removes excess moisture in a tofu block.
Nasoya recently came out with two kinds of organic vegan dumplings:
Tofu Vegetable dumplings

Thai Basil Vegetable dumplings
They are found in the refrigerated section of the health department in the grocery store near the tofu. Here's a few facts about them:
Ready-to-cook

Fresh

6 grams of plant-based protein

Great as appetizers, snack or meals.
I decided to try the Thai Basil Vegetable dumplings because they sounded the most intriguing. I made an easy lunch dish to share with my husband.  Each package makes about 3 servings of dumplings but it can easily be for 2 people.
Where to Find Nasoya Dumplings
These products are very easy to find but if you have problems, check Nasoya's store locator. Again, they will be in the refrigerated section of your natural product section. I have seen them at Wegmans and Giant Food, but you can also find them at Acme, ShopRite, and Weis stores. Want to try them?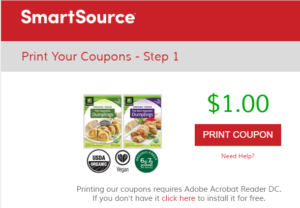 Dumplings with Stir-Fried Veggies and Spicy Mango Sauce
by Noelle Kelly
Prep Time: 10 minutes
Cook Time: 20 minutes
Ingredients (2 lunch servings)
Dumplings
1 package Nasoya Thai Basil Vegan Dumplings
1 Tablespoon sesame oil
1 Tablespoon low-sodium soy sauce
Stir-Fried Veggies
2 cups green cabbage, chopped
1/2 cup green onions, chopped (white section)
1/3 cup grated carrots
1/2 large red bell pepper, sliced
1 garlic clove , minced
1 Tablespoon sesame oil
1/4 teaspoon salt
2 Tablespoons low-sodium soy sauce
Mango Sauce
1/2 cup mango pulp ( or 1 yellow mango, peeled and fruit removed)
1/2 Tablespoon soy sauce
1 Tablespoon red chili garlic sauce
Assembly
1/4 cup cilantro, chopped
Instructions
Dumplings
Heat a large skillet on medium heat and add sesame oil. Remove dumplings from packaging and add to skillet. Fry on one side for 4 minutes and then flip the dumplings so they cook on the opposite side for an additional 4 minutes. Add 1/4 cup water and cover pan to allow water to finish cooking the dumplings for 4 minutes. Remove dumplings to a bowl.
Stir-fried veggies
In the same pan, add the sesame oil and heat on medium heat. Add the veggies and seasonings and stir-fry veggies for 8 minutes. While they cook, make the mango sauce.
Mango sauce
Add all mango ingredients to a blender and blend until smooth.
Assembly
Divide veggies between two plates. Add dumplings over veggies and drizzle with mango sauce. Garnish with fresh chopped cilantro.
Related