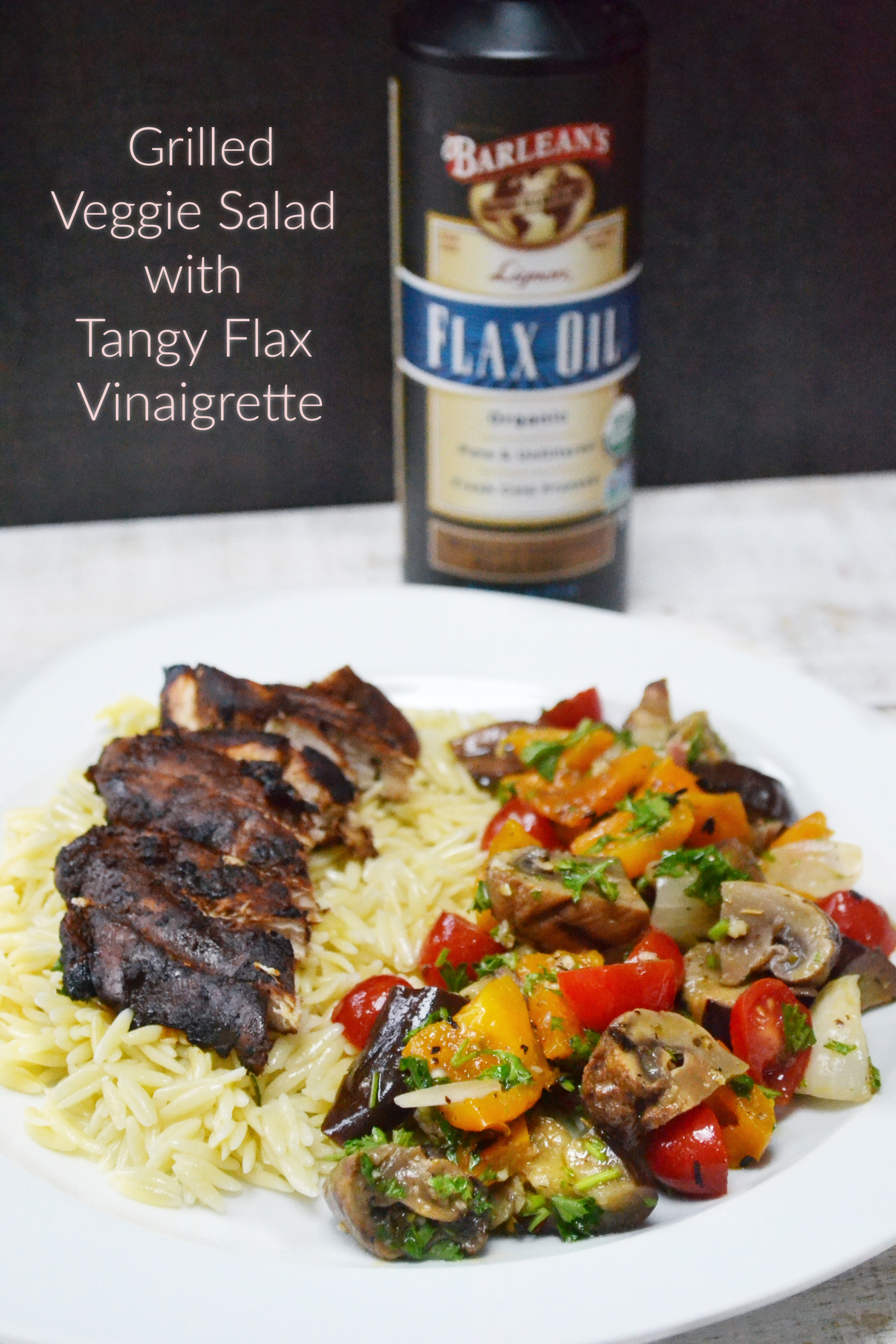 The summer is almost over and all I want is more grilled veggies. Summer is for corn, squash, tomatoes and everything that is seasonal. I am thankful for a time to create after an evening of grilling. Barlean's Flax Oil made a lovely ingredient in my Tangy Flax vinaigrette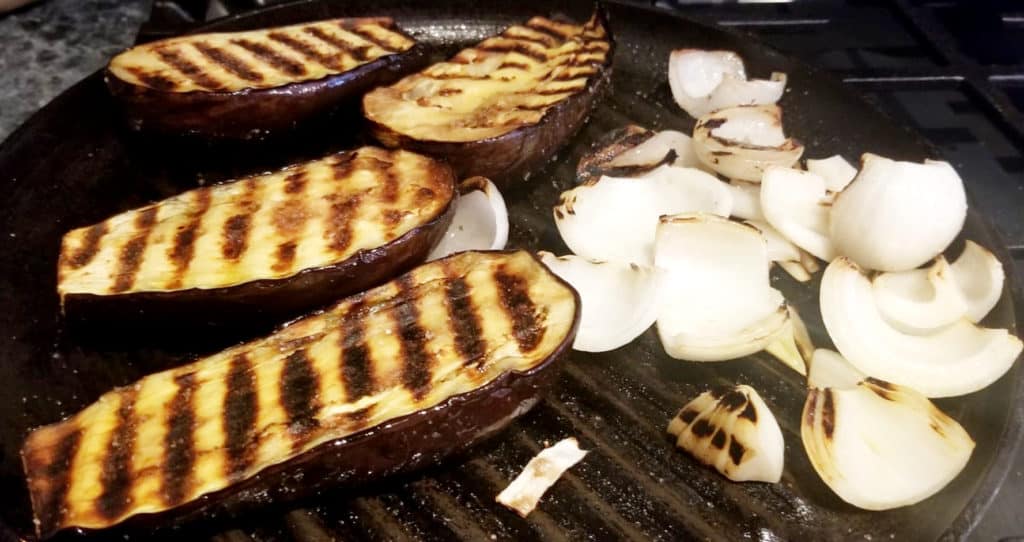 Summer is for Grilling
What is your favorite food to grill? I have too many to chose from but there is something special that happens when vegetables are grilled. There is not only char but there is a sweetness that comes out to each.
red bell peppers

onions

mushrooms

zucchini

corn (my husband's favorite)
Sometimes we grill burgers and add a side of grilled veggies and it is simply heavenly. After dining at Chima Brazilan Steakhouse and having a lovely grilled cold salad, I was inspired to make my own version.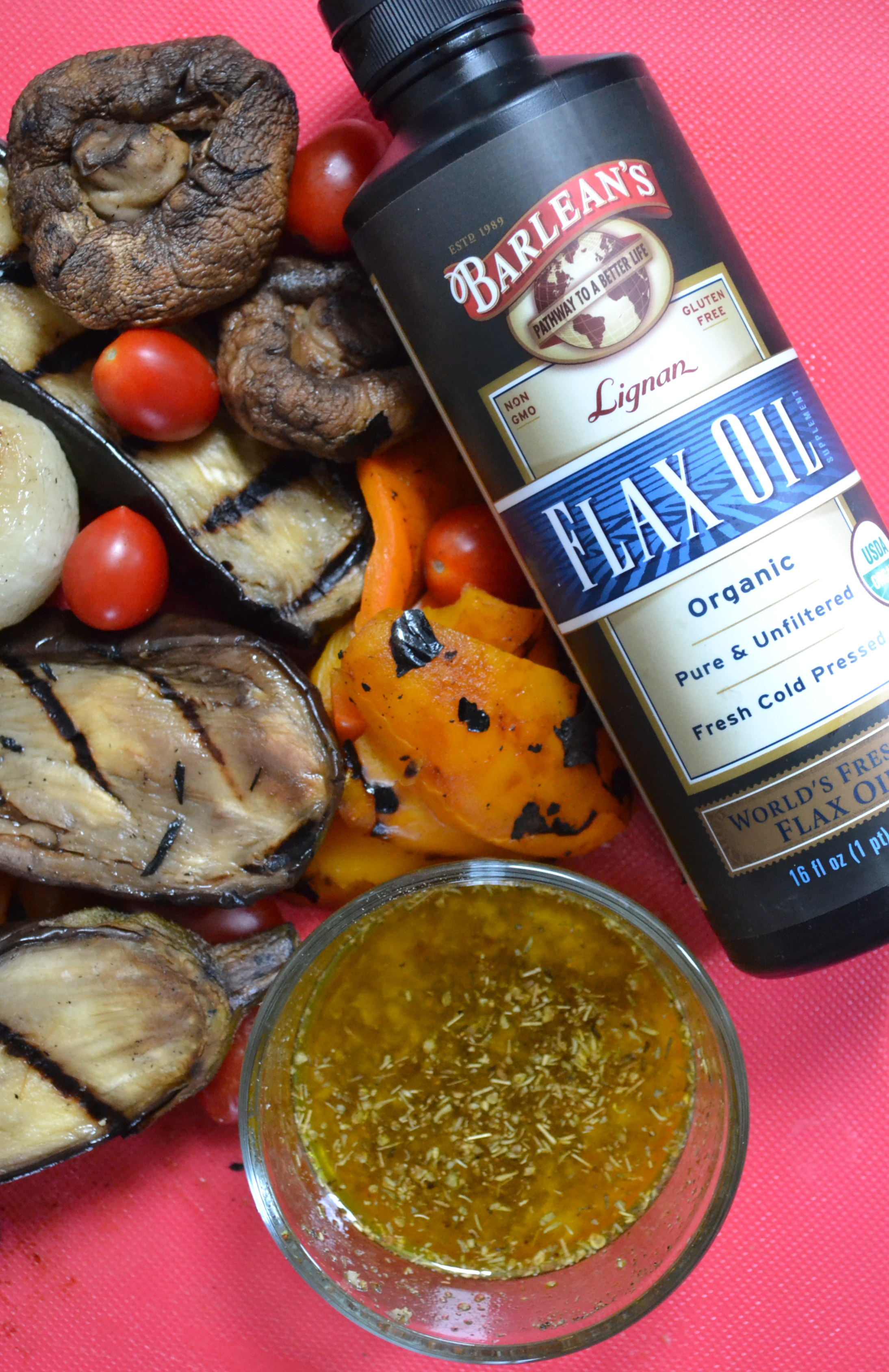 Barlean's Organic Flax Oil
I remember my grandmother keeping Barlean's flax oil in the refrigerator. She not only took it as a supplement but also in her kitchen. Here I am, now making it part of my pantry and celebrating Barlean's 30-year anniversary of making healthy oils and supplements.
The organic flax oil is pure and is non-GMO, vegan, cold-pressed, raw, kosher and more! For every Tablespoon of flax oil there is 7,640 mg of Omega-3 fatty acids. Taking Omega-3s is helpful for the following:
depression

anxiety

eye health

brain health

reducing symptoms of ADHD

improving mental disorders

and more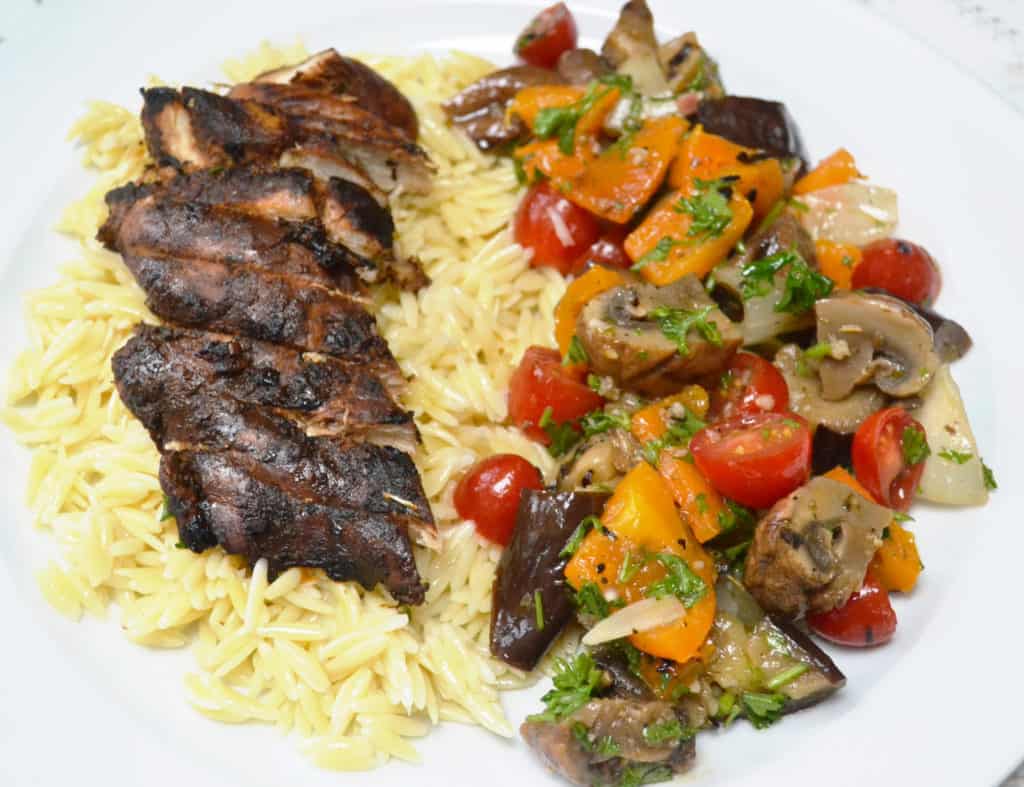 Grilled Veggie Salad with Tangy Flax Vinaigrette
The recipe is easy to make ahead of time and serve to guests the day after. The longer that the veggies marinate in the vinaigrette the better. The flavors just get better but I am sure this salad will be consumed pretty quickly.
A variety of seasonal vegetables can be grilled and added to this salad but I chose to use:
eggplant

onions

mushrooms

peppers
After grilling these vegetables I added a few fresh components: parsley, cherry tomatoes, and the vinaigrette. While the salad tastes really great the same day, it tastes even better the next day after the vegetables have marinated in the vinaigrette.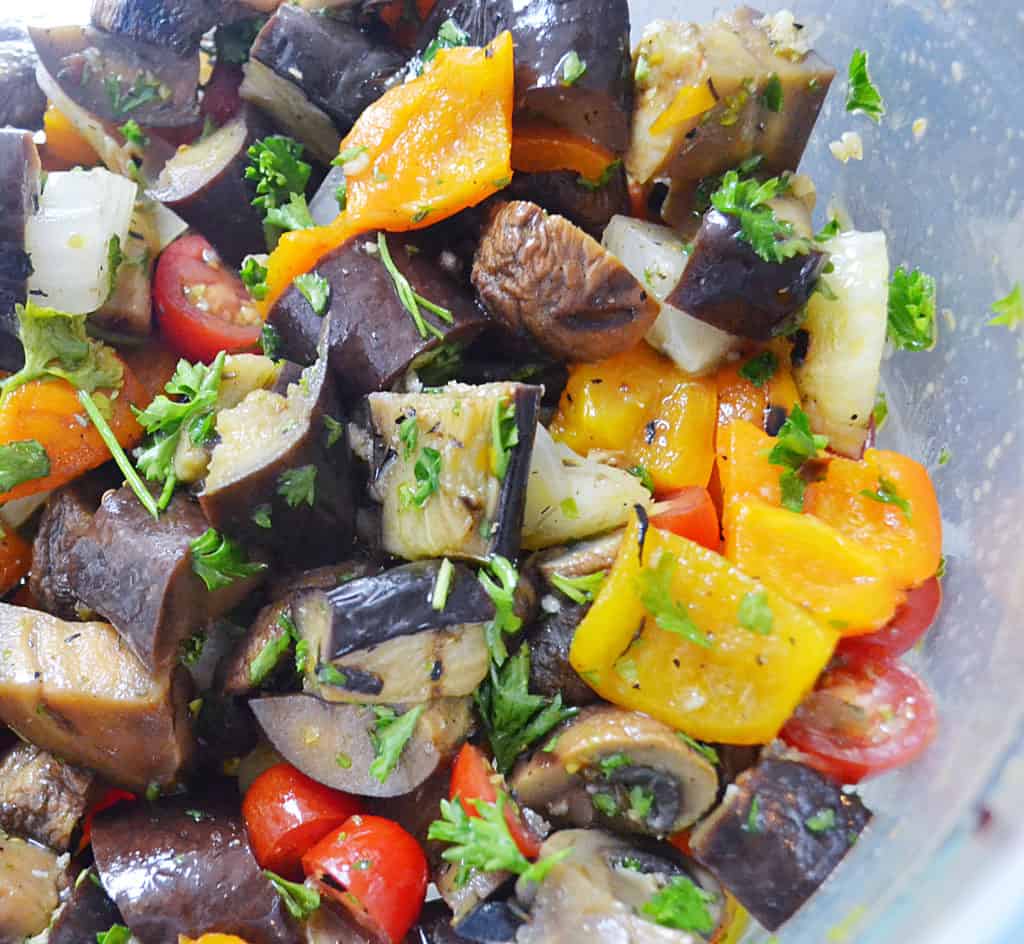 Try this salad before the summer is over, or pin it for indoor grilling during the fall and winter season. Get creative with Barlean's organic flax oil in your kitchen and try my recipe. It is also great drizzled on yogurt, oatmeal or smoothies too!
Grilled Veggie Salad with Tangy Flax Vinaigrette
by Noelle Kelly
Prep Time: 10 minutes
Cook Time: 20 minutes
Ingredients (6 servings)
Grilled Vegetables
2 small Italian eggplants, sliced in half (about 2 cups after cooking)
2 small white or yellow onions, peeled
2 small yellow bell peppers
6 button mushrooms
Fresh ingredients
1/3 cup cherry tomatoes, halved
2 Tablespoons parsley, chopped
Tangy Flax Vinaigrette
1/4 cup Barlean's organic flax oil
3 garlic cloves
juice of 1 large lemon
2 Tablespoon red wine vinegar
1 teaspoon salt
1/4 teaspoon ground black pepper
1/2 teaspoon oregano
1/2 teaspoon basil
1/2 teaspoon Italian seasonings
Instructions
Grilled Vegetables
Spray vegetables with olive oil spray and place eggplant halves on the grill, the whole onions, the whole peppers and the mushrooms. Cook for 20 minutes and remove from grill. Cool on a plate.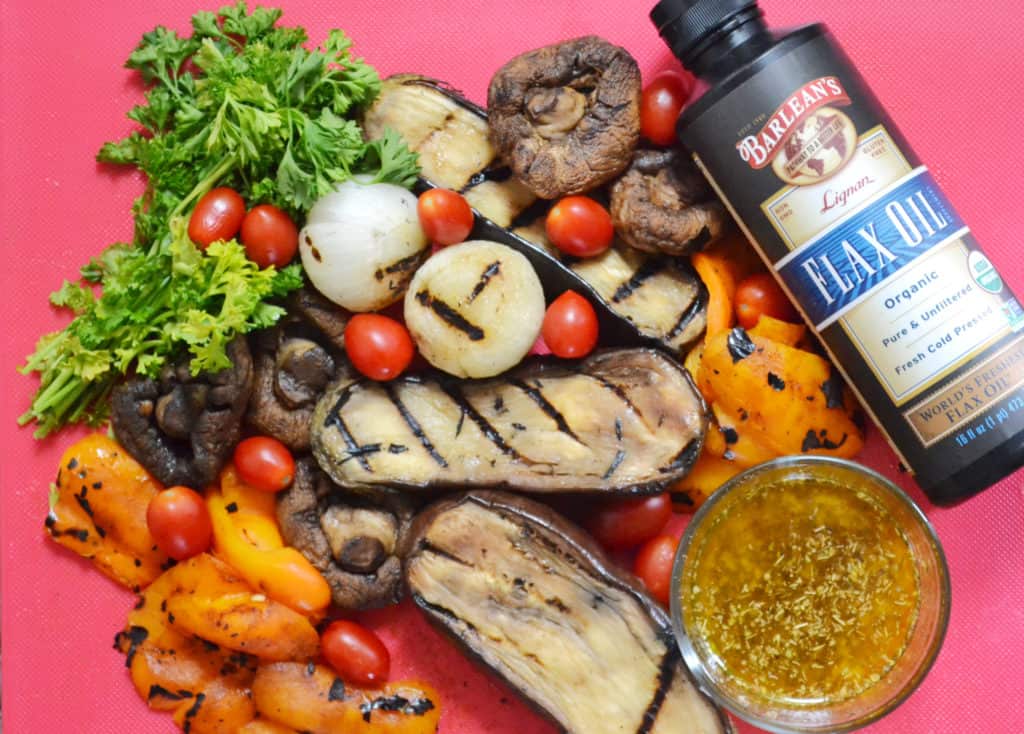 Vinaigrette
Meanwhile, prepare vinaigrette. Add all ingredients in a jar and mix well.
Assemble
Chop up the eggplants in 1/2 inch cubes. Remove seeds and pepper core and dice the bell pepper. Quarter the grilled mushrooms and chop the grilled onions. Place in a salad bowl and toss with vinaigrette.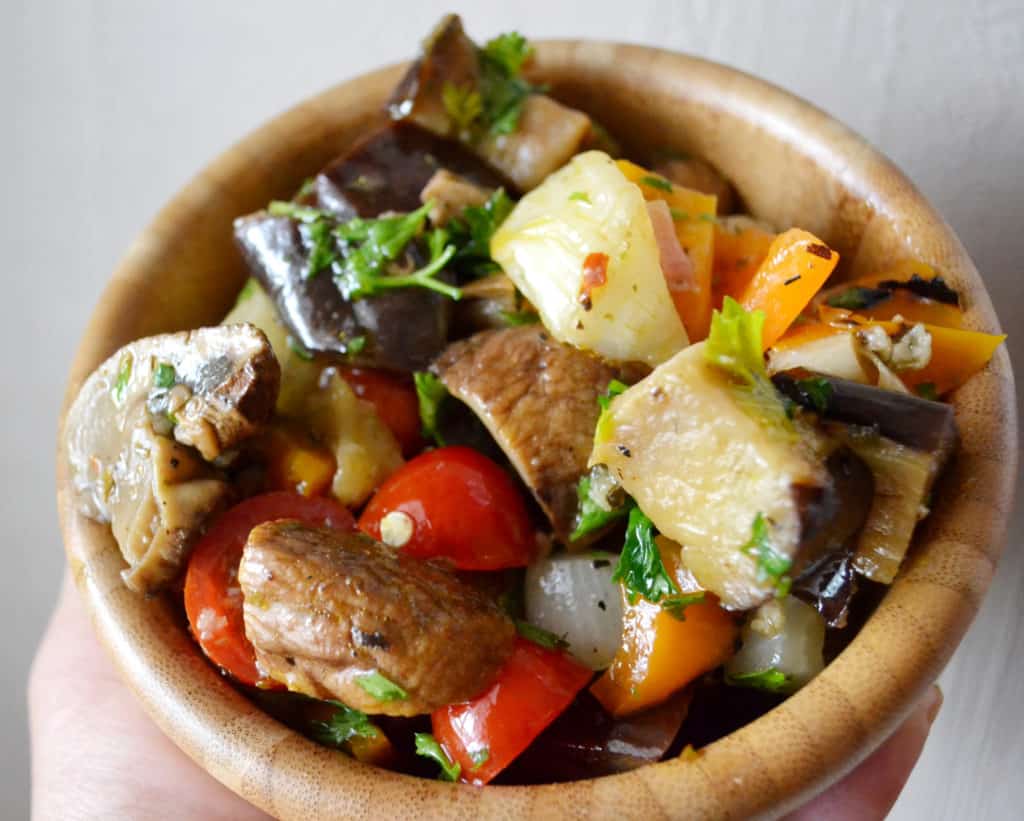 Serve immediately or refrigerate overnight for an amazing salad with great health benefits.
Related