It's National Lemonade Day today and, since you're an adult, you should drink your lemonade like an adult: spiked with Van Gogh Vodka!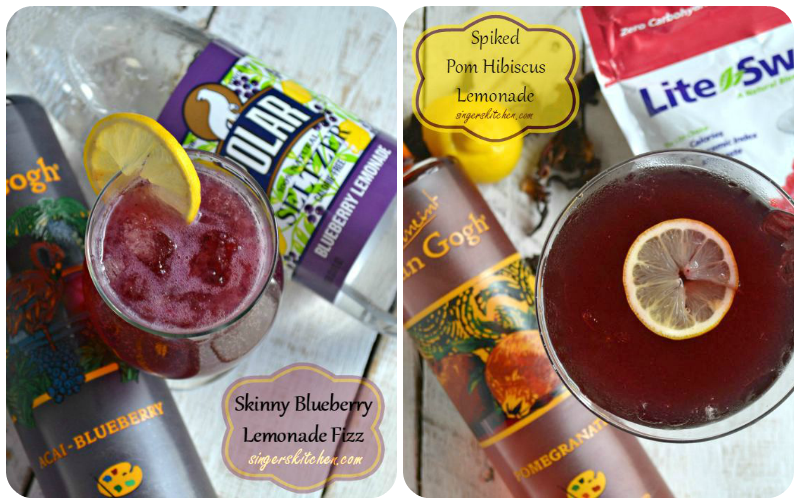 National Lemonade Day comes at a perfect time of the summer. Has anyone started school yet? My husband has the rest of this week before he starts but some others have until September, so why not continue enjoying the summer. In my home, my kids are constantly asking for something to drink whether we are active or not. Sometimes I just concentrate on giving them water, but other times, I like varying it by giving them fresh juices and teas. They have gotten used to it that when they walk into the kitchen, they ask me whether I am making tea or juice.
One of the most refreshing drinks to have during the summer can be lemonade. I've been taught that just drinking  lemon water in the morning helps flush the kidneys. When I was challenged to make a unique lemonade for National Lemonade, I only imagined something my family would love or even friends coming over for a summer evening BBQ.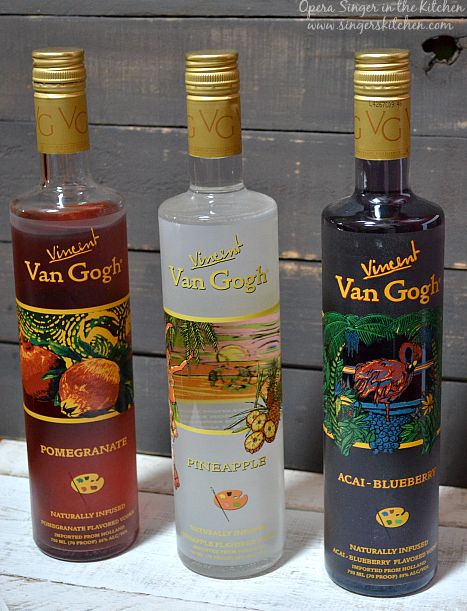 I recently was sent a delightful trio of delicious vodkas to spike my lemonade recipes. Van Gogh Vodkas are crafted using only the finest fruit, grains and purified water. The grain alcohol goes through a multiple distillation process followed by an all-natural double infusion flavoring process.  The state-of-the-art equipment ensures a smooth and quality controlled bottling process which is handled in a very efficient way.  It was so hard to choose which vodka to try first since the Pineapple, Acai-Blueberry, and Pomegranate Vodka all sounded delicious.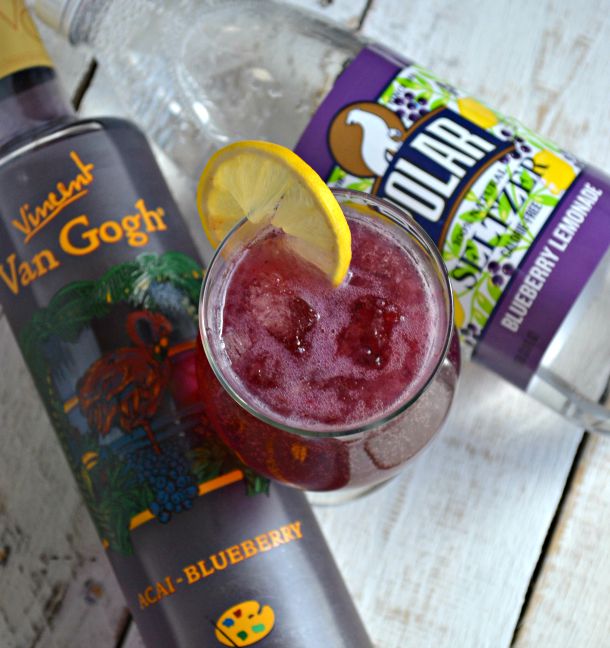 I have to agree that a quick taste test of each flavor went down smoothly although this was the first time I have had flavored vodkas added to my liquor cabinet. I was actually happy with the flavors they sent me because it was easy to make my drinks with my favorite combination of ingredients at home. Both cocktails created today are made with Lite & Sweet which is a natural sweetener combining xylitol and erythritol with zero net carbs. The measurements are 1:1 as real sugar and really taste like sugar but with few calories. A little sweetener was added by the Wild Hibiscus Flowers in Syrup that made for the decoration and great combination with pomegranate.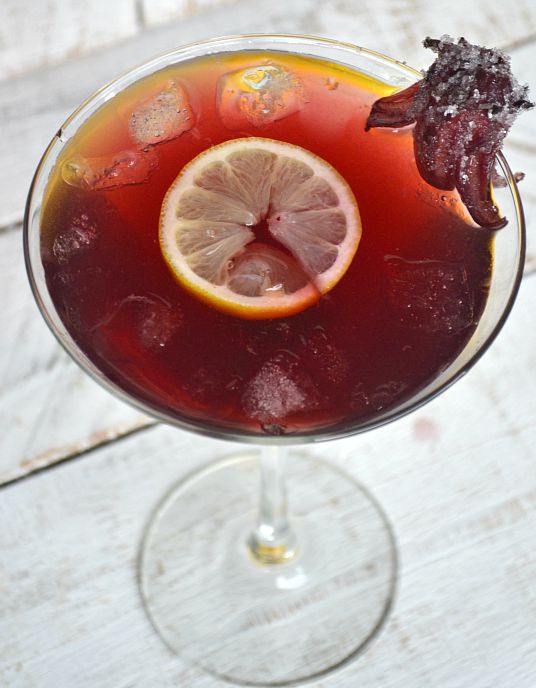 The Van Gogh Pomegranate Vodka paired well with my hibiscus and lemonade base for the Spiked Pom Hibiscus Lemonade. The hibiscus flowers added a gourmet and beautiful addition to the cocktail, you could even eat them as well!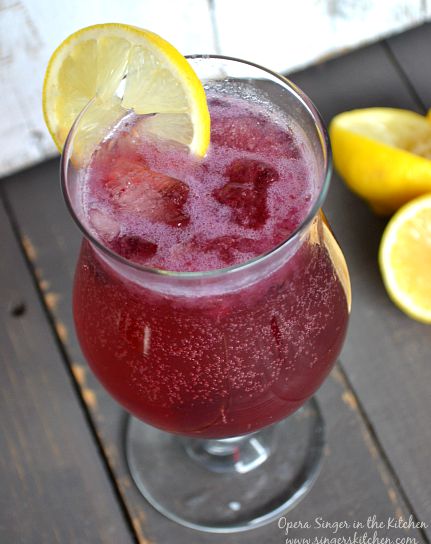 My Skinny Blueberry Lemonade Fizz was so tasty seeing I have never enjoyed beverages with blueberries or lemonade. I loved the combination because the blueberries, softened the tartness of the lemons. I also was finally happy to use Polar's Blueberry Lemonade Seltzer which is limited for the summer. It made a perfect fizz for my drink and added fun bubbles to every sip.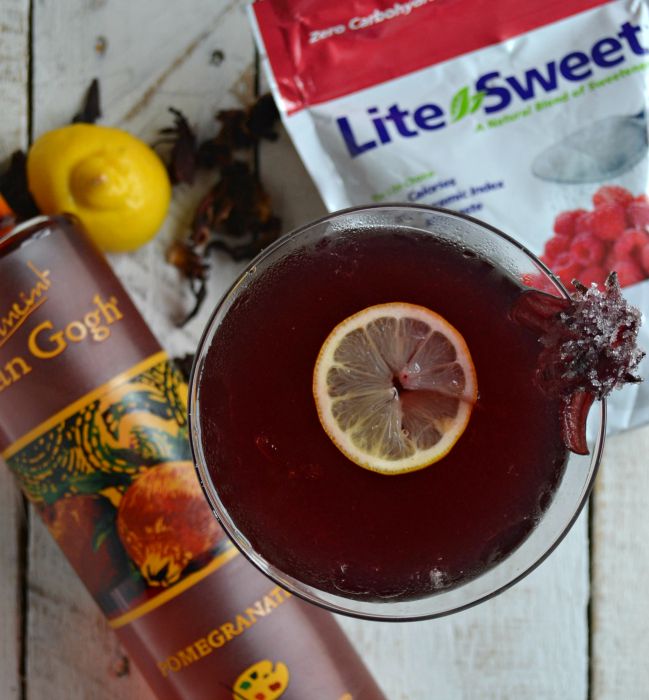 Sit back and relax and check out my spiked lemonade recipes that would be perfect for any parties or cookouts left for the summer or even on some weekends when parents need to relax after school has started. Remember, you can also make these drinks without alcohol for your friends or kids. My girls certainly loved the lemonade for an afternoon refresher.
Here are some more recipes for National Lemonade Day:
Homemade Limoncello Recipe by Jo-Lynne Shane's Blog
Pink Lemonade Cocktail by Hillary Chybinski
Frozen Lemonade by A Grande Life
Strawberry Lemonade by How Does Your Garden Grow
Pink Lemonade Moonshine Cocktail by Giggles, Gobbles, & Gulps
Homemade Lemonade with Mint by O'Boy! Organic
Homemade Strawberry Lemonade by The Centsible Life
14 Family Friendly Lemonade Recipes featured at Mending the Piggy Bank
The Best Homemade Lemonade Fresh Squeezed with Honey by Eco Incognito
Watermelon Lemonade by A Grande Life
Disclosure: I received product from Van Gogh, Xlear, and Wild Hibiscus in exchange for an honest review. All recipes and opinions are my own.
Related articles across the web
Related