This is a sponsored post with Role Mommy and Ambrosia™. All opinions and recipes are my own.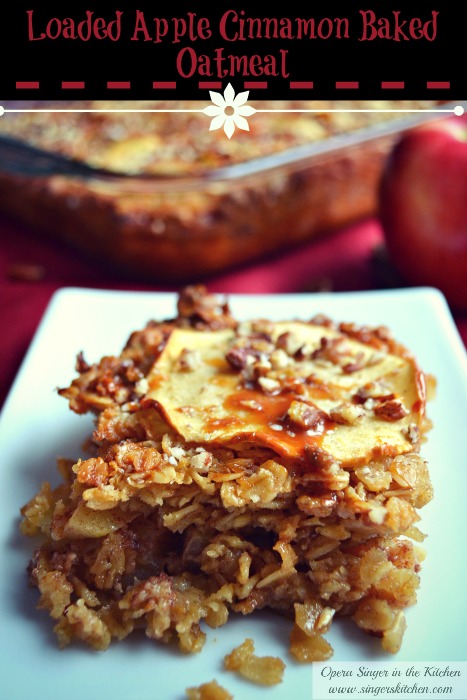 Our little family can always enjoy a nice snack in the form of an apple. I peel and slice them thinly and it is an instant hit with my toddlers. Sometimes apples are just plainly the best dessert to have when craving something sweet especially if they are as sweet as Ambrosia™ apples. A beautiful red glistening shine to the apple beckons to be devoured without any additional condiments, toppings or dips. It is easily tempts with its firm and juicy flesh. Yes. I am talking about an apple.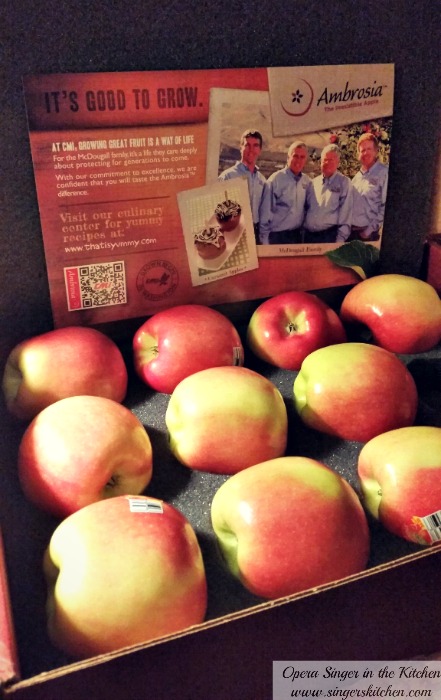 Since moving to the Midwest and now the East Coast, I have enjoyed going to orchards and discovering the varieties of apples available to my family. God's creation is definitely evident in the variety and it excites me to know there is always something new to try in the orchard. One of the apples I recently had the pleasure to taste and experience were Ambrosia™ apples.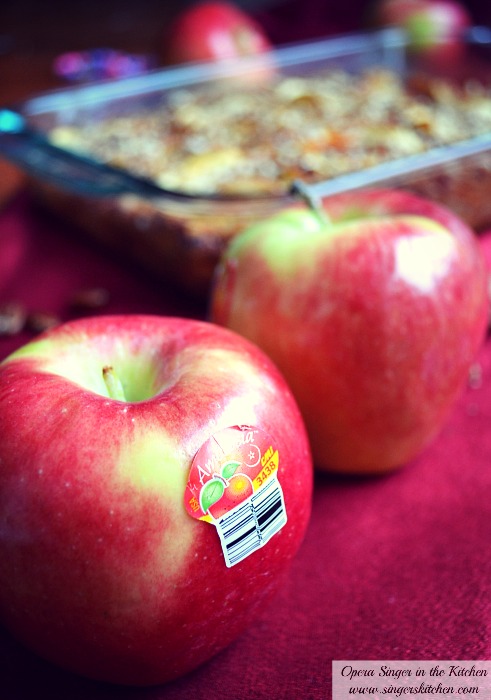 Unlike most other modern varieties of apples, which were purposely cultivated by crossing two or more other varieties, Ambrosia™ , also known "Food of the gods, " originated the old-fashioned natural way as a chance seedling in an orchard in Canada. They are grown in the Wenatchee Valley in Washington State by an agriculture family, McDougall and Sons, whose roots go back five generations on the land.   These beauties are picked with high quality assurance, based on starch levels, not color, to insure premium quality. Like all U.S. grown apples, Ambrosia™ are non-GMO and are both organic and conventionally grown and available at the marketplace.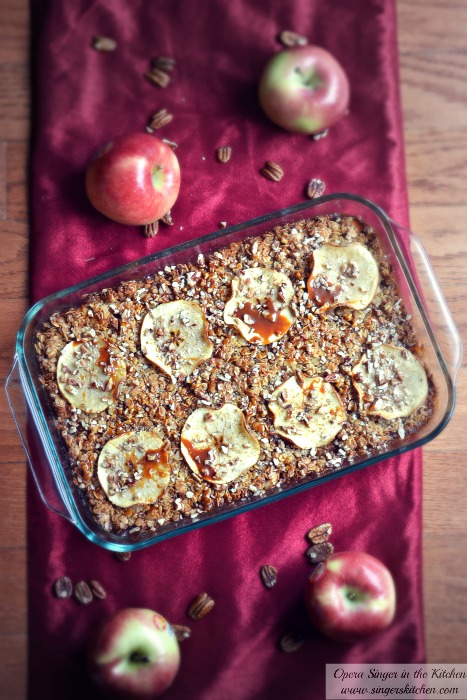 When I was trying to come up with a recipe for these beautiful apples, it was hard because all I wanted to do was just devour each whole apple in its raw form. Since I found out that these apples are naturally sweet and require less sugar when cooking or adding to recipes, I knew I had to make a recipe to eat in the mornings. These apples retain their shape when cooked so I knew I could add as many apples without them becoming too mushy.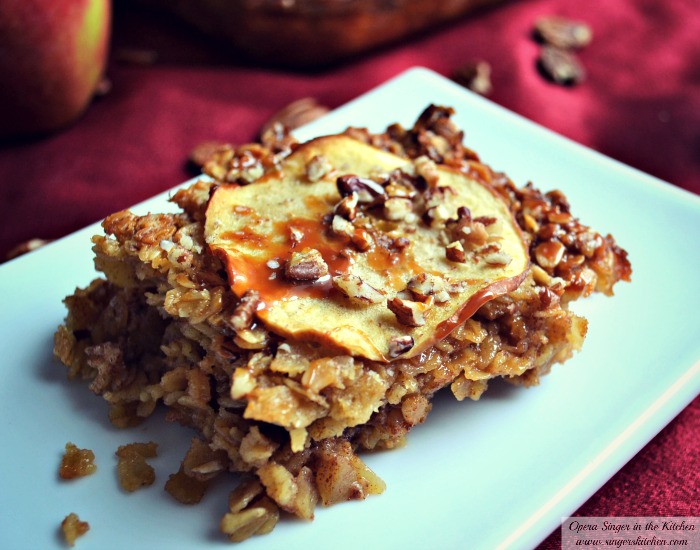 Baked oatmeal is a recipe that has been pretty popular in my husband's life growing up. I have just eaten oatmeal straight out of a pot, but when I had my first serving of blueberry baked oatmeal drizzled with cream, I was convinced it was the new way of eating oatmeal. Since my girls like this morning cereal quite often I created a recipe that contains fruit, oatmeal, and protein to make my recipe a complete meal for breakfast.  I layered the bottom of a dish with diced apples, cinnamon, a little sugar, butter and covered with an oatmeal mixture and topped with thinly sliced apples for decoration. 
Results: A crunchy topped baked apple oatmeal with a cinnamon burst of flavor. My family enjoyed this recipe immensely and thanked me for making it for them. There is nothing like hearing your family enjoying a recipe. This recipe would be perfect for Christmas morning or during this season when you have family visiting. Enjoy!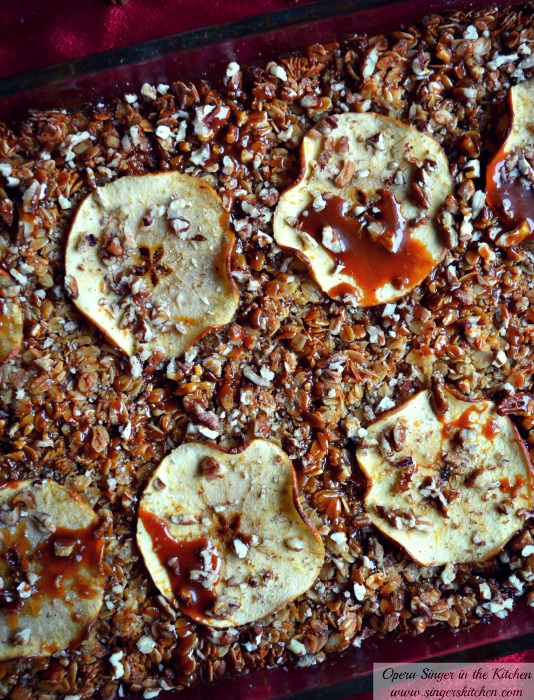 Loaded Apple Cinnamon Baked Oatmeal
by Noelle Kelly
Prep Time: 20 minutes
Cook Time: 60 minutes
Keywords: bake breakfast brunch vegetarian recipes on recipage vegetarian apples oats fall in-season spring winter
Ingredients (8-10 servings)
Bottom Apple Layer
3 Ambrosia apples, peeled, seeded, and chopped
1 1/2 teaspoons ground cinnamon
4 Tablespoons salted butter, melted
1 teaspoon vanilla powder
1/4 cup brown sugar
2/3 cup crushed pecans
Oatmeal Topping
4 cups oatmeal
3 teaspoons baking powder
1 1/2 teaspoons salt
1 1/2 cups milk (or milk substitute)
1 1/2 teaspoons cinnamon
3/4 cup coconut oil, melted
3/4 cup honey (or coconut sugar)
3 eggs, beaten ( or 3 flax egg substitutes)
Garnish
1/2 Ambrosia apple, sliced thinly
1/4 cup pecans, crushed
Instructions
Heat oven to 350 degrees Fahrenheit
Bottom Apple Layer
Place chopped apples and pecans in a large bowl and toss with melted butter. Add the cinnamon, vanilla, and sugar and mix well. Pour apple mixture into a greased 9×13 glass pan.
Oatmeal Layer
In a small bowl, mix the oatmeal, baking powder, salt and cinnamon together and set aside. In another bowl, beat the eggs and add the milk, coconut oil, and honey and mix well until combine. Add the wet to the dry ingredients and mix.
Pour oatmeal mixture over the apple layer and spread evenly over the apples.
Using a microplane, slice an apple into 6-8 thin slices and place on top of the oatmeal layer. add the pecans over the casserole. Bake for an hour.
Remove from oven and serve with half and half and drizzle with a bit of caramel.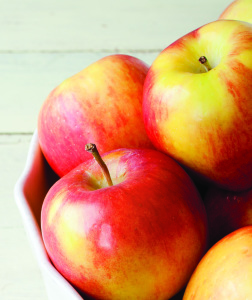 Ambrosia™ apples can be found in most major supermarkets nationwide, as well as many independent stores. Most major supermarket chains carry Ambrosia™ from November through March. During the spring and summer months Ambrosia™ are often imported into the United States from Chile and New Zealand. Don't see Ambrosia™ in your local supermarket? Ask the produce manager to stock it!
Related