This post is in partnership with Whole Foods. All opinions are my own. Gift Card provided by the store.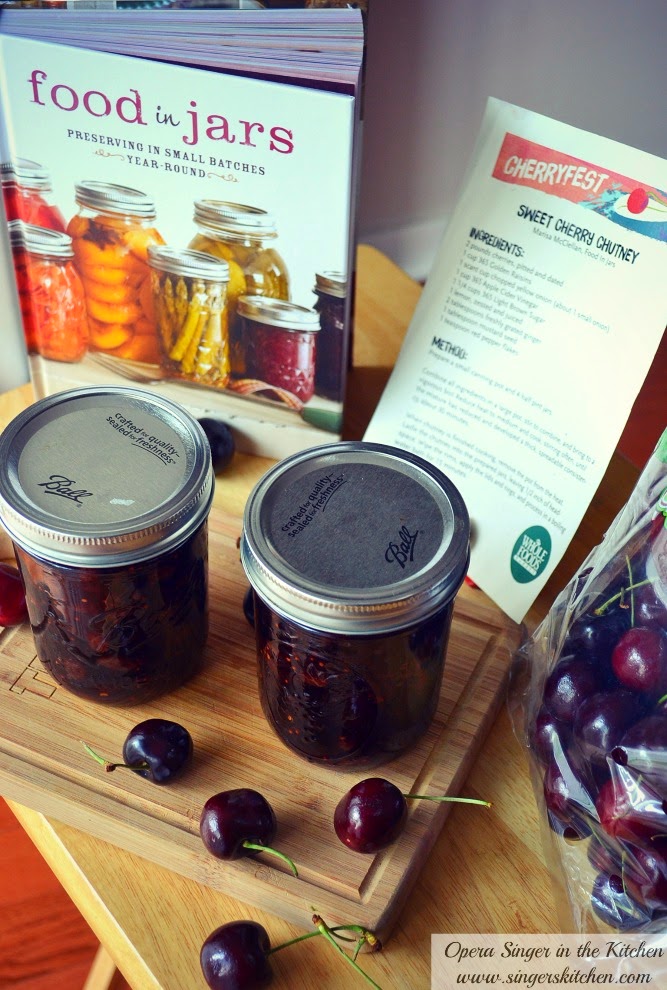 Last week I had the awesome opportunity to attend a cooking demo with canning queen Marisa McClellan from
Food in Jars
at Whole Foods in Devon. Not only was I excited about the demo but the fact we were going to be using cherries! There really isn't anything like cherry season.

For three years we lived in Michigan and would travel to the Cherry Festival in Traverse City only to find out year after year that the winter had been so cold that the cherries were not ready for the festival. They were either brought in from Washington or Japan! How ironic but even so, here we now live in Pennsylvania and we were told yet again that the winter was hard and that the cherries were brought in from Washington. Well, you know what? Good for you Washington! At least we can enjoy the cherries from somewhere! It would be tragic if we did not have them at all.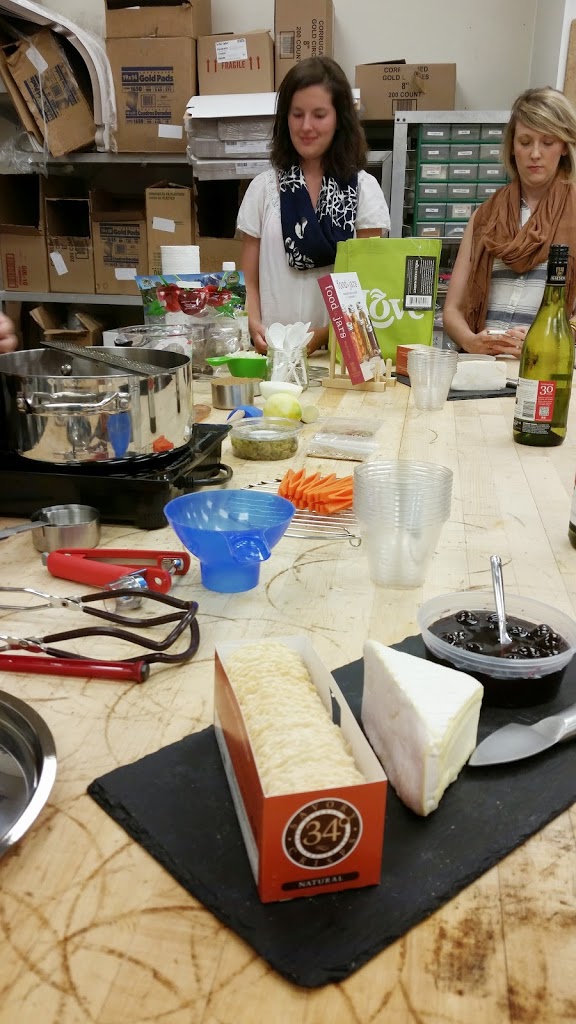 As I arrived at Whole Foods I actually had no clue what we would be learning. I was excited to learn I was going to learn how to can a good amount of cherry chutney. I've never really been a fan of chutney but since we were using cherries my skepticism was quickly turning into curiosity.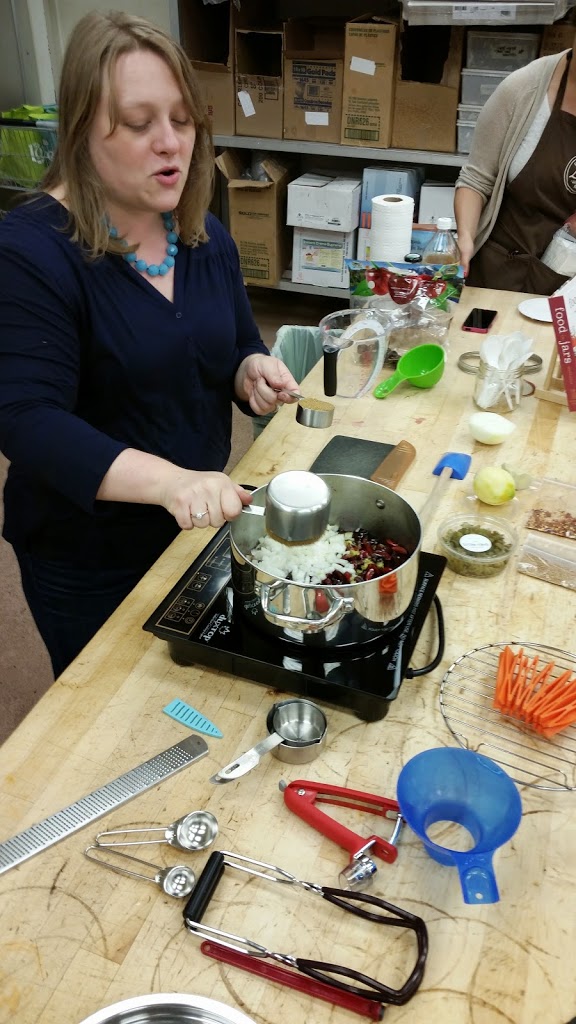 Marisa quickly explained to us how one should can and how the acidity of fruit can affect how the canning and cooking process work. There is a perfect Ph level to safely water bath a jar and it is 4.6. If the level is below that then there is nothing to worry about. What if your level is above the 4.6? Well, add more acidity and it will balance out.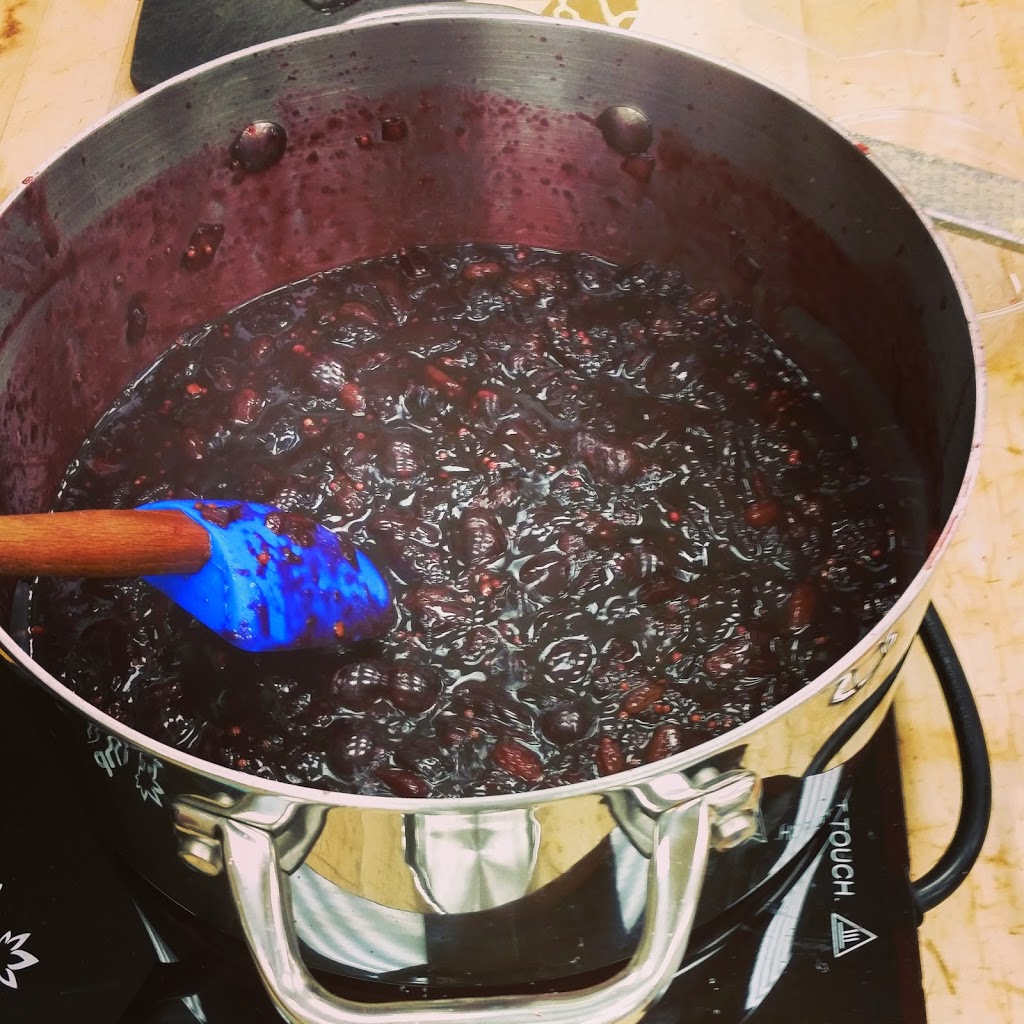 I saw all the simple ingredients go into a pot and they were cooked at medium high heat, never allowed to burn or stick, but constantly stirring until the heat was lowered. The cherry mixture simmered almost having a caramelized color. The smells were amazing despite the amount of apple cider vinegar that the recipe asked for. The appearance was tantalizing and all participants were drooling, waiting to get a taste with a cracker and cheese.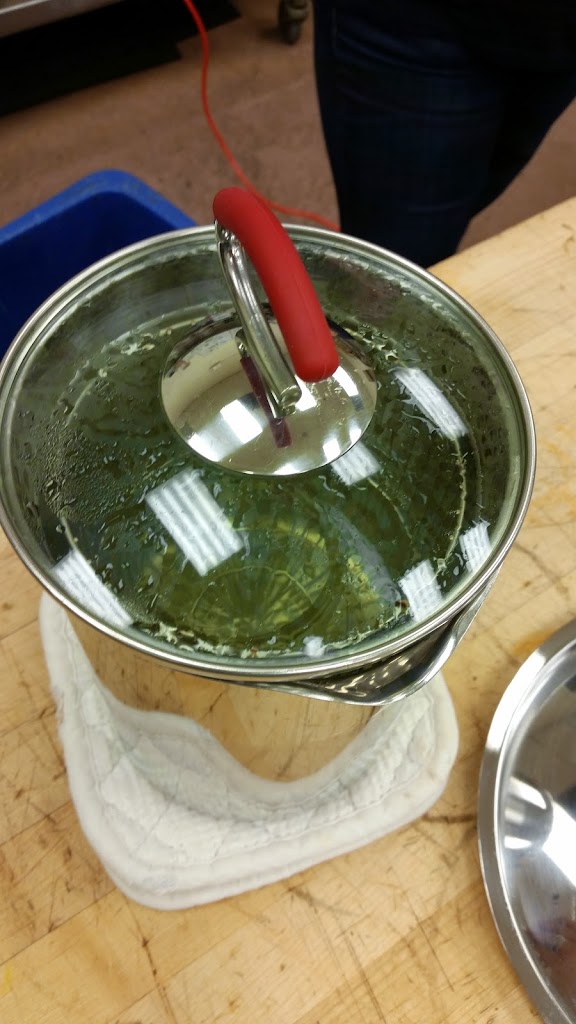 Even though I am known to take on too many hobbies, I was very intrigued by the canning process. I love the fact of preserving in large quantities of anything to have available during an off-season. I asked Marisa how one might be able to can without having to invest in new tools and she answered them all pretty well.I had a big pot to boil water, a base to keep jars from touching the bottom of the pot, tongs, and glass jars. I was all good.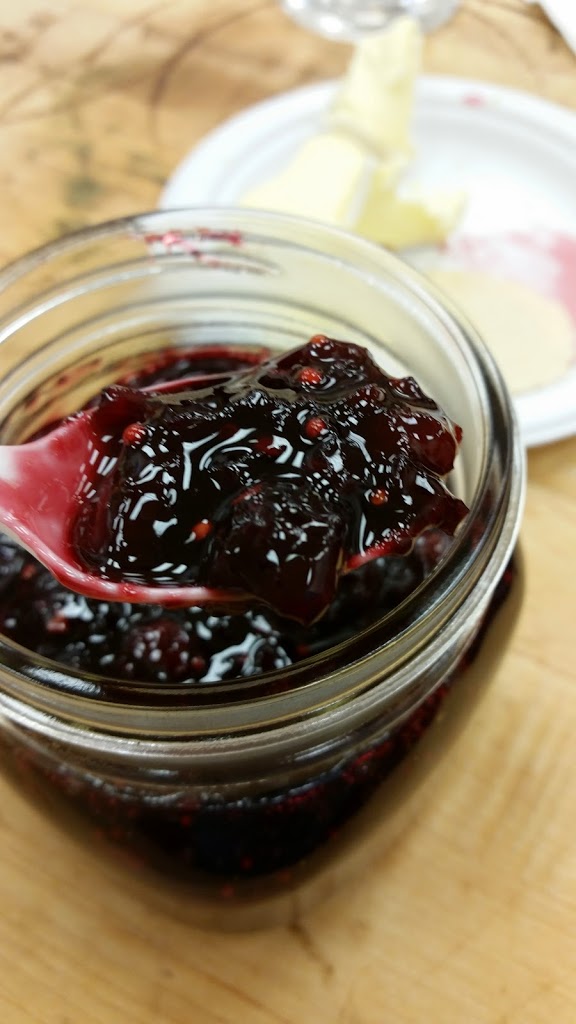 The chutney was ready and the glass jars were ready to filled. The jars were the same heat, coming out of boiling water, of the chutney, so they were filled and sealed but not tightly and placed back in the simmering water to cook for 15 minutes. We kept another jar to taste test.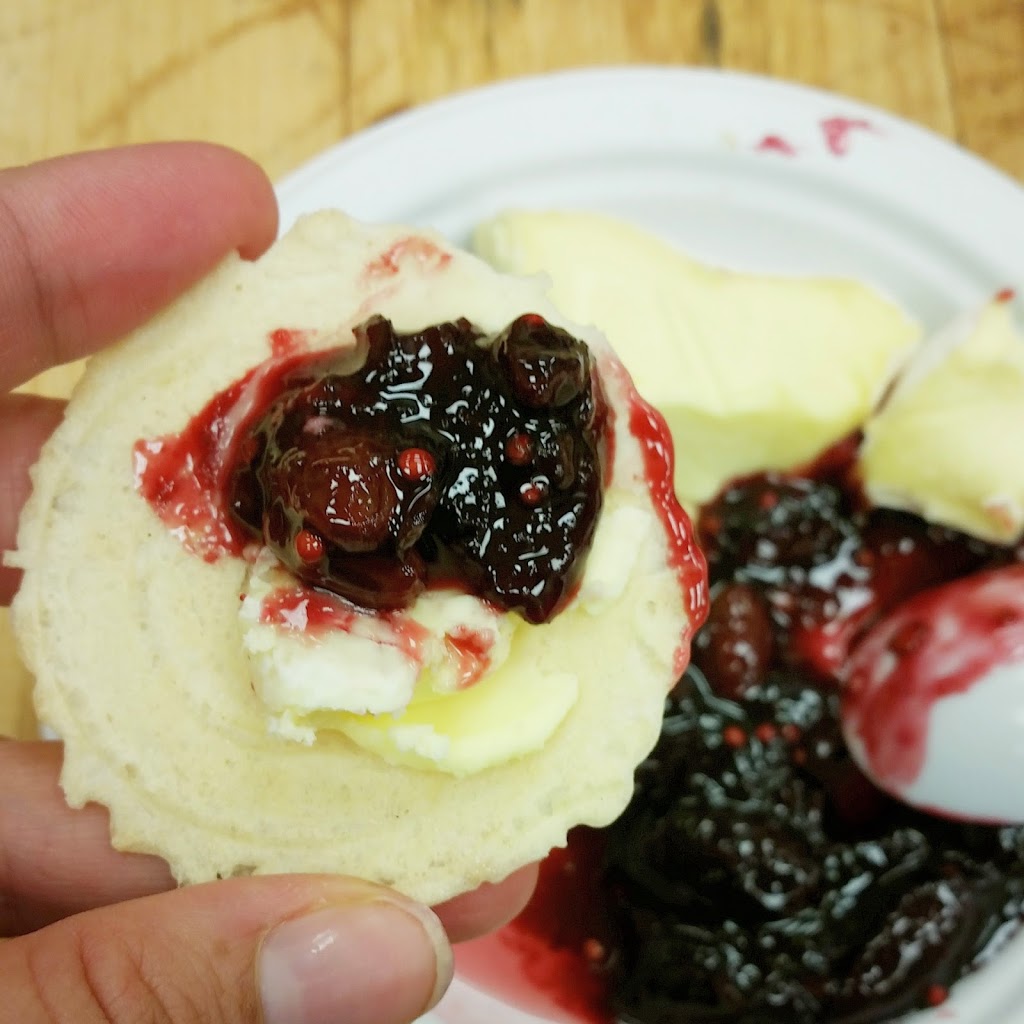 The end result was addictive and incredible. The bursts of cherry mixed in with citrus, golden raisins, and mustard seeds was spectacular. The folks at Whole Foods had St. Angel soft cheese and crackers to accompany the chutney and it was a perfect accompaniment.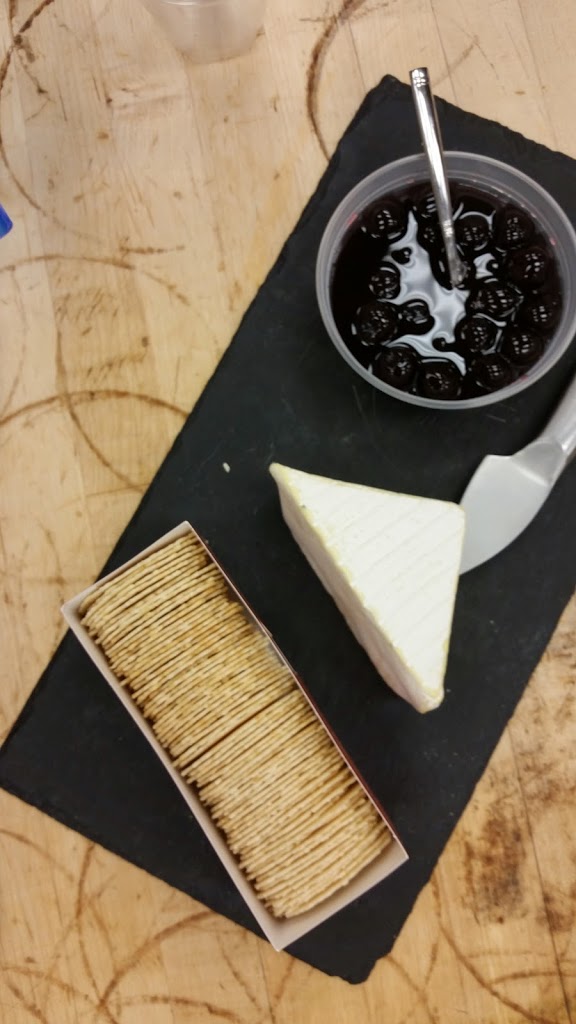 As we left we all received our own goody bag to make the chutney at home with a Black OXO Good Grips Cherry Pitter included! It was an exciting goody bag. I went straight home the next day and made it and was super happy with the end result. I knew that even though I might not undertake the canning hobby I knew I could pick it up when the girls were older.

How about making your own Cherry Chutney? Whole Foods was so kind to give away a $25 gift card for one of my readers to buy their own ingredients for the chutney. You should also check out Marisa's book Food in Jars because I also made her strawberry jam a few days later which turned out well.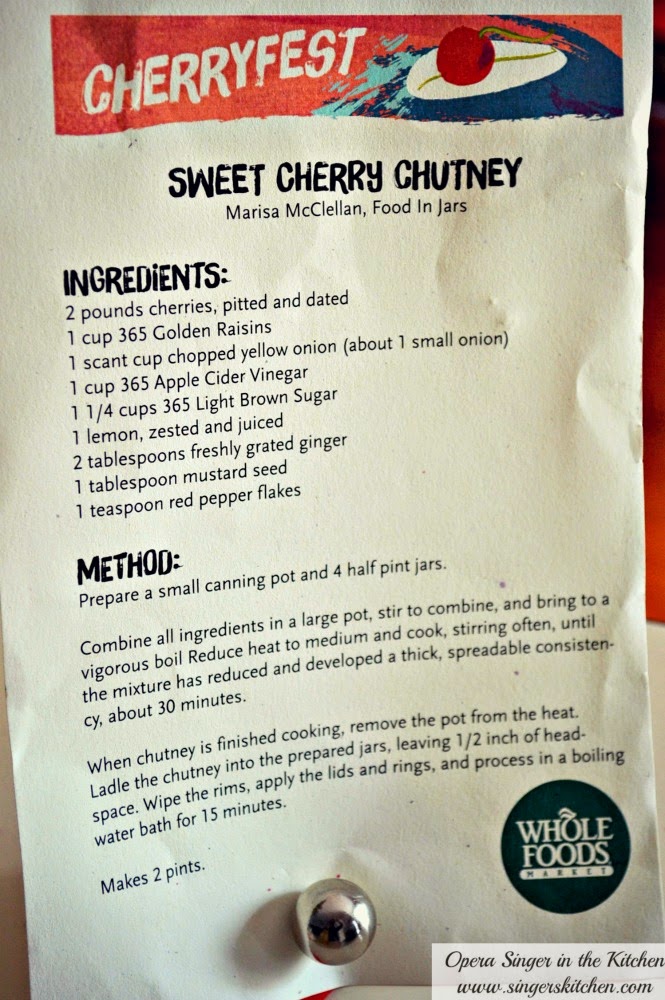 Disclaimer: Opera Singer in the Kitchen is a participant in the Amazon Services LLC Associates Program, an affiliate advertising program designed to provide a means for sites to earn advertising fees by advertising and linking to Amazon.com

Related