Disclosure: This is a sponsored post in partnership with Calphalon. All opinions and recipes are my own.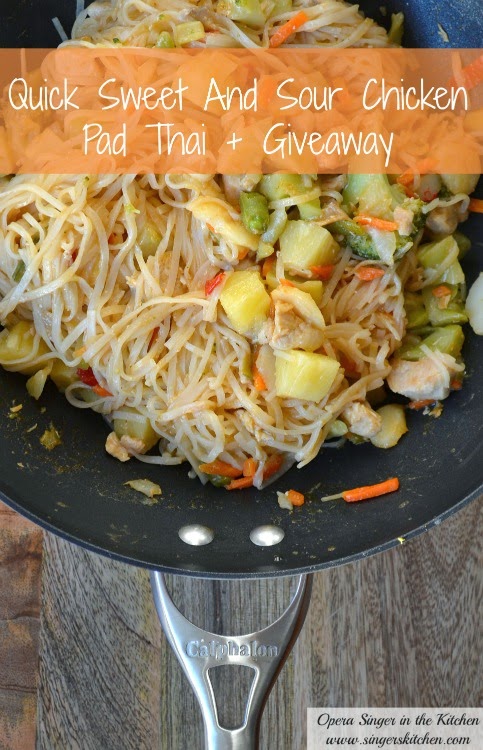 Last week was one of the most challenging weeks ever. As many of you know, I am not much a meal planner and I really just wing my meals most of the days. This probably puts more stress on myself than it should but I know that if I plan meals, I won't want that specific meal that day so why not add a challenge?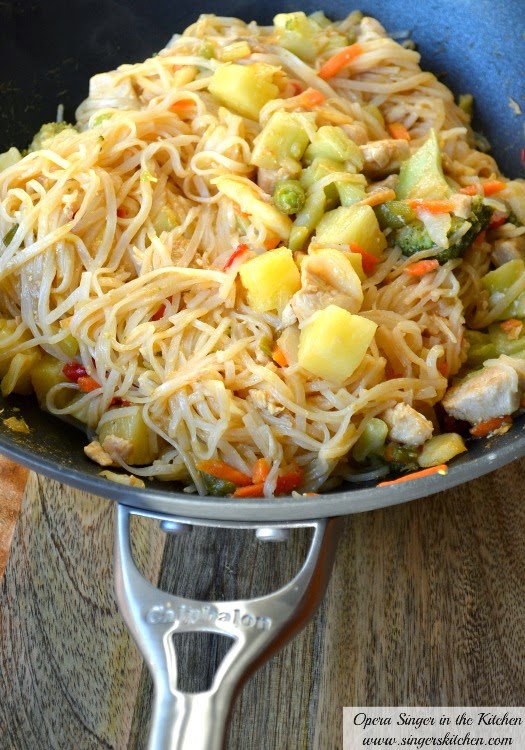 One of the types of meals I enjoy making quite often are stir-fries made with either noodles or rice. It is super quick to prepare and all I use are two pans. My Calphalon Contemporary Non-Stick Wok is my most treasured pan when I make these specific meals because nothing sticks to the pan!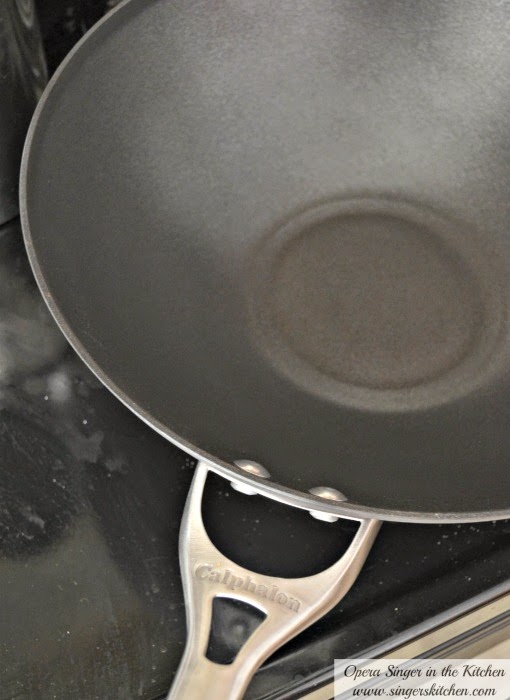 I chose the protein I want to use, whether it is chicken, tofu or beef and I cut these into pieces and toss in soy sauce and cornstarch. Then, I mix my sauce for the stir-fry and this is where I tend to cut corners. Sometimes I make my own and other times I find my favorite packaged sauce mixes without MSG. It really all depends on how my evening is going.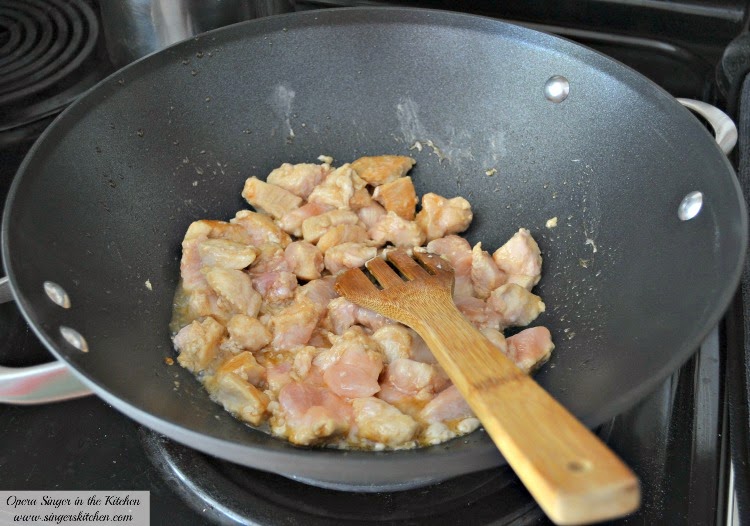 Even though I would love my husband to be in kitchen, helping me with the meals, he usually is not home on time for meal preparation, but he always lets me know his preference for Asian meals. He told me growing up that he always ate rice with his stir-fries but that now he has enjoyed the rice noodles and other varieties that I have introduced to him.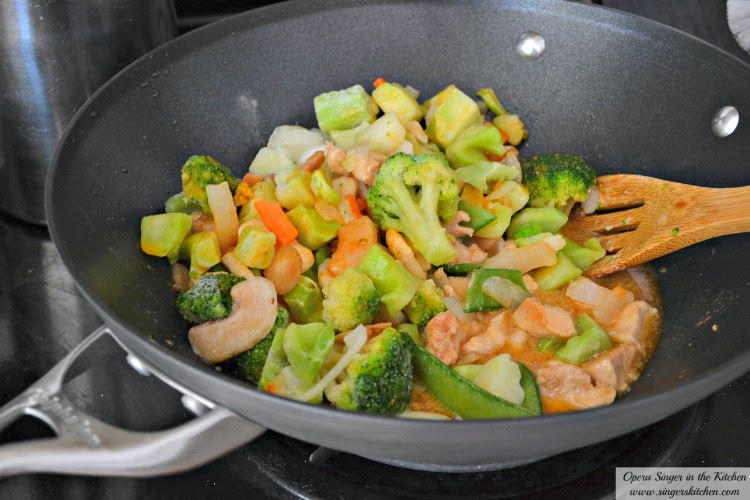 After the meal was prepared and served my husband exclaimed that the meal seemed relatively easy to make which in turn I told him he could easily make. I hope to be able to make this meal together in the future. Between cutting the meat and preparing the sauce and cooking the meal was ready within 45 minutes. What a deal!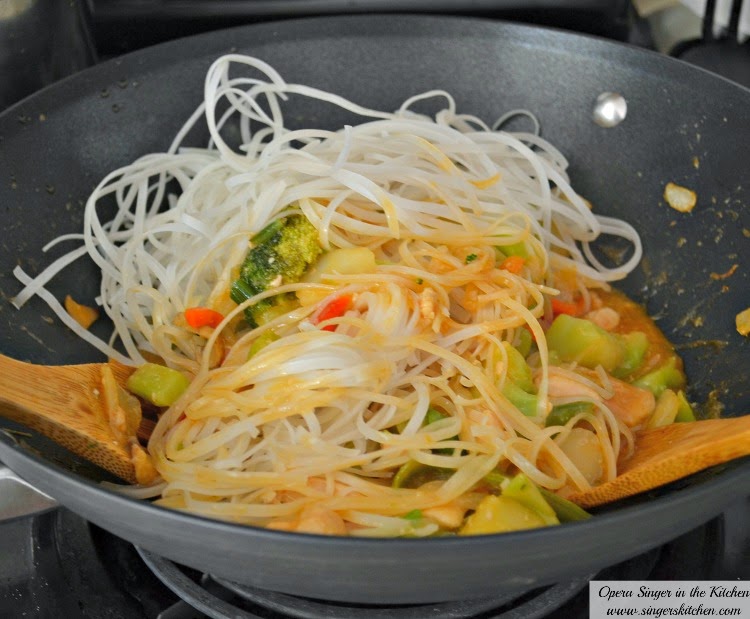 So how about a little more info on the wok? I am super happy to have it in my collection because I used to have a small wok that was made of stainless steel but everything would stick and it was frustrating. With the Calphalon Contemporary Nonstick 12-inch flat bottom wok nothing sticks and it even goes in the dishwasher! Here are a few other attractive facts about this wok:


Now dishwasher safe for easy cleanup, Calphalon Contemporary Nonstick is created with multi-layer nonstick for ultra durability. The stunning, contemporary design looks beautiful in the kitchen, and heavy-gauge, hard-anodized aluminum ensures even heating. Taking cues from traditional woks, this 12-in. Wok has a flat bottom for easy stir frying on gas or electric ranges. It's a great size for making tempura, too.

Calphalon Contemporary Nonstick combines durability and performance with fast clean-up and easy low-fat cooking.

Dishwasher safe for easy cleanup.

Full lifetime warranty.

Heavy-gauge, hard-anodized aluminum for even heating.

Long, cast stainless steel handle stays cool while you're cooking on the stovetop.

Oven safe to 450°F / 230°C.

Triple layer, PFOA-free nonstick for lasting release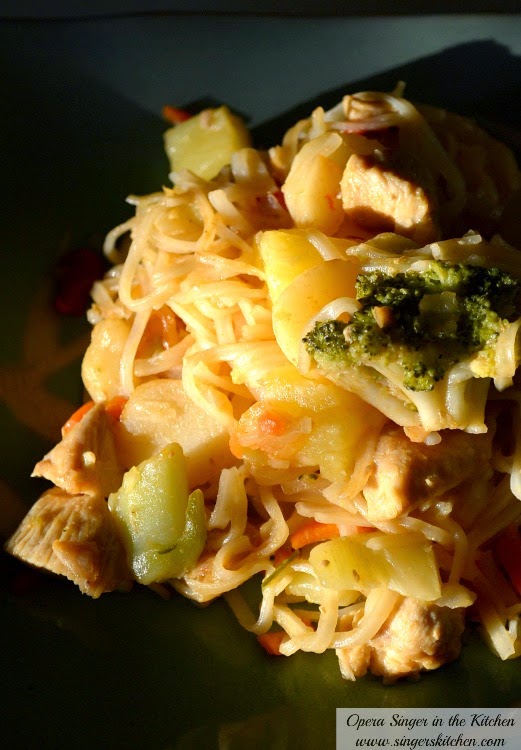 The recipe I prepared is combining two of my favorite recipes, Pad Thai and Sweet and Sour Chicken. The recipe requires to make a double batch of the sweet and sour sauce because the noodles absorb the sauce. I added the pineapple too which made this a delicious and tangy meal.


Quick Sweet And Sour Chicken Pad Thai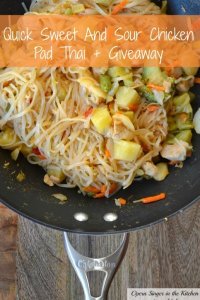 Ingredients

(4-6 servings)
Chicken
2 chicken breasts (about a pound), sliced

2 Tablespoons soy sauce

1 Tablespoon cornstarch

1 Tablespoon sesame oil
Sweet and Sour Sauce
3/4 cup Xylosweet (xylitol) or white sugar

1/3 cup white vinegar

1/3 cup pineapple juice

1/3 cup water

1/4 cup soy sauce

2 Tablespoons cornstarch

1/4 cup low sodium soy sauce
Additions
16-ounce bag of frozen Asian mixed veggies

1/4 cup crushed peanuts

1 cup pineapple chunks, juice drained

Cilantro, chopped (optional)

sriracha (optional)
Chicken
Add sliced chicken in a small bowl with soy sauce, cornstarch and sesame oil and mix well. Set aside.
Cook in the wok over medium heat for about 10 minutes. Add the frozen veggies and continue cooking for 5 minutes.

Sweet and Sour Sauce
In a medium pot, heat all the sauce ingredients until dissolved and is thickened, about 10 minutes. Set aside.
Rice Noodles


The 1/4-inch thick rice noodles should be soaked in warm water for 10 minutes. The water should cover the noodles. The water is then drained. Set noodles aside. Should be about 2 cups.
Cooking
Add the noodles to the chicken and veggies and mix well. Add the sweet and sour sauce and allow to cook for another 10 minutes. Toss in the pineapple and nuts at the end. Add sriracha and cilantro if desired.
What is your favorite meal to make using a wok? Do you own one? Is there a special recipe you prepare with your husband or wife?

If you regularly prepare meals with your spouse you should consider entering the awesome Calphalon giveaway on Facebook which may win your family the grand prize of $1000 in Calphalon products or you could be one of two runner-up winners who win $200 in Calphalon products. All you gave to do is upload a picture of you and your spouse preparing a meal and then get your friends to vote! How easy is that?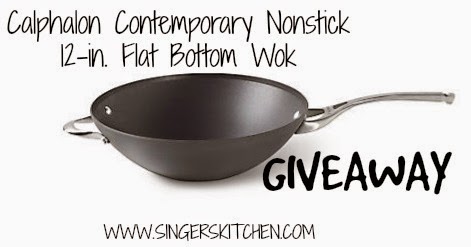 While you do this you should enter my giveaway too! One of my US readers will win an exact Calphalon Contemporary Nonstick 10-inch wok of their own. Make sure you enter the form below and follow all rules.
Related