Grand prize winning recipe for Mushroom Channel's Swap it or Top it Contest in 2014. This burger is a summer favorite even for those who love Mexican food. It cuts half the meat in the burger with mushrooms, a great way to get family eating more mushrooms.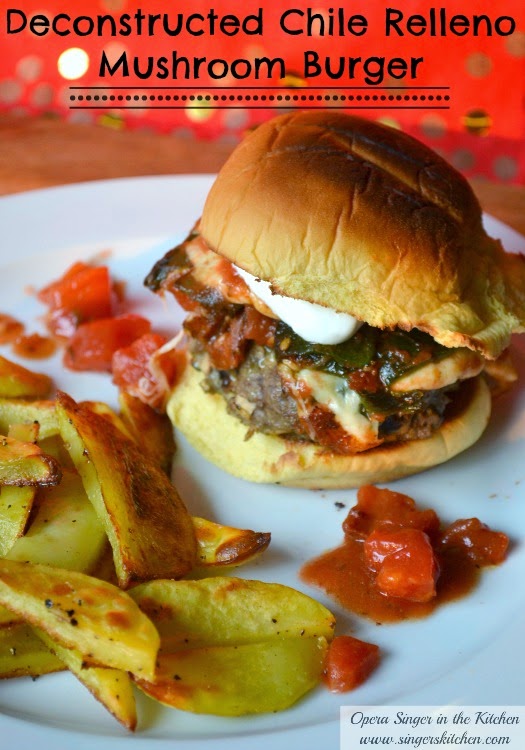 Have you always wondered how you could have one of your favorite veggies in a meal that someone else would not notice? I am a HUGE mushroom fan and some weeks I find myself having mushrooms up to three to four times at different times of the day. I've made mushroom pizzas using portabella caps, filling each with cheese and my favorite toppings. I've also skipped the meat and have made portabella fajitas for our family. While my husband is not a huge fan, I am always looking at creative ways to incorporate mushrooms in our meals.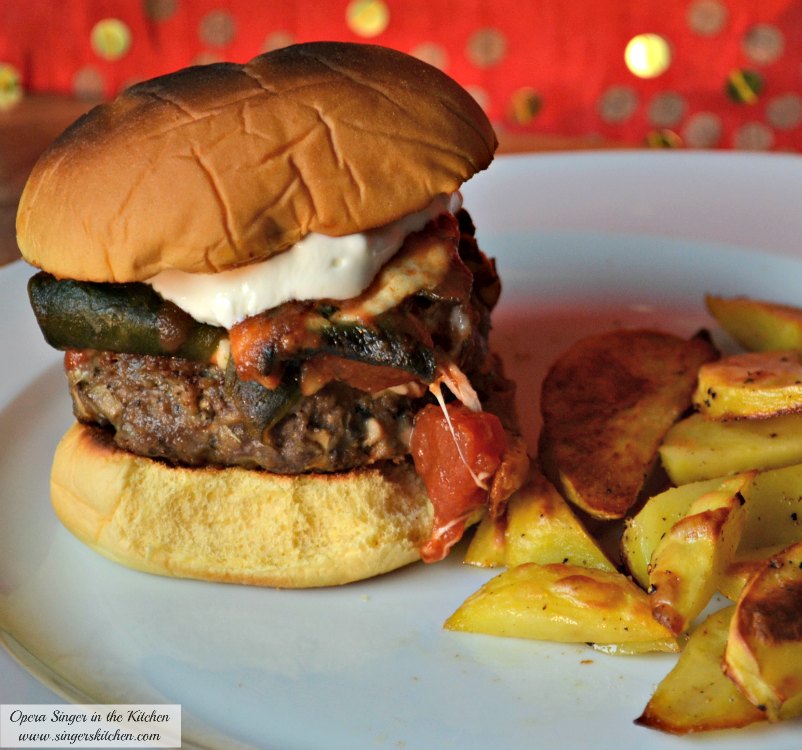 A few months back I was given the challenge to transform a traditional burger recipe using fresh mushrooms. I could either swap out the meat, blend in some mushrooms, or top my burger with mushrooms but it had to be a unique burger. How exciting of a challenge was that? It did take me a while to get going on my creation but I finally was inspired last week.

 I made this burger that combined two of my favorite dishes into one amazing dish. I sent a picture of the prepared burger to my husband, tantalizing him with the burger, since he had not had dinner yet, and waited for him to get home to try it.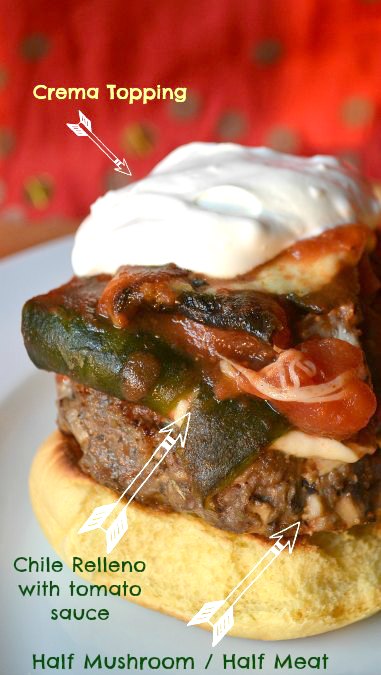 What was his reaction? His mouth was watering and he said he loved all the flavors! At one point last year I decided to try my hand at making my own chile rellenos but the result did not end the way I expected. I grew up tasting my grandmother's recipe every time she either came for a visit or when we went down to Mexico and knew I had to learn somehow. 
This was not exactly how I decided to perfect the method but I decided to make a deconstructed version. On occasion, my grandmother would make some chiles filled with cheese and some with ground beef. They were rolled in egg whites, beaten into submission, and fried. I did not want this burger to be too oily or greasy so I left out the batter portion and made the poblano filled with cheese and then heated in some delicious chunky tomato sauce.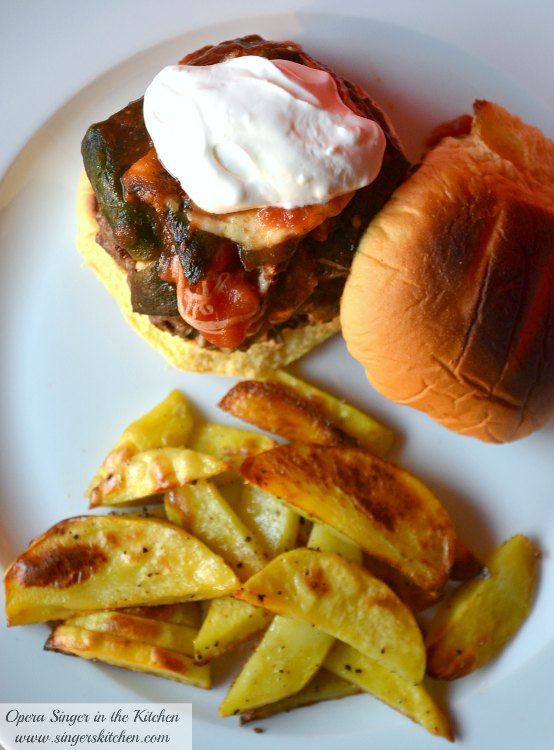 The meat was also included by making a patty for a burger. Instead of using a whole pound of beef, I used a half pound and subbed in the rest with white button mushrooms that had been finely chopped. I added Latin spices that would normally be added to the beef when filled into a pepper and formed unto burger patties. 
Since the poblano pepper was filled with cheese already, I ended up creating a tangy crema topping to complete my creation. I think from now on I am going to stick to this version of a chile relleno because I have the best of both worlds. Don't you think?
Ingredients
For Mushroom Burgers:

1/2 pound 80% ground beef
10 ounces white button mushrooms, chopped finely
1/4 teaspoon cumin
1 teaspoon oregano
1 teaspoon black pepper,ground
1/2 teaspoon sea salt
1/4 teaspoon onion powder
1/2 teaspoon garlic powder
1/4 cup breadcrumbs or coconut flour (to keep gluten-free)
1 egg

Chile Relleno:

2 large poblanos
2/3 cup whole milk mozzarella cheese, shredded

Chunky Tomato sauce:

2 tomatoes, chopped
2 garlic cloves, minced
1/2 yellow onion, diced
1 Tablespoon olive oil

Crema topping:

1/3 cup Mexican crema or sour cream
1 garlic clove, minced
1/2 lemon, juiced
pinch of salt

Potato hamburger rolls:
Instructions
For Burgers:

(cook while peppers are grilling)
 
In a medium bowl, mix in the ground beef and mushrooms together. Add the spices, breadcrumbs, and egg and continue to mix until well combined. Divide into 4 patties.
 
Do not cook burgers until the poblanos peppers are finished roasted. Grill on a skillet for 7 minutes on each side until medium rare. Keep burgers warm in oven.
 

For Chile Rellenos:

Preheat oven to broil. Place large poblano peppers on a baking sheet lined with foil and lightly oil the peppers. Place baking sheet on second to highest level in oven. Broil for 10-12 minutes rotating the pepper every 3 minutes. The skin on the pepper will start bubbling, and gets toasted and blackens. No burning though!
 
As soon as the peppers are removed from oven, place peppers in a plastic ziplock bag to allow peppers to sweat, allowing the pepper skin to soften. After 10-15 minutes, remove peppers, and remove outer pepper skin with a paper towel. Using gloves and a knife, carefully remove the stem and empty some of the seeds. This keeps the pepper a bit spicy. If you prefer a less spicy pepper, then remove all seeds.
 
Split the pepper in half and fill with 1/3 cup of mozzarella cheese and close the pepper, repeat with second pepper. Heat a medium nonstick pan with 1 Tablespoon olive oil on medium heat. Grill peppers for 5 minutes on each side or until cheese is melted. Cut each pepper in half for a total of 4 chile rellenos.
 

For tomato sauce:(prepare while roasting peppers):

In a medium skillet, saute onions and tomatoes in olive oil over medium-high heat for 7 minutes.Add garlic and cook for another 5 minutes. Add the grilled chile relleno to the tomato sauce.
 

For crema sauce:

(topping)
Mix crema or sour cream, lemon juice, garlic and salt until well combined.
 

Assembly:

Toast the potato buns. Add one burger patty to base of bread. Top each burger with a chile relleno with tomato sauce. Add a dollop of crema on top and close with a hamburger top. Enjoy!
https://singerskitchen.com/2014/08/deconstructed-chile-relleno-mushroom-burger.html/
This is an award-winning burger: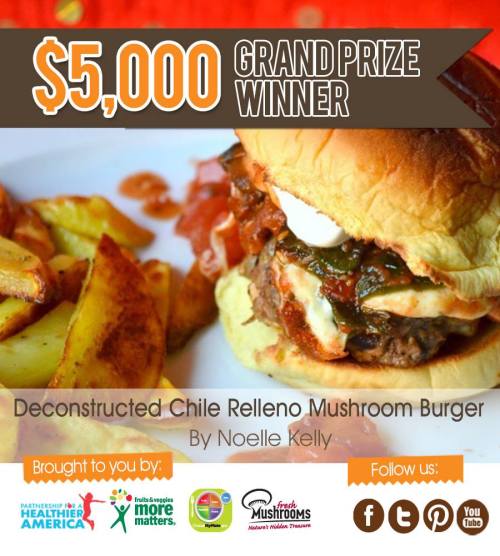 Related