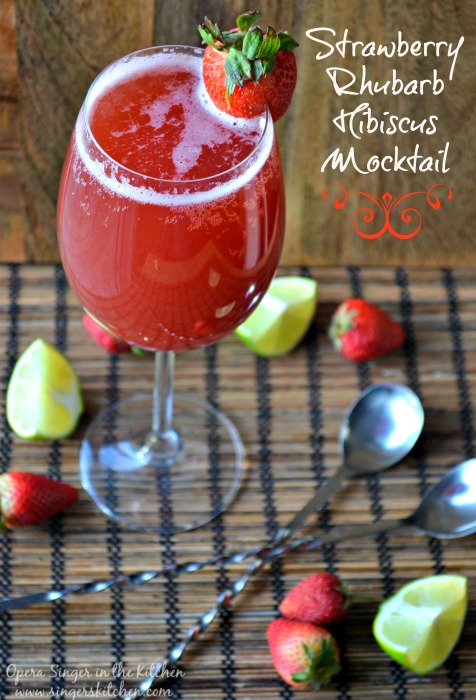 Mother's Day is around the corner and all I can think about is how every mom should be treated on this special day. NO really. Every mom should be treated well EVERY day because they work hard to keep a home together.  When I think about Mother's Day, I always think about brunch or dining somewhere nice that one would not normally go throughout the year. Cooking is not an option so maybe a nice meal is the better option. Usually, mimosas or Bloody Marys are the signature drinks for the meal. Well, not every mom will be able to drink, like me since that a new baby is in the horizon, but still who wants to be left out?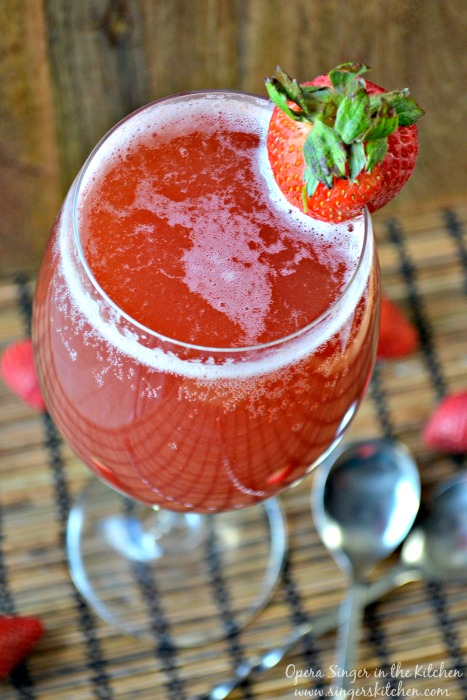 As I was looking and thinking of a special drink to have at home, I stopped thinking about the wine I could not have and focused on some delicious seasonal ingredients that were staring at me. Strawberries and rhubarb are everywhere so it seems and it only calls me to make as many recipes using this combination of ingredients. Rhubarb can be an intimidating vegetable but when paired with strawberries and sweetener it takes you to a different horizon. There is really nothing like it.
I traditionally like making a compote with the ingredients but when I started thinking of drinks I added extra liquid to my compote ingredients in order to make a strawberry rhubarb syrup. When I continued thinking about my drink creation I knew that the syrup and carbonated water could not be the only ingredients so I made a spiced tea concentrate to enhance the flavor and color of my mocktail.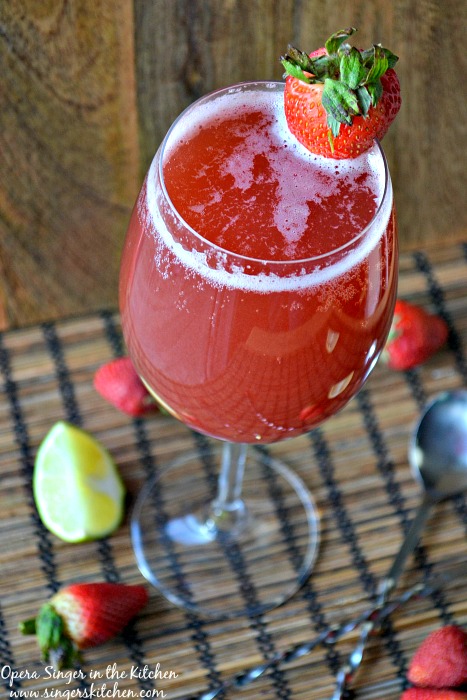 Hibiscus tea has been one of my favorite herbal teas especially since I grew up drinking it. It is very popular in Mexico and is consumed in aguas frescas or as sweetened iced tea. It is high in Vitamin C and super nutritious. I decided to make a spiced tea concentrate to add to the mocktail which turned out beautifully! The color of the tea mixture was a darker red but it kept the mocktail red and then the combination of the spices and spiced honey creme gives the tea concentrate a lovely flavor.
Once the ingredients are cooled they are ready to be assembled. There is enough in the recipe to make 6 drinks for a special occasion or for an evening after the kids are in bed. It is simply relaxing and makes you feel like you are having a nice drink. 
Make sure to enter the Mother's Day Gift Pack that includes several of the ingredients I used. Enter for yourself or your mom and make this mocktail for that special day or any time! Thanks to the Burrell Group for providing the giveaway items.
Although this cocktail has a small amount of hibiscus I have consumed it before during pregnancy and previuos pregnancies but please see precaution below.
Precaution: Pregnancy and breast-feeding: Hibiscus is POSSIBLY UNSAFE when taken by mouth during pregnancy. There is some evidence that hibiscus might start menstruation, and this could cause a miscarriage. There is not enough reliable information about the safety of taking hibiscus if you are breast-feeding. Stay on the safe side, and avoid use.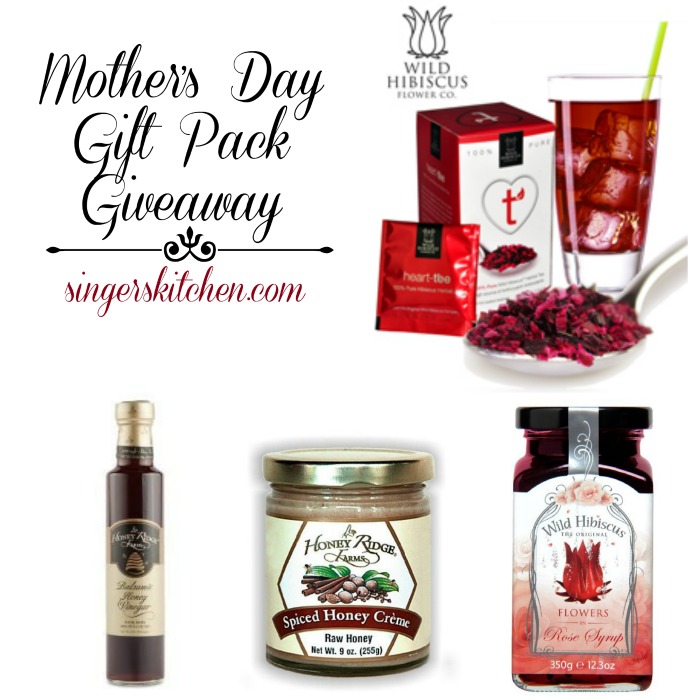 Prep Time: 10 minutes
Cook Time: 30 minutes
Total Time: 40 minutes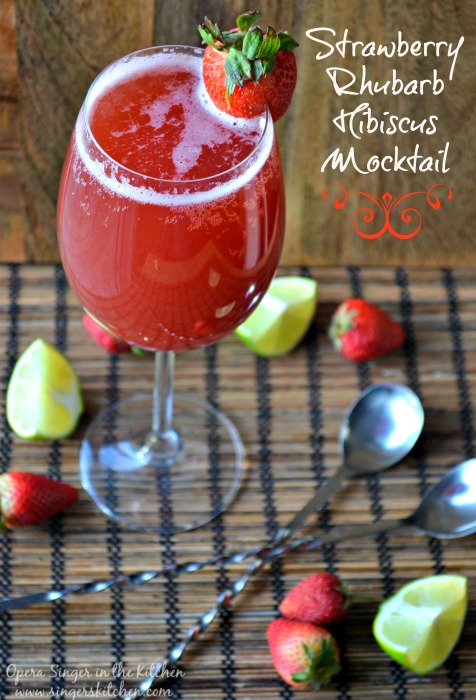 Ingredients
Hibiscus Tea Concentrate:

2 cups of water
1 black tea bag
2 1-inch lemon rind slices
2 ginger slices
1/4 cup Honey Ridge Spiced Honey Creme

Strawberry Rhubarb Syrup:

(makes 1 1/2 cups syrup + 2 cups compote for another use)
2 cups fresh rhubarb, chopped
2 cups strawberries, sliced
3/4 cup sugar
1 1/2 cups water
1 Tablespoon orange zest
1 tsp ginger, minced

Mocktail Assembly:

1/3 cup strawberry rhubarb syrup
1/3 cup hibiscus tea concentrate
1/2 lime, juiced
4 ounces lemon-lime carbonated water
ice
Instructions
Hibiscus Tea Concentrate:

In a medium pot, add water, tea bags, lemon slices, and ginger slices and heat on medium.
Bring to a low boil for 10 minutes and allow to sit for another 10 minutes.
Remove the tea bags, slices and add honey.
Set aside to cool.

Strawberry Rhubarb Syrup:

Place chopped rhubarb in a medium pot with water and sugar and heat to medium-high allowing mixture to boil for 10 minutes.
Add the strawberries, orange zest, and ginger to the mixture and lower heat to medium allowing mixture to boil for another 10 minutes.
Allow to rest for 10 minutes.
Run mixture through a sieve allowing liquid to be separated from the fruit.
Cool syrup completely and store compote in refrigerator for another recipe.

Mocktail Assembly:

In a red wine glass, add 1/3 cup strawberry rhubarb syrup, 1/3 cup hibiscus tea concentrate and lime juice.
Fill the rest of the glass with carbonated water and mix well with a stirrer.
Add ice cubes and enjoy.
https://singerskitchen.com/2015/04/strawberry-rhubarb-hibiscus-mocktail-giveaway.html/
Related