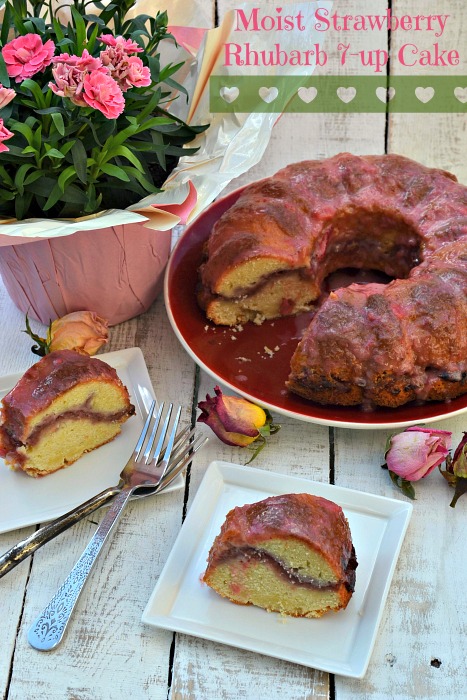 Mother's Day is coming up already and I simply cannot believe it! It seems like as soon as we have one holiday there is another one around the corner. Although my mother and mother-in-law are far away, I always keep them in mind and send them something to remind them how wonderful they are in our lives.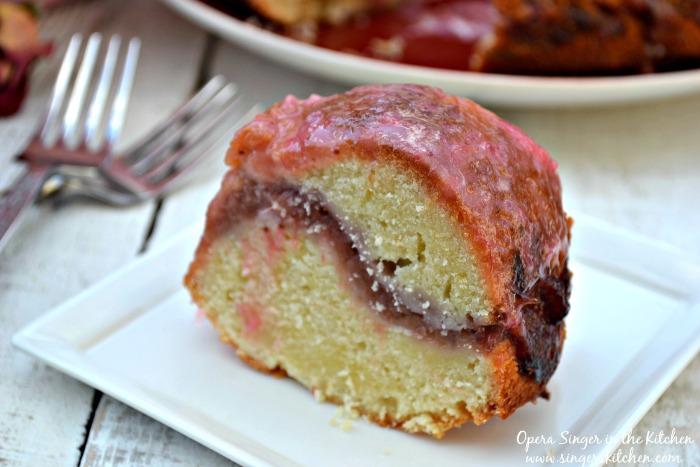 When I think of all the wonderful things my mother did for me growing up, I feel like nothing I do will thank her enough. Have you thought of it? The sacrifices, the pain, the toil, the patience — it is pretty amazing. I see myself as a soon-to-be mother of three, and I thank God for all the training and upbringing my mother did for my sister and I to be where we are today. I love her for it and even more, I feel blessed by her and her quiet strength.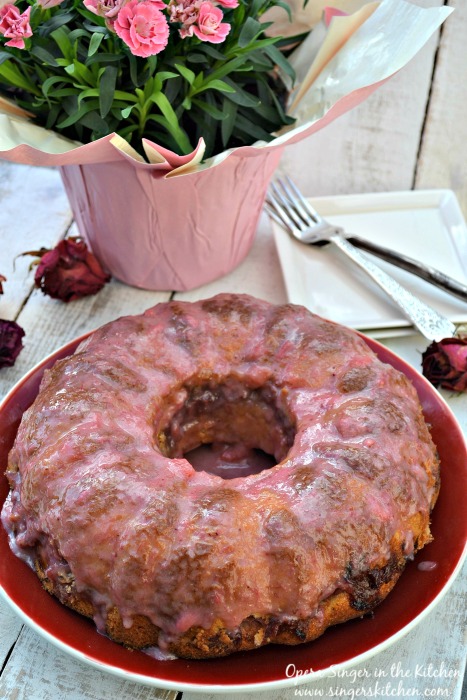 No matter what our pasts have been like, always thank God for giving you the mother he did because they were chosen to be your parent. No one tells you about the personal struggles that mothers go through but it is unspoken and understood the emotional and spiritual impact it has on individual lives.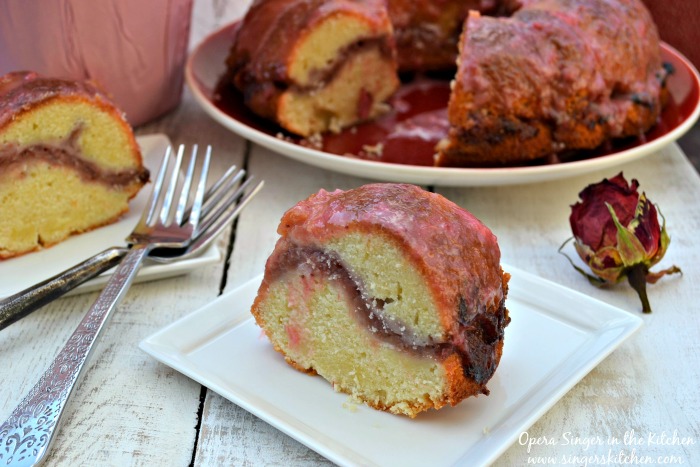 What kind of legacy do you want to leave for your girls? I thank the Lord in heaven for being blessed with my two girls and I pray that he gives me wisdom to raise them according to Scripture. I am thankful for having children and being able to raise them and I thankful for a husband that helps with the girls too.
As a mother, what are you thankful for?
If you are getting together with friends or celebrating YOUR mother, make this Moist Strawberry Rhubarb 7-up Cake. My mother loves 7-up cake and I grew up making it for parties or for friends coming over to visit. I simply took the original recipe, made some strawberry rhubarb compote and added a layer in the middle of the cake and then made a strawberry rhubarb glaze for the outside. It is out of this world good!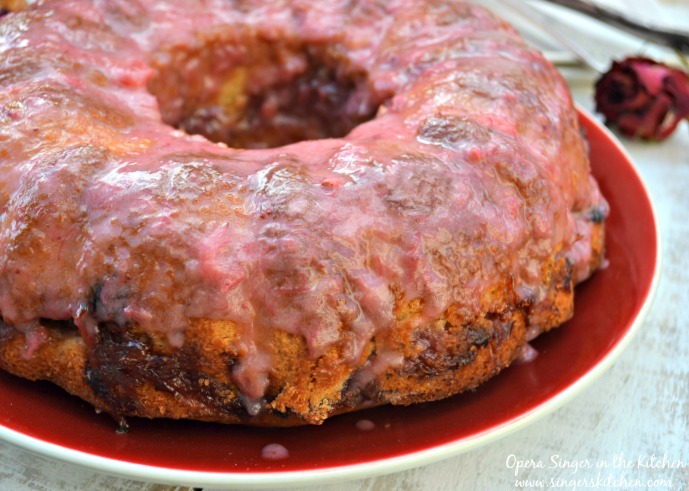 It is strawberry and rhubarb season so you simply CANNOT ignore this recipe. You will have leftover strawberry rhubarb compote so make sure you eat it with a bowl of vanilla ice cream.  Have a marvelous week ladies!
Prep Time: 20 minutes
Cook Time: 1 hour, 10 minutes
Total Time: 1 hour, 30 minutes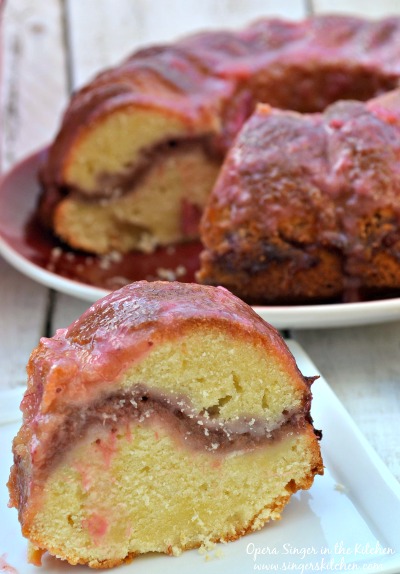 Ingredients
7-up Cake:

1 cup unsalted butter
1/2 cup Spectrum all-vegetable shortening
2 cups sugar
4 eggs
3 cups all-purpose flour
1 teaspoon vanilla extract
1 teaspoon almond extract
1 Tablespoon orange zest
7 fluid ounces lemon-lime flavored carbonated beverage (like 7-up)

Strawberry Rhubarb Syrup and Compote:

(makes 1 1/2 cups syrup + 2 cups compote)
2 cups fresh rhubarb, chopped
2 cups strawberries, sliced
3/4 cup sugar
1 1/2 cups water
1 Tablespoon orange zest
1 tsp ginger, minced

Strawberry Rhubarb Glaze:

3/4 cup Strawberry Rhubarb syrup
1 cup powdered sugar
Instructions
7-up Cake:

Preheat oven to 325 degrees F (165 degrees C).
Grease a 10-inch Bundt pan.
In a large bowl, cream together the butter, shortening and sugar until light and fluffy.
Beat in the eggs one at a time, then stir in the vanilla and almond extracts and orange zest.
Beat in the flour alternately with the lemon-lime soda, mixing just until incorporated.

Strawberry Rhubarb Syrup:

Place chopped rhubarb in a medium pot with water and sugar and heat to medium-high allowing mixture to boil for 10 minutes.
Add the strawberries, orange zest, and ginger to the mixture and lower heat to medium allowing mixture to boil for another 10 minutes.
Allow to rest for 10 minutes.
Run mixture through a sieve allowing liquid to be separated from the fruit.
Cool syrup completely. Half a cup of the syrup will be used for the glaze.

Assembly:

Pour half the batter into greased bundt pan.
Add 1 1/2 cups of the strawberry rhubarb compote over the batter and add remaining batter over the compote.
Bake in the preheated oven for 1 hour and 10 minutes, or until a toothpick inserted into the center of the cake comes out clean.
Allow to cool on a cake rack for 30 minutes before removing from the pan.
Glaze the cake with the strawberry rhubarb glaze.

Strawberry Rhubarb Glaze:

Mix 3/4 cup of the strawberry rhubarb syrup and blend with 1 cup of powdered sugar.
Add glaze to the cake and serve.
https://singerskitchen.com/2015/05/moist-strawberry-rhubarb-7-up-cake.html/
Related