There are only 5 days left until Valentine's day and I made you a delightful dessert without the guilt of overindulging. I mean to say, perhaps, if you have already started indulging in a chocolate feast that you can give your body a break and try a new dessert that can be prepared under 10 minutes and be cooked in 45 seconds in the microwave.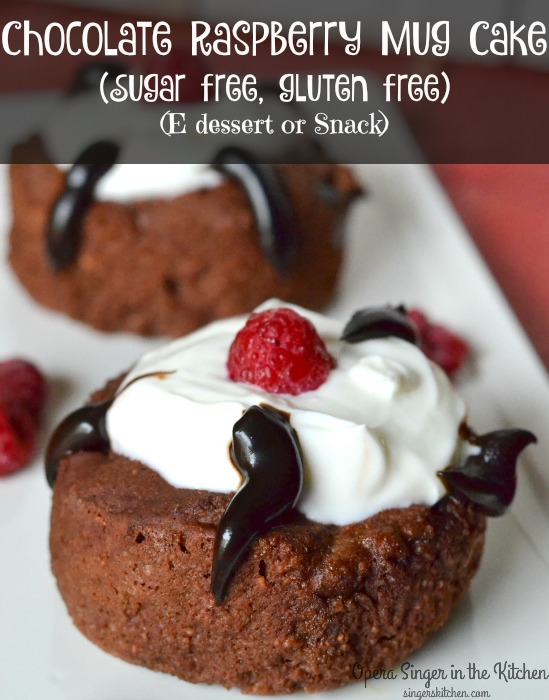 I know the holidays are the times when we can indulge, but frankly, I think I have been stuck in this mentality the past 4 years since having my first baby. First, it's Thanksgiving, then it is Christmas, then it is New Years, then there's Super Bowl Sunday and it just keeps going. 
You get my drift?
I am the type of person that needs to be consistent. If I sway after just starting something, then it is easy to fall off the wagon which is why I do not make New Years resolutions. I simply have to be resolved that I will stay away from certain foods until I can get things under control.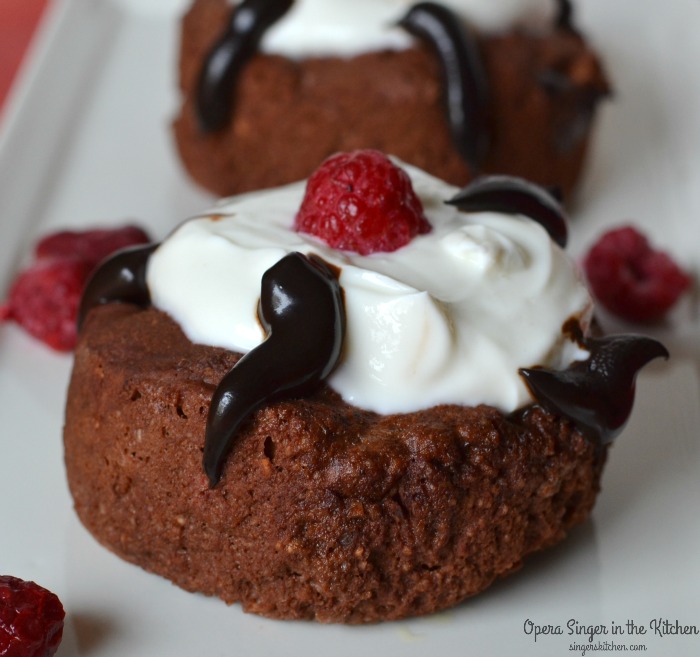 But what about chocolate, you might ask. While it has its benefits, chocolate desserts are laden with copious amounts of sugar. I am not going to pretend I am an expert at anything, but what I do know is that sugar has been my enemy the last few years. Knowing I am hypoglycemic is half the battle but not getting one's eating lifestyle is another.
Now before I bore you and you ask where the darn recipe is located, I just want to let you know that I will be sharing lighter recipes mostly focused on a low-carb lifestyle. This mommy has not eating as well as she should to maintain the energy and control she needs to keep her home or her mind balanced.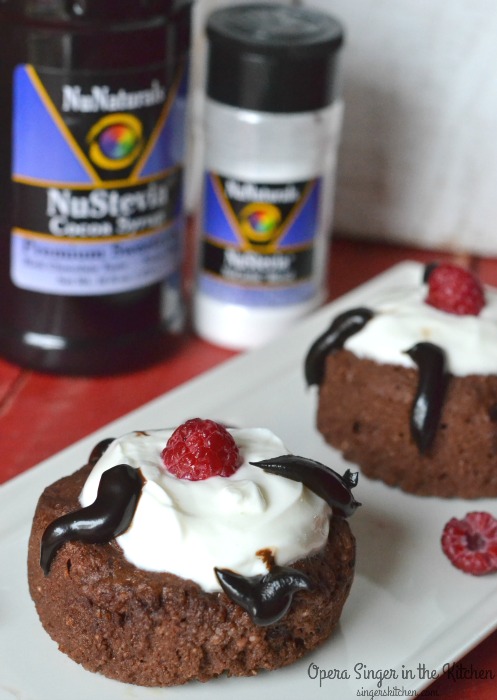 In comes NuNaturals, a new company to me that provides nutritional supplements, baking products and ingredients and sweeteners that help maintain a healthy blood sugar level and even introduce more fiber into an eating lifestyle. I have already been trying a few products in their line for my every day baking and beverages and I have to say I have been enjoying stevia and other natural sweeteners without bitterness or displeasure.
We are working on week four of no refined sugars and limited high glycemic fruits, and it is amazing how my husband and I have been noticing the differences. While this is going to be a long journey, I am glad that my husband is on board with me not only for support but also, so we can continue on a healthy eating lifestyle.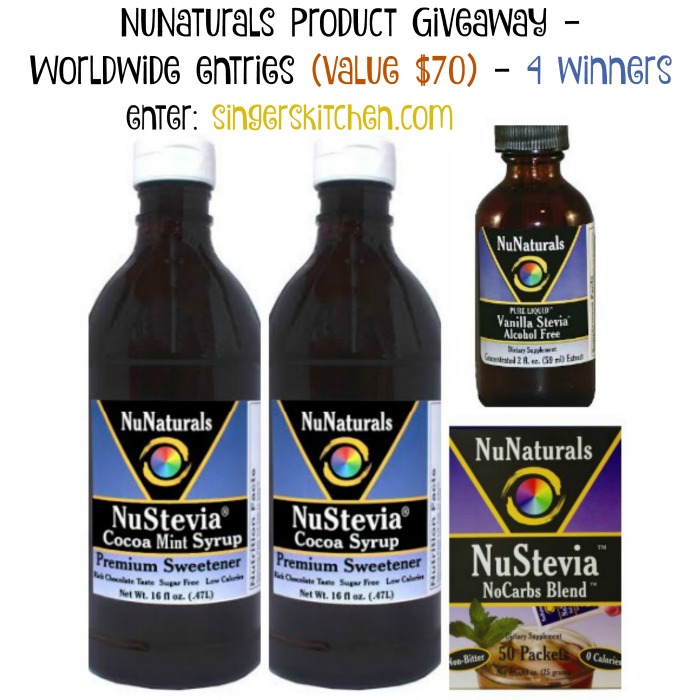 NuNaturals has a new stevia-based, zero calorie, sugar-free, gluten-free, vegan, cocoa syrup , plus a simple syrup and a cocoa mint syrup that I was able to play with. Since we have been off sugar for almost a month, the stevia taste is pleasant and a little goes a long way. 
If you are a fan, try this recipe, if you have not heard of this product, check out your local grocery store, perhaps Whole Foods or Wegmans or order some online.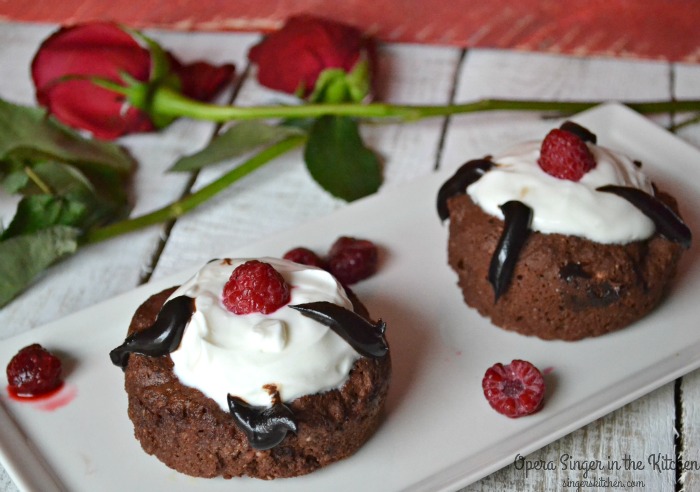 Cannot wait to try these products? Use my code BLG0616 and you will receive a 15% DISCOUNT on your entire order. ( Not to be combined with other discounts ). This discount remains EFFECTIVE UNTIL JUNE 30, 2016.
Online ordering customers may also receive FREE SHIPPING to the CONTINENTAL U. S. on all orders exceeding $ 35.00 after discounts. 
Here is my recipe for a lighter Valentine's dessert or you could also try a fellow blogger's amazing Brownie in a Mug. After checking out the recipe, enter the giveaway below:
Yield: 2 mug cakes
Serving Size: 1 ramekin
Calories per serving: 118
Fat per serving: 1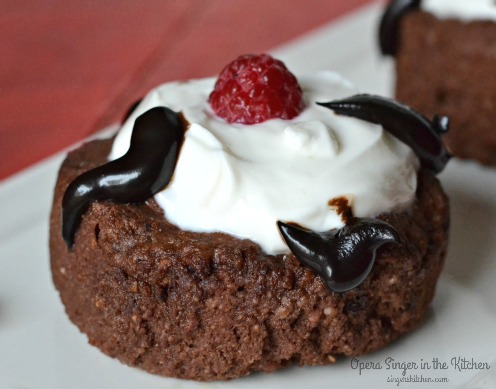 sugar free and gluten free. Can be made dairy free as well.
Ingredients
Mug Cake:

1/4 cup oat flour ( grind your own oats in blender or coffee grinder)
1 Tablespoon NuNaturals oat fiber
2 Tablespoons cocoa powder
1 teaspoon baking powder
1/4 cup egg whites
1/4 cup raspberry puree (blend 1/2 cup frozen berries until smooth)
1 1/2 Tablespoons NuNatural Cocoa Syrup

Icing:

1/2 cup nonfat Greek yogurt or coconut yogurt for NON-DAIRY
1/2 teaspoon NuNaturals NuStevia NoCarbs Blend
Instructions
Mug Cake:

Puree raspberries in a small blender until smooth.
In a small bowl add the puree, cocoa syrup and the egg whites and mix well.
In another small bowl, mix the oat flour, oat fiber, cocoa powder, baking powder and mix well.
Combine wet ingredients with dry ingredients and mix until blended.
Use 2 small ramekins and spray with non-stick coconut spray.
Divide batter between both ramekins and cook in microwave for 35-40 seconds so it does not get dry.
Mix yogurt with sweetener and top each cake with 1/4 cup of creamy frosting. Garnish with a raspberry and more cocoa syrup if desired.
Notes
This is a E dessert for those following the Trim Healthy Mama.
Nutritional facts here: http://www.myfitnesspal.com/recipe/view/243685353483517
https://singerskitchen.com/2016/02/nunaturals-chocolate-raspberry-mug-cake-and-giveaway.html/
Disclosure: I received products to review. All opinions, photos, and recipes are my own.
Related articles across the web
Related