It is hard nowadays to do any baking or dessert creating because I usually am so tired by the evenings, but usually on my weekends when my hubby is home, I take advantage of making something special for the both of us and even extra for the girls the next day. Now that the Cubs are in the playoffs, we are watching a lot more sports so to ease my husband's stress I decided to surprise him with a seasonal dessert made with pumpkin.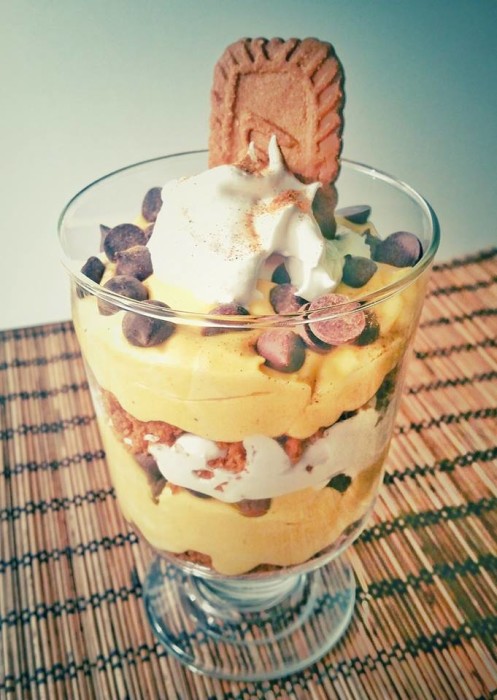 I love cooking seasonally because then I can work with ingredients on hand to create whatever dessert that comes to mind. I have to admit that I have not always been that way, but when I moved to Michigan in 2009 I learned how the local restaurants and farmer's markets had recipes based on seasonal produce. It sounds like something so easy to really know, but living in Texas, I was not exposed to sustainable food. Farmers markets were not available but now I have been hearing of area markets which excites me.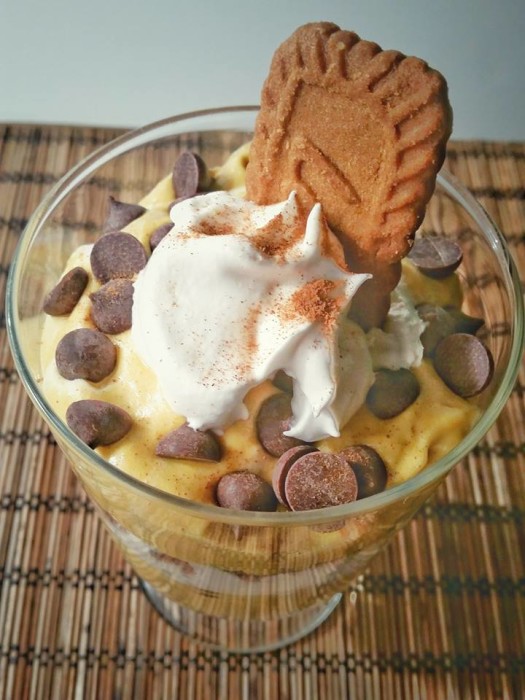 Anyway, I made some delicious pumpkin parfaits with So Delicious Coco Whip, Tofutti Cream Cheese, and Biscoff cookies and it was a hit. It was also a hit on Instagram with a whopping 120 likes! Follow me on Instagram to see more of my food creations. Sometimes I add recipes there that I do not have on my blog.
Prep Time: 20 minutes
Total Time: 20 minutes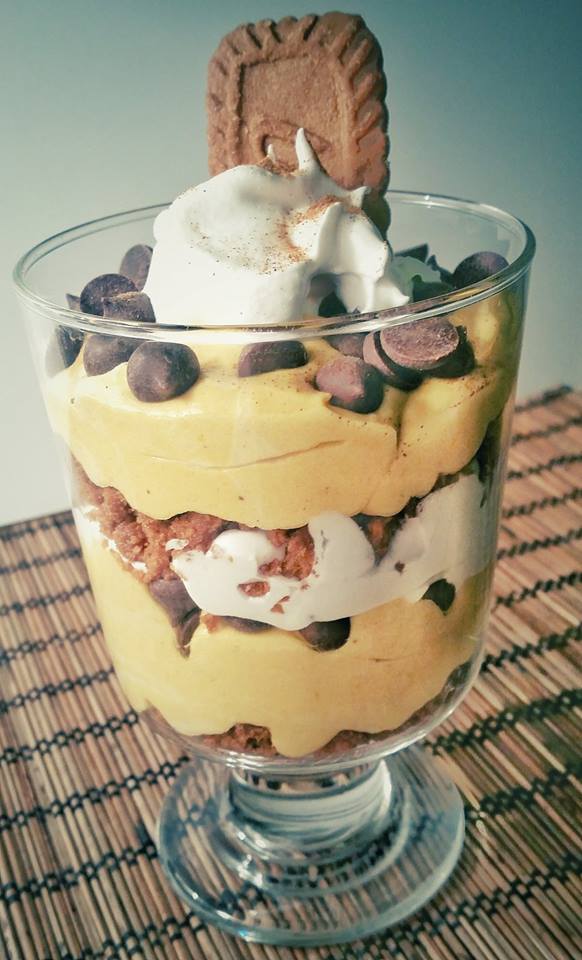 Ingredients
A whole package of Biscoff Cookies, crushed (reserve 6 cookies)
3 tablespoons Earth Balance margarine, melted
8 ounces Tofutti cream cheese, softened
15 ounce can pure pumpkin puree
2 teaspoon pure vanilla extract
1/4 cup powdered sugar
1/4 cup brown sugar
2 teaspoons pumpkin pie spice
1 1/2 tubs (12 oz.) So Delicious CocoWhip thawed, divided
3/4 cup vegan chocolate chips ( like Pascha CHocolate chips)
Instructions
Add Biscoff cookies to a food processor and process with blade until they resemble wet sand. Place crumbs in a medium bowl and add melted margarine.
Add 2-3 Tbsps of cookie crumbs into the bottoms of six 1-cup parfait glasses.
Reserve the rest for another layer when assembling the rest of the parfaits.
In a large bowl with an electric mixer, beat cream cheese, pumpkin, vanilla, sugars and pumpkin pie spice. Beat until well combined and creamy.
Fold in half of the whipped topping.
Combine ingredients until mixed well.

To Assemble the Parfaits:

Spoon a layer of pumpkin cheesecake onto the Biscoff crumbles followed by 2 Tbsps of chocolate chips and about 2 Tbsps of whipped topping.
Repeat layers with cookie crumble, pumpkin cheesecake, ending with a dollop of whipped topping.
Decorate with a some chocolate chips and a sprinkle of cinnamon.
Store parfaits in the refrigerator until ready to serve.
Garnish with a Biscoff cookie.
https://singerskitchen.com/2015/10/vegan-biscoff-pumpkin-cheesecake-parfaits.html/
Related