These Vegan Quinoa Banana Pancakes are easy and pack a protein punch for your morning meal. Mockmill is an exciting attachment for your KitchenAid mixers. It grinds grains, seeds, and more in different ways. I am excited to share the recipe and how much I liked this mill. I received the mill in exchange for an honest opinion.

Taking a Brief Break
I am sorry I have been out of the loop but I am officially two weeks into being an official stay-at-home mom. Many did not know that I had a corporate job but that really was my personal choice. After 14 years, it was time to call it quits in order for me to concentrate and being able to balance life with my little girls. Now that I have had time off, I feel like I have so much to do and so much energy. Oh yes, the work continues being there in different forms, but I am currently enjoying trying to find the right balance between chores, cooking, and even blogging.
I am definitely still cooking and writing recipes for the times and moments that I feel like I can spend time, sharing my developments and discoveries. For me, writing has become therapeutic as is cooking. I know that the start of school for my girls is my priority right now but that does not keep me from sharing little things in life through photos over on Instagram.
What's Been Cooking?
Since the girls started preschool, I have had a little more time to actually bake and cook or even prepare meals in advance. Let me just share a bit. When you have TOO much on your plate, it is overwhelming to get anything done at all. I kept getting stress-paralyzed and I was not a happy person.
What makes me happy? I like being my best self by getting enough rest, preparing ahead of time, and making my family happy.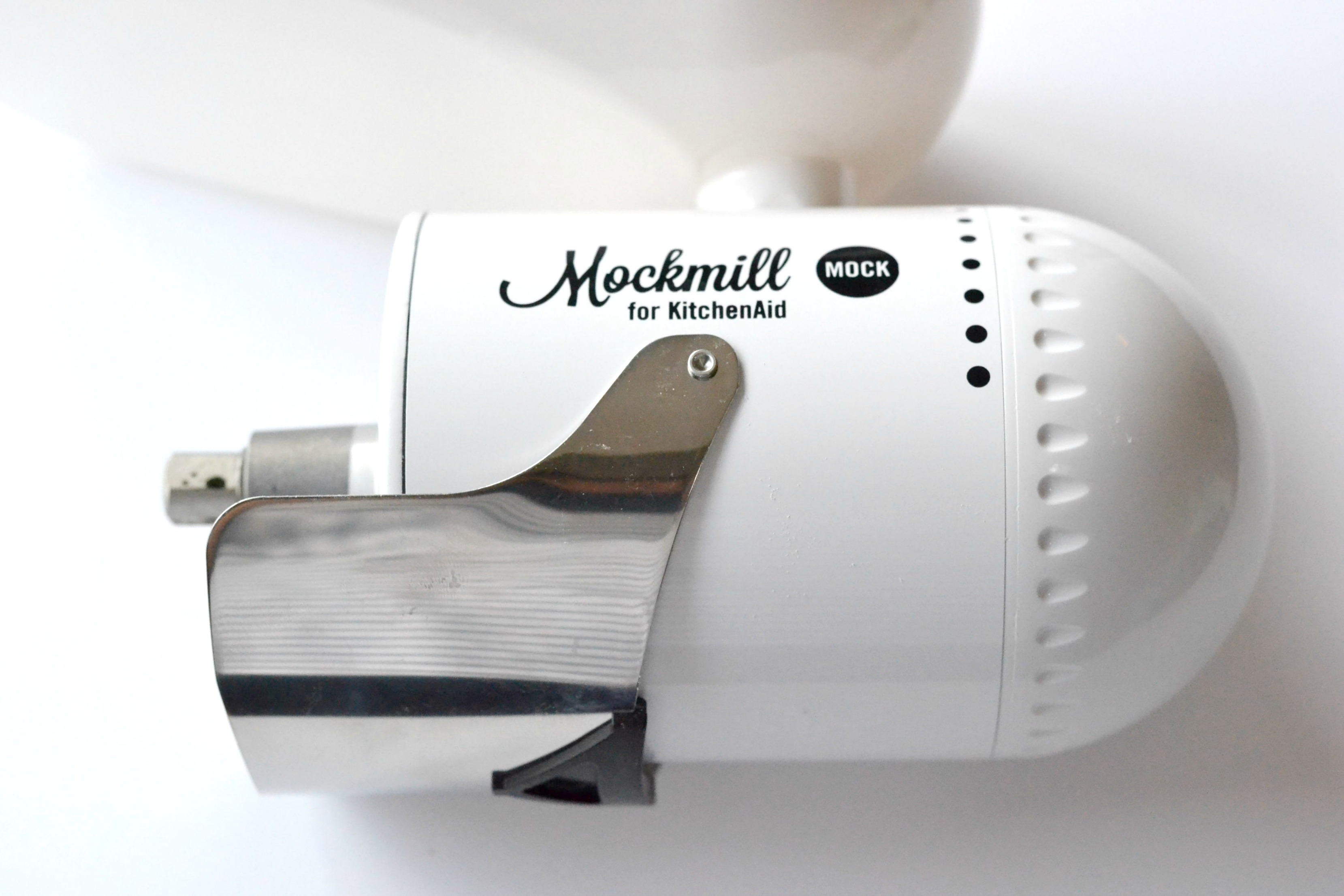 Mockmill for your Mixer
Do you have a desire to make your own nut flours or even want to save money on buying bagged flours when you could just grind it at home? I have been using my poor coffee grinder for simple ingredients like spice, or making my own powdered sugar so when I heard that there was an attachment for my KitchenAid to grind my own flours, I decided I needed to find out more.
In June 2015, Wolfgang Mock Company was re-launched with their first new product, the Mockmill. In May of this year (2016) their mother company Wolfgang Mock GmbH in Otzberg-Lengfeld, Germany (near Frankfurt/Main) founded Wolfgang Mock, Inc., wholly-owned subsidiary in Wilmington, DE, to serve American consumers.

How To Use the Mill
The Mockmill is super attractive and is easy to use. While my indicates it is for KitchenAid, it is also compatible with AEG, Electrolux, and Kenmore stand mixers. It is also compact and does not require extra counter space but can easily be tucked away in a cupboard.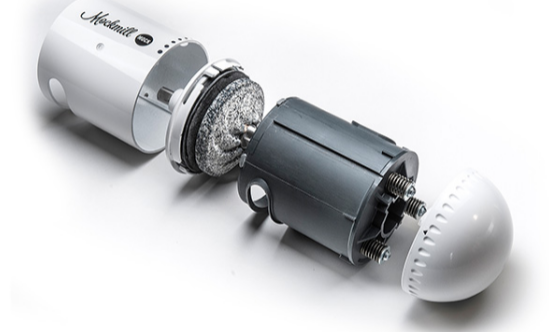 Here is the mill in a diagram showing you each part. It consists of a stone that grinds at different variables from coarse to extra fine. It is, as described by the company, a ceramic-bonded corundum stone, which produces very fine flour and will not wear down in time. The clean-up is simple too!
While I had a chance to try barley and flax seeds, I ended up using the mill for quinoa, which is a staple in my home. I love the fact that if I have a recipe that will use a specialty grain, that I can just mill a little and not buy a whole bag that will later go to waste.
Vegan Quinoa Banana Pancakes
Once I ground the quinoa, after I toasted it, I made quick vegan pancakes for my girls since they love pancakes. These pancakes were dense and also great for my 13-month old who loves using her hands. It has lots of nutrition and a nice change from normal pancakes.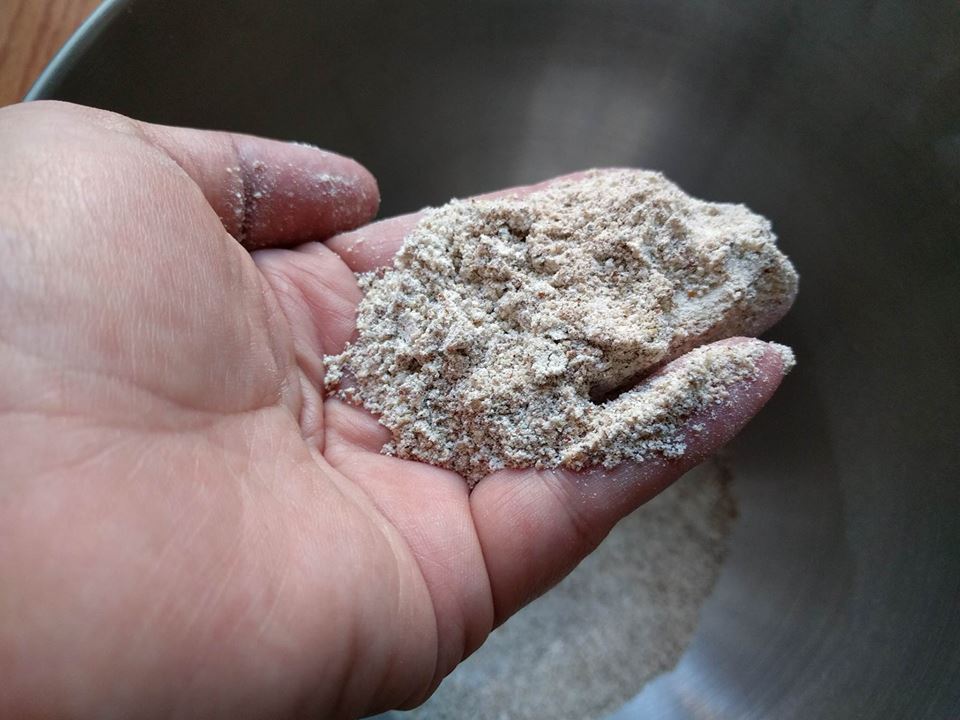 The mill really finely ground the quinoa without having to use a sieve. I also added chia seeds instead of an egg, so when I was milling the quinoa, I simple added the quinoa to the mill and it blended nicely in the mixture ready to use in my mixer.
Hope you like this recipe and make sure you check out the website. Right now the product is not in stock BUT it is AVAILABLE ON AMAZON. It is normally $229.00 but it available for $199.00 but with limited quantities. ACT now!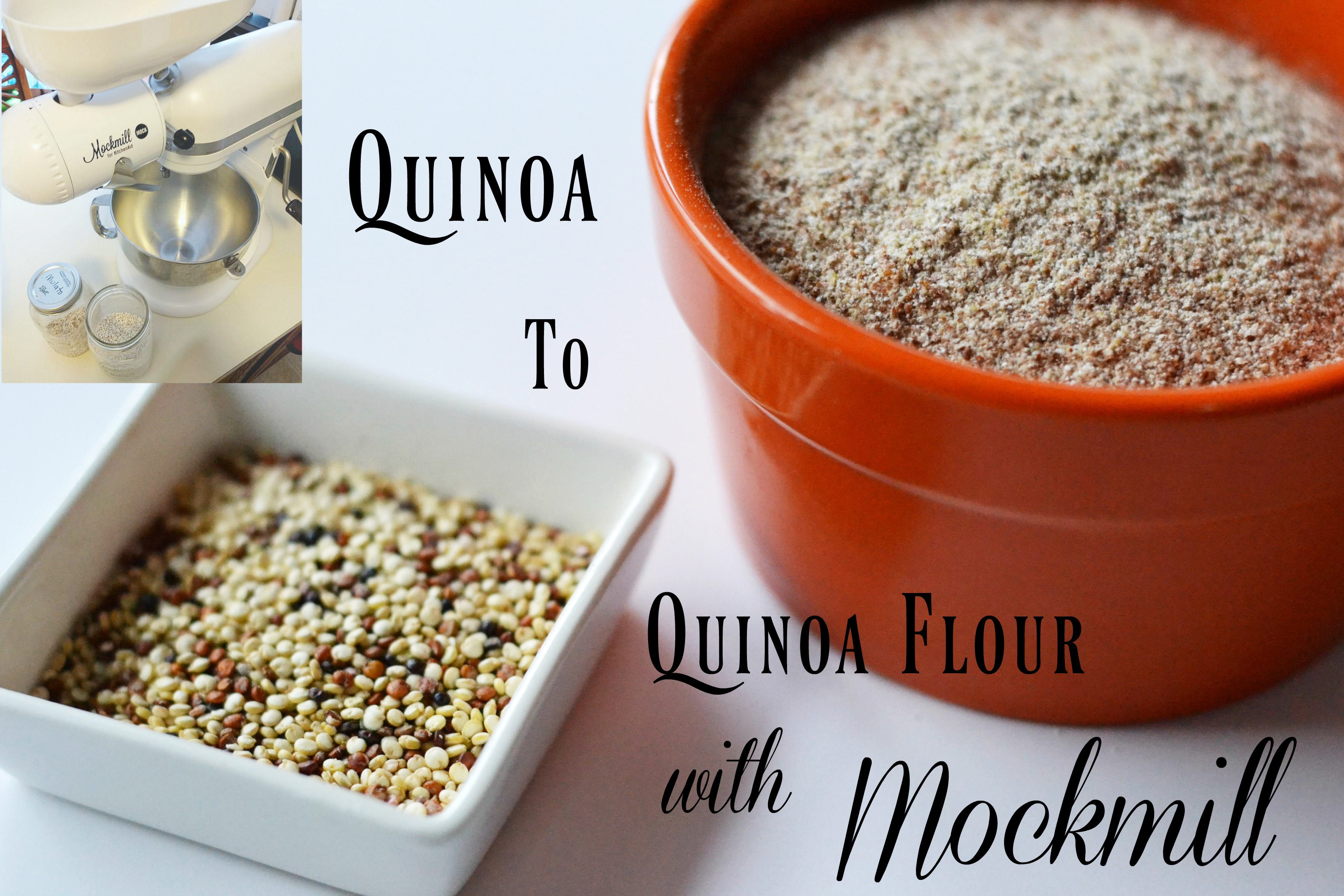 Vegan Quinoa Banana Pancakes
by Noelle Kelly
Prep Time: 15 minutes
Cook Time: 3-4 minutes for each pancake
Ingredients (8-10 small pancakes)
1 cup quinoa flour (use 1/2 cup quinoa to grind)
1 Tablespoon chia seeds, ground
1/2 teaspoon of guar gum or glucomannan (starch that binds)
1 teaspoon baking powder
1/2 teaspoon ground cinnamon
1 teaspoon vanilla
1 Tablespoon agave nectar
1 banana, mashed
2 Tablespoons coconut oil
1/3 cup water
1/3 almond milk
Instructions
Quinoa flour and Chia Seeds
If you are interested in making your own, you can use a mill like I shared, or you could use a spice grinder, but a mill grinds it finer without having to use a sieve. You can also buy quinoa flour. I toast mine in a skillet over medium heat until it is slighty golden and you can smell a nutty aroma. Remove from skillet and cool and then grind and the chia seeds or flax seeds to grind as well.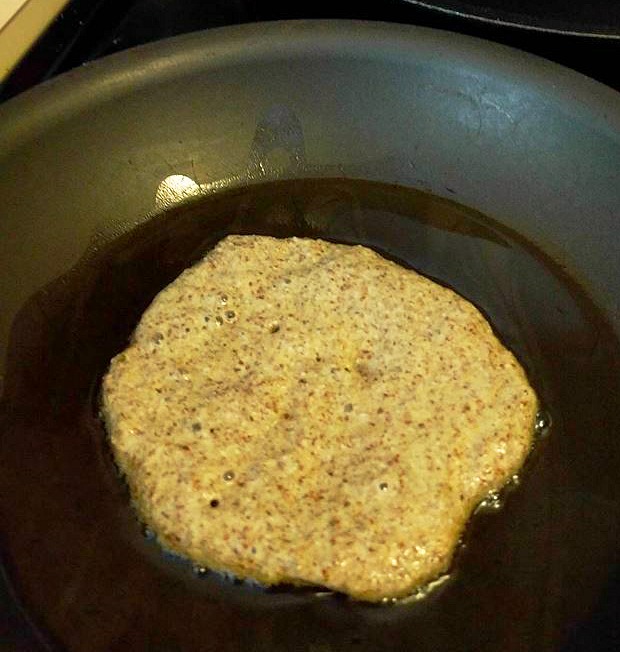 Pancakes
Mix the dry ingredients in a separate bowl. In another bowl, add the mashed banana and the rest of the west ingredients. Add the dry to wet and fold until blended.
Do not grease non-stick pan since pancakes have oil.
Bake at medium heat and cook for 2 minutes on each side. Serve with coconut syrup and fresh fruit.
Disclosure: There are affiliate links included in this post.
Related