Are you ready for some holiday recipes and easy meals during this busy time of the year? I am! I find myself trying to make delicious quick meals like this Sugar Free Sweet and Sour Chicken. It is low-carb and uses Steviva as my sugar free option. My family devoured the dish and it is definitely going on my rotation. I am partnering with Steviva by entering their recipe challenge. If you make this recipe, let me know!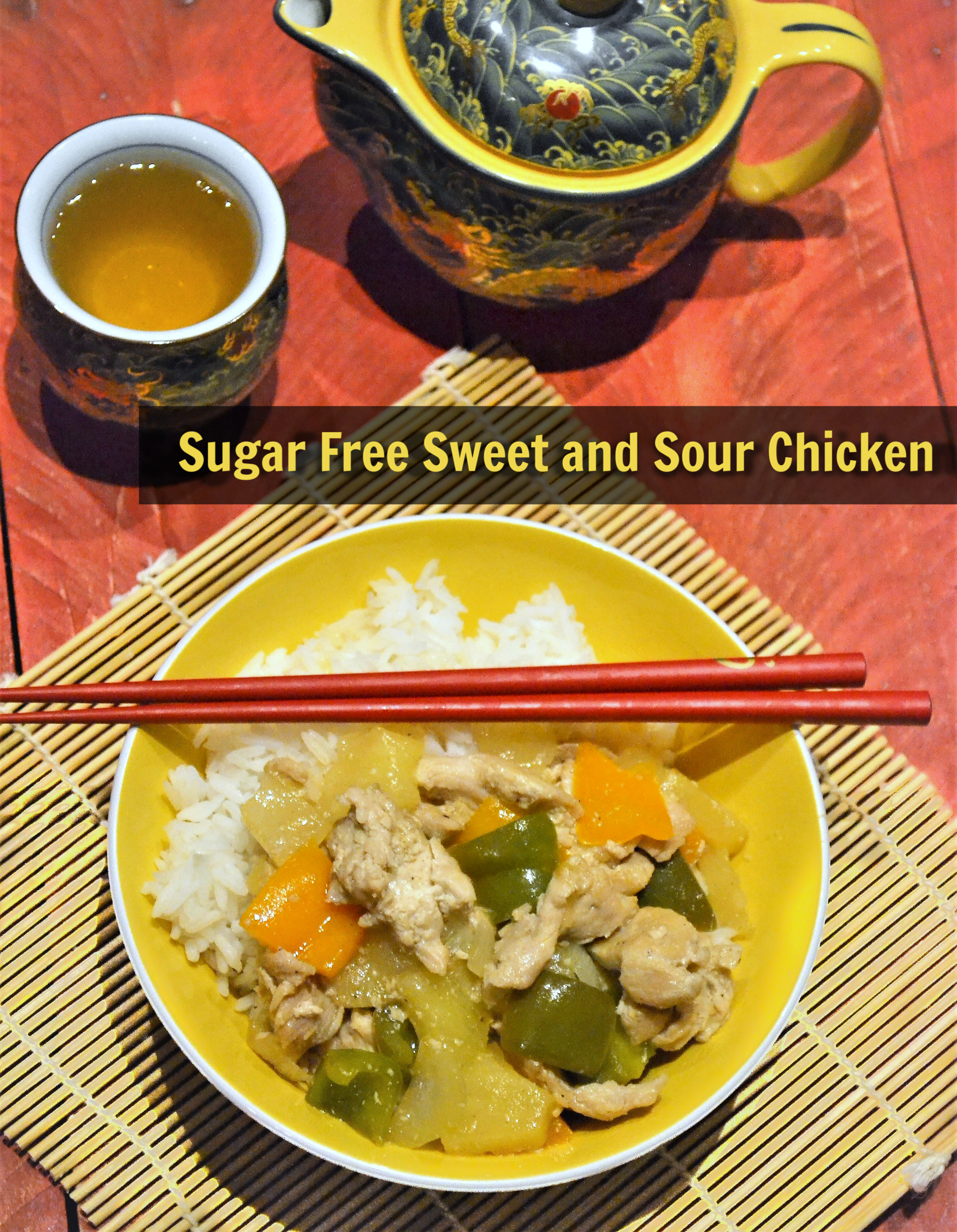 Sugar Free Alternative for Cooking
Steviva is known for their low-carb, low-carloric and low-glycemic products that are safe for those who are diabetic or those following the  keto, paleo and LCHF lifestyles. While they offer a lot of products on their website, I was only sent the Steviva Blend which is a sweetener blend of stevia and erythritol in a granular form.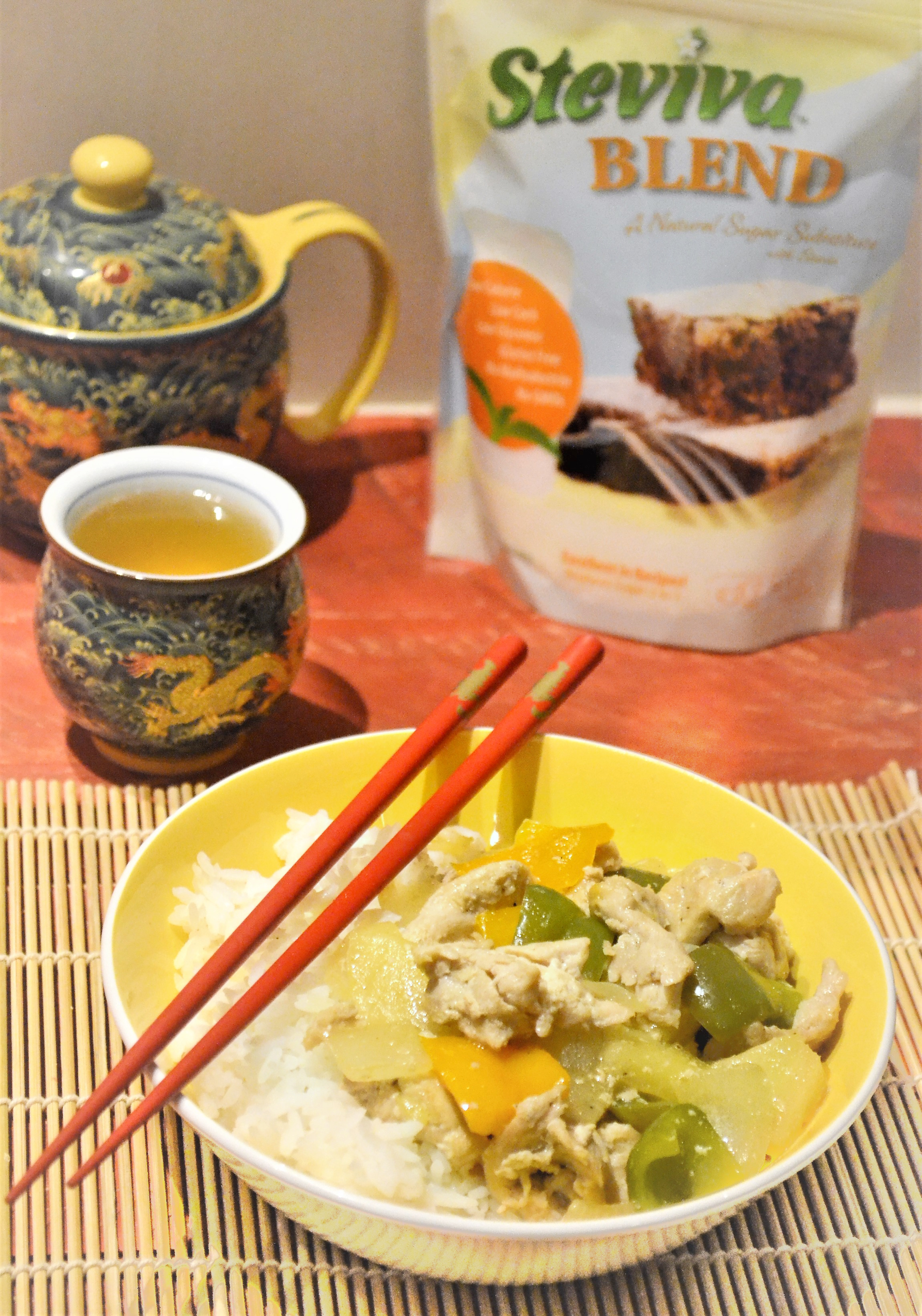 I like Asian food, but most of the time all the sauces require so much sugar that I normally do not make it or even order at the restaurant. I decided to try make Sweet and Sour Chicken using a mix of pineapple juice and the Steviva blend and the result was a mouthwatering Asian dish that my three little girls and husband consumed in its entirety.
This meal was ready in 30 minutes and can be served with white or brown rice or over low-carb noodles. I wanted to stay traditional, so I went with white rice with a side of green tea.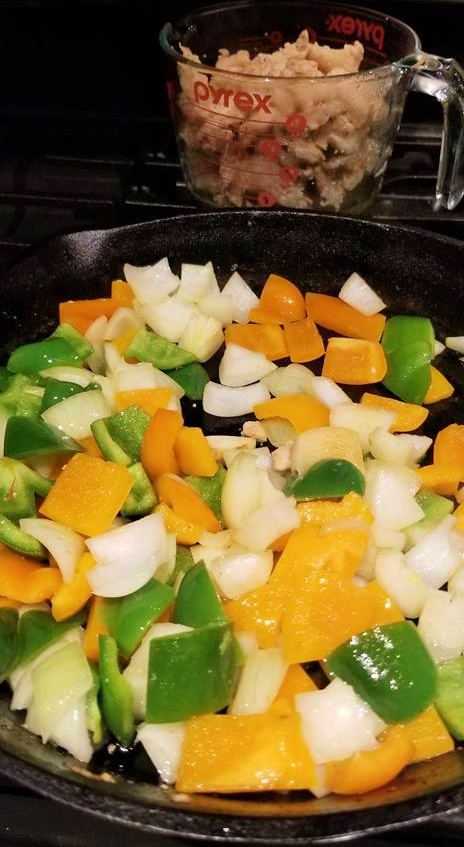 I cooked the chicken that I had seasoned in salt, pepper and soy sauce with 2 minced garlic. After the sliced chicken was cooked I sauteed the chopped onions, colored peppers and then added the pineapple chunks. I made a sauce with 1/2 cup chicken broth, 1/2 cup pineapple juice, steviva, and rice vinegar.
Once everything simmered I added a mixture of arrowroot starch and water to thicken the sauce and allowed it to thicken for 5-7 minutes. As soon as it cooked I served alongside some delicious rice. Enjoy.
Sugar Free Sweet and Sour Chicken
by Noelle Kelly
Prep Time: 10 minutes
Cook Time: 20 minutes
Ingredients (4 servings)
Chicken Marinade
1 lb boneless chicken, sliced in strips
1 Tbsp olive oil
1/2 teaspoon salt
1/2 teaspoon black pepper
2 Tablespoons soy sauce
2 garlic cloves, minced
Added ingredients
1 medium yellow bell pepper, seeded and chopped in big square pieces
1 medium green bell pepper, seeded and chopped in big square pieces
1 medium onion, peeled and chopped in big square pieces
1 cup canned pineapple chunks
1/2 cup reserved pineapple juice
3 Tablespoons Steviva Blend
3 Tablespoons rice vinegar
1/2 cup chicken stock
4 teaspoons cornstarch, mixed with 4 teaspoons water
Cooked rice, for serving
Instructions
In a large non-stick skillet, heat oil over medium high heat.
Season chicken to make marinade and let sit for 5 minutes and add to pan.
Brown chicken and remove to plate.
Add peppers and onions and cook for 3 minutes.
Stir in pineapple chunks, juice, Steviva, vinegar and chicken stock and bring to a simmer.
Simmer until sauce reduces for about 7 minutes.
Stir in cornstarch mixture and bring liquid to a simmer.
Stir in cooked chicken and cook for another 5 minutes.
Immediately serve over rice or low-carb noodles.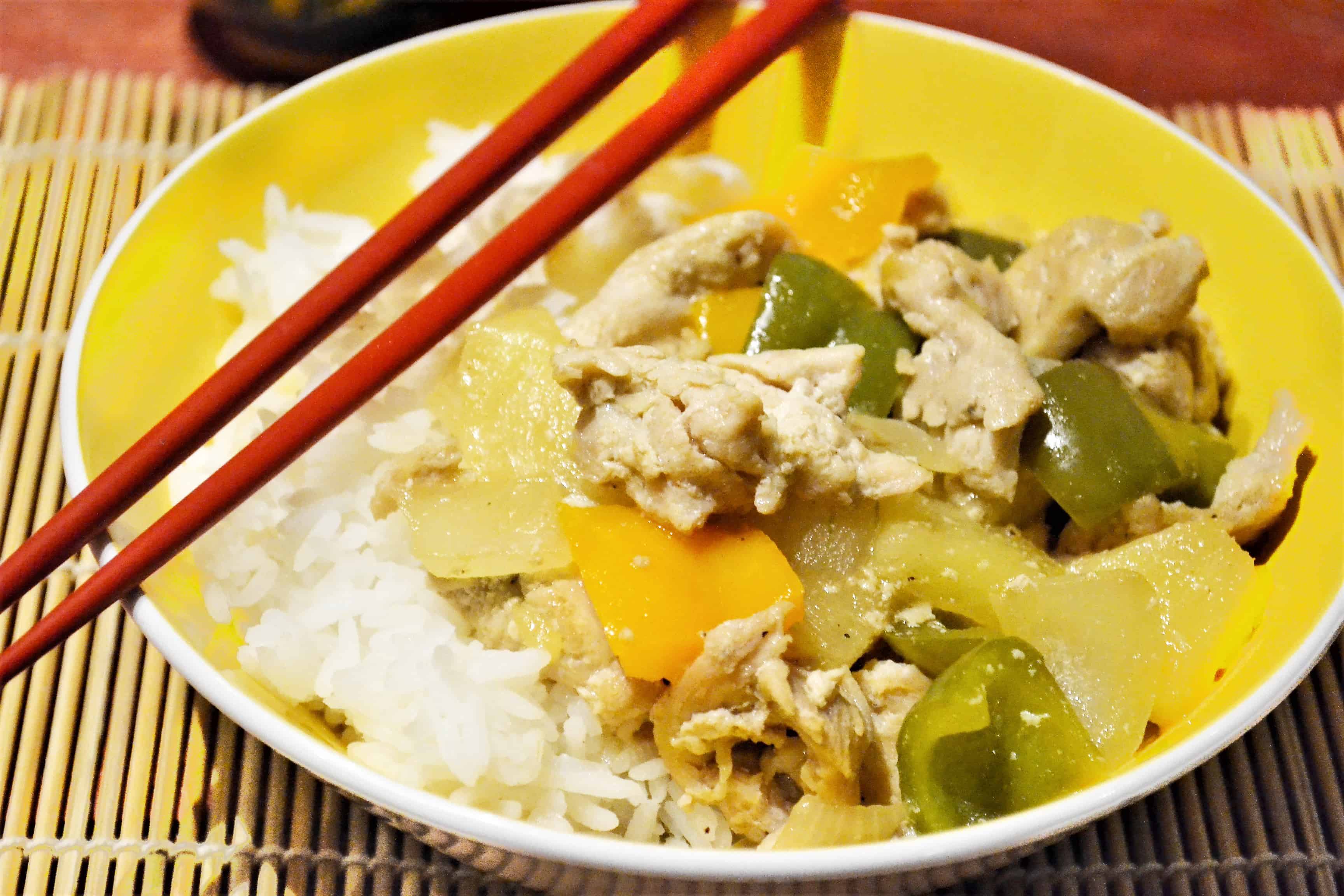 Life has seriously been busy but despite that I have been creating recipes and making yummy meals for my family. While I have not published a post in a while, I have been insta-blogging on Instagram. Taking photos of everything never changes so if you want to be updated, check out my profile.
More about Steviva
Check out Steviva on social and learn more about their products:
Facebook: https://www.facebook.com/steviva
Twitter: https://twitter.com/steviva
Instagram: https://www.instagram.com/stevivabrands/
Pinterest: https://www.pinterest.com/stevivabrands/
Related