Avocado toast is pretty trendy but imagine changing that up a bit with guacamole toast! No need to worry about calories or fat content because my Tex-Mex Shrimp and Guacamole Toast will be ideal for this summer.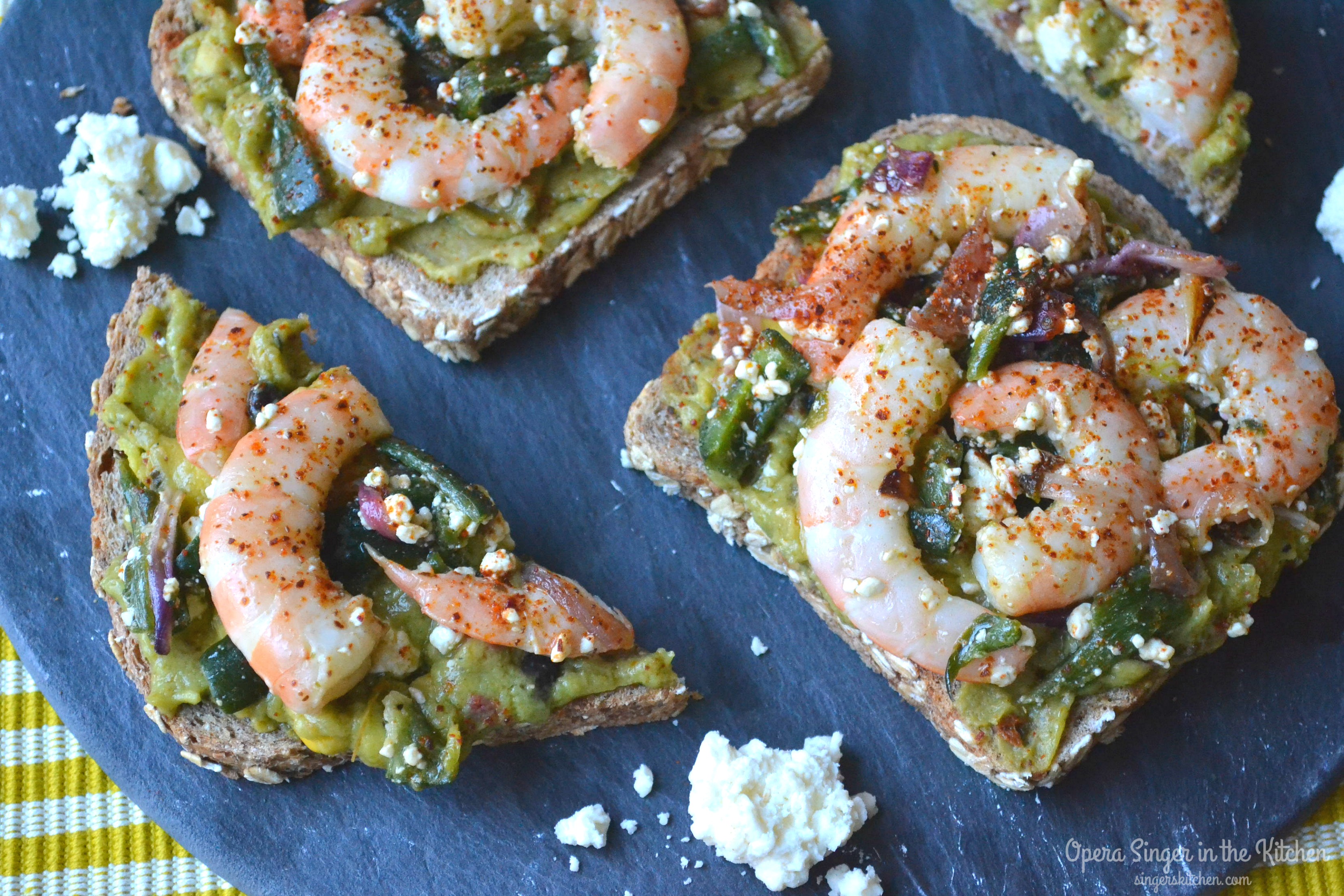 This is a sponsored post with Sabra. All opinions and recipes are my own.
This summer is already a memorable one.  We have traveled, had multiple deaths in the family, and with that we have had interesting weather to add to all that mixture. Despite that, life continues sustained in God's strength. Ideally it would be wonderful to have a personal chef for breaks in this busy season, but it is easier eating lighter or even making simpler meals that require little cooking time.
I always keep avocados in our home for various recipes but usually my girls just eat it by itself and request that I make it salty. So easy, right? When I sit to eat an avocado, I like slicing it and adding it to a toasted piece of sprouted bread. On occasion I will add a fried egg and some slices of fresh tomato. It is such a satisfying meal but not one I do as often.
Lighter Guacamole
Lighter summer meals come in different forms and I like an opened faced sandwiches more than regular sandwiches because I can load them up with toppings. Recently, Sabra released their newest product called Veggie Fusions Guacamole and is considered the first of its kind to reach grocery stores. They have three different options:
Veggie Fusions

Garden Vegetable

Veggie Fusions

Southwestern

Veggie Fusions

Mango Lime
Each 7-ounce container of guacamole is made with ripe, fresh, Hass avocados mixed with delicious crisp vegetables for a nutritious dip, rich in antioxidants, vitamins and fiber.  In fact, each recipe is made with SEVEN different varieties of veggies!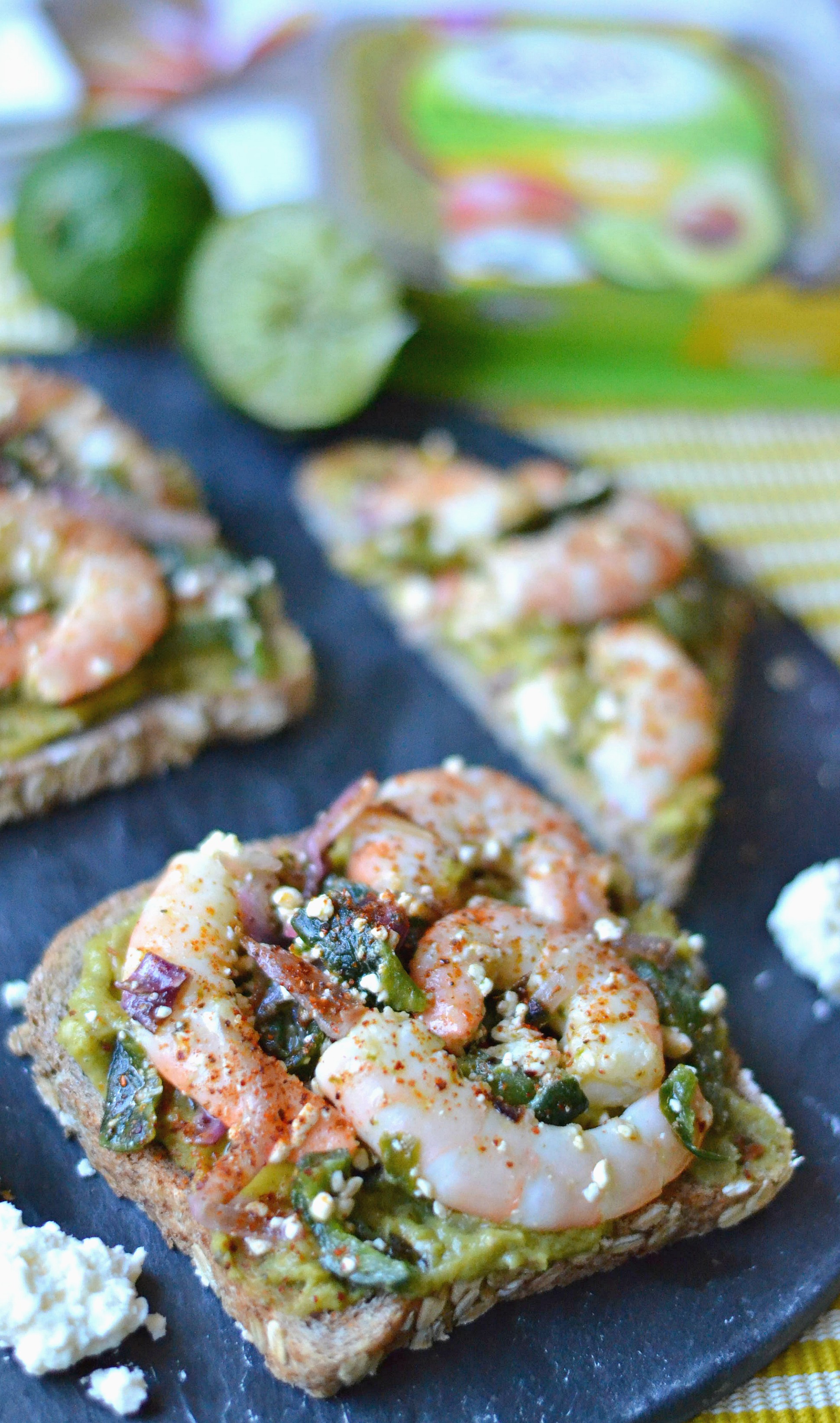 With this mixture the guacamole has a fresh flavor and the overall fat content is reduced by 30% (3g of fat vs. 5g and 4.5g of fat per serving of the two leading brands of classic guacamole). All three varieties are vegan, kosher, gluten-free and made with the best quality ingredients.
I had a chance to try all three and I really enjoyed all three in different ways. We had company over several weeks back and all 8 kids in the group enjoyed the Veggie Fusions Garden Vegetable with carrots and pretzels! Little did they know they were consuming healthy nutritious dips! The Veggie Fusions Southwestern dip had a nice blend of corn, black beans and veggies. Pairs well with corn chips or great on enchiladas!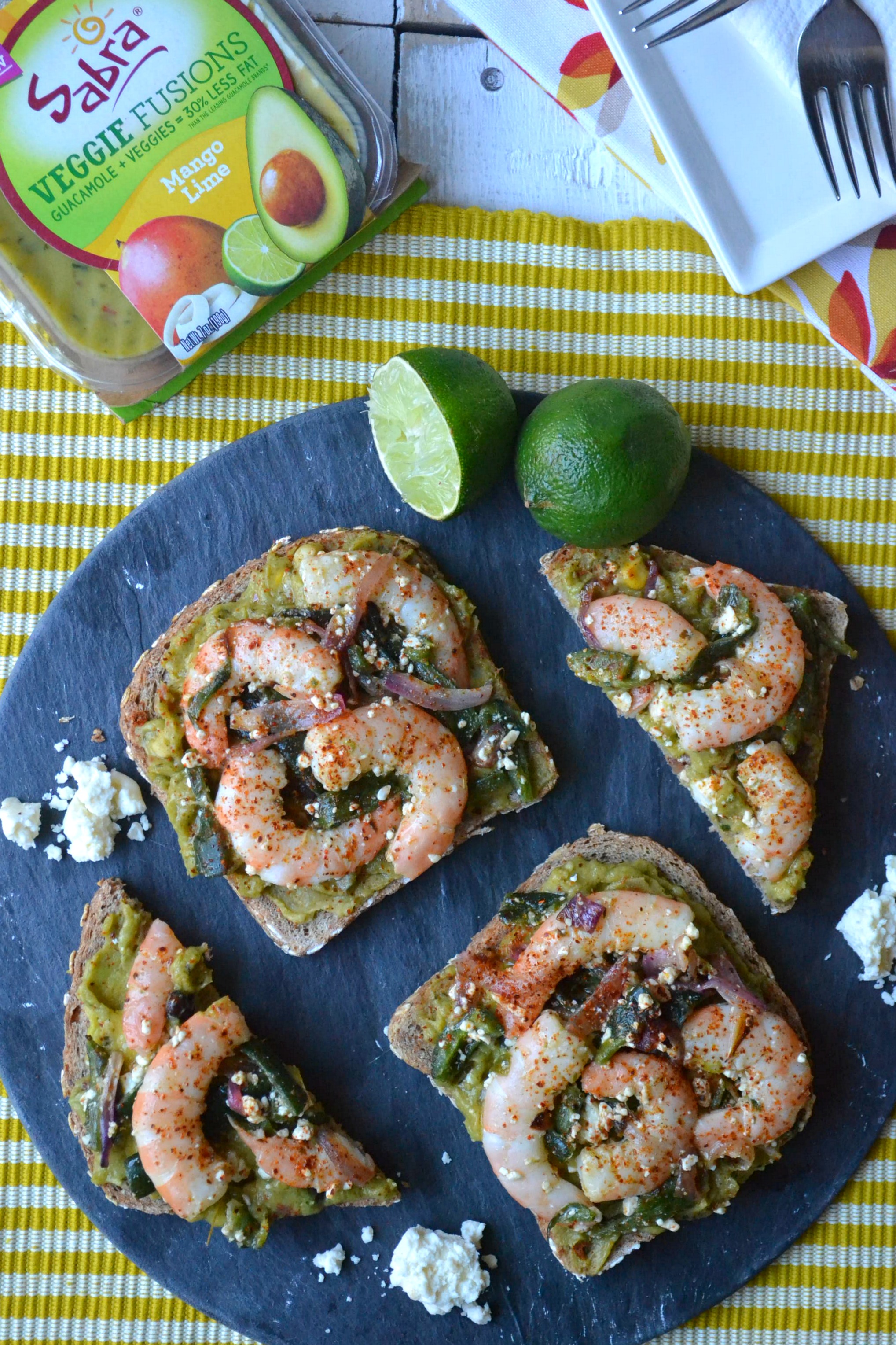 Guacamole Toast
The Mango Lime was MY favorite. Since avocado is a fruit, combining it with mango is just so logical and ideal. The dip was both sweet and savory and perfect with my Tex-Mex Shrimp and Guacamole Toast for my lunch. The shrimp is easy to cook while the poblanos roast in the oven. Both my husband and I like keeping ready-made roasted peppers in the fridge for meals. 
Hey busy moms! Don't be intimidated! This recipe worked great prepping the night before and assembling the day of. While your kids have their quick-lunch this quick gourmet lunch makes you feel like you've conquered the kitchen while feeding your kids.
Want a chance to try Sabra's Veggie Fusions line? Head to their site and print the $1 coupon to use at the grocery store. Make sure you head to the deli section to purchase this delicious guacamole.
Related