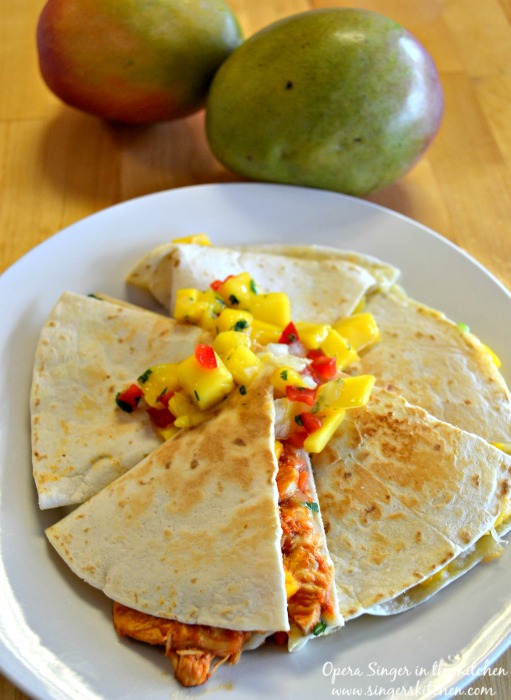 This post is sponsored by The Motherhood and The National Mango Board.
Last week my daughters and I attended a great cooking class in East Norriton with Really Cooking with Robin. During that time we tasted different appetizers that included mangoes. After we had a few introductions we were brought to an area for demonstration and cooking for all the moms and kids. My daughters and I promptly found a spot in the front with two chairs so that they could be in between my cooking station while also being able to see the instructor.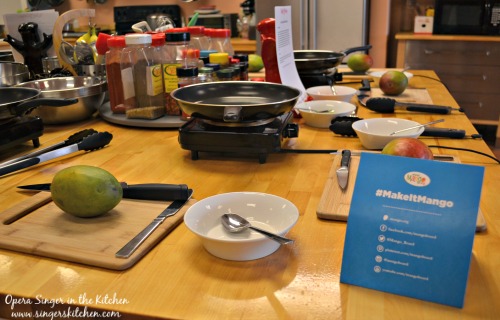 We were told that all the recipes we were going to learn to cook were all going to be kid-friendly and even great for those families that have their kids help in the kitchen. My girls were very eager to help whenever the teacher called for a volunteer to mix up ingredients. It was so cute! We first started out with a delicious Mango and Banana Smoothie using a Vitamix.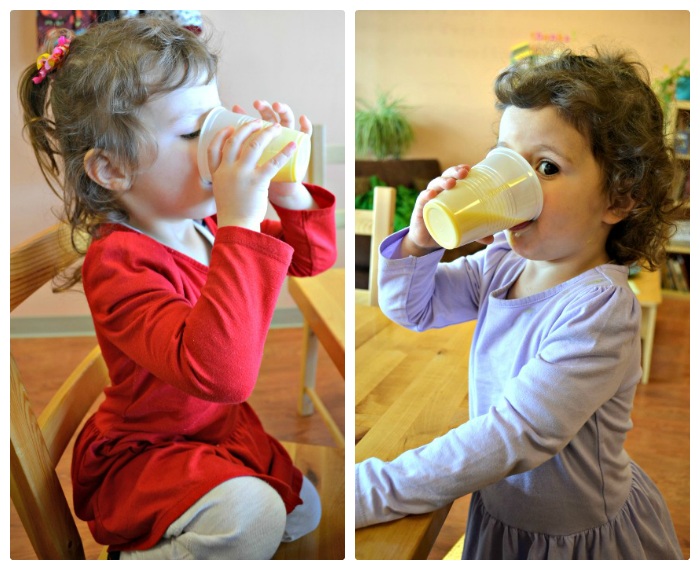 We were able to sample a nice glass before we started cooking and it was super delicious. My girls simply LOVE mangoes, so when they tasted the drink they knew it had mangoes AND bananas. I knew that this recipe was going to be a regular in our home so I was glad to have a copy of the recipe.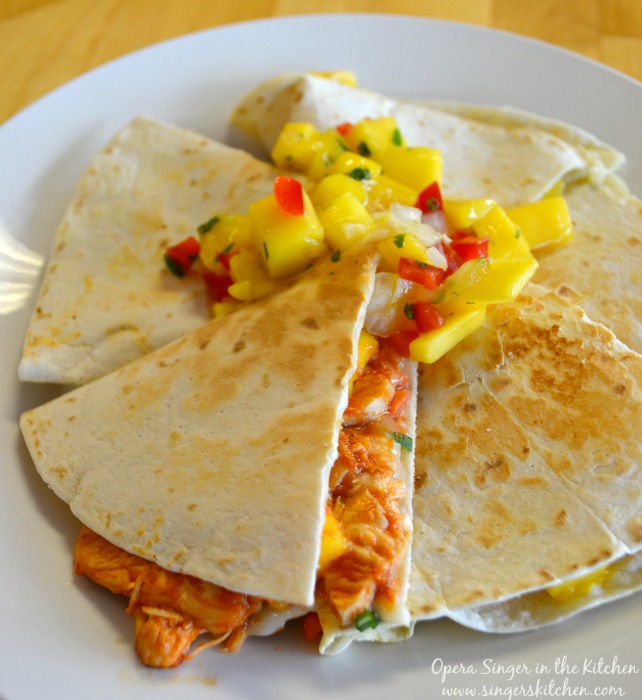 The next recipe we learned to make were delicious Cinco De Mango Quesadillas. I thought it was a clever name for a recipe especially since Cinco de Mayo is quickly approaching. When it comes to combining fruit and meat in meals, I hardly do it except on occasion during the summer when I make fish tacos and accompany them with a mango salsa.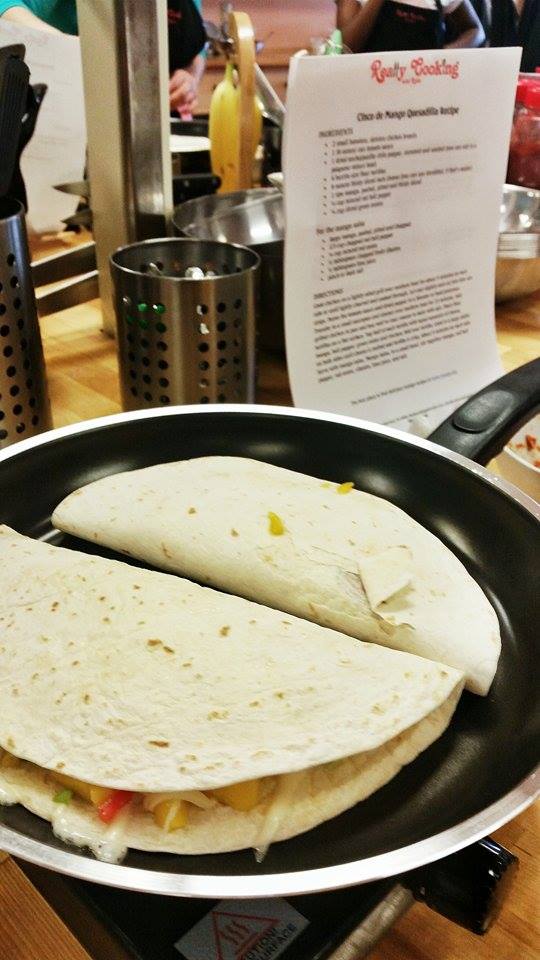 As we prepared out quesadillas we learned quick tips when handling mangoes. Robin, the instructor, taught us how to slice mangoes, calling the larger sides, cheeks. It was quite amusing since I had never heard that term, but it was informative because I think I had been cutting, peeling and pitting mangoes all wrong. The girls helped me scoop the mango flesh out to have ready for the quesadilla recipe.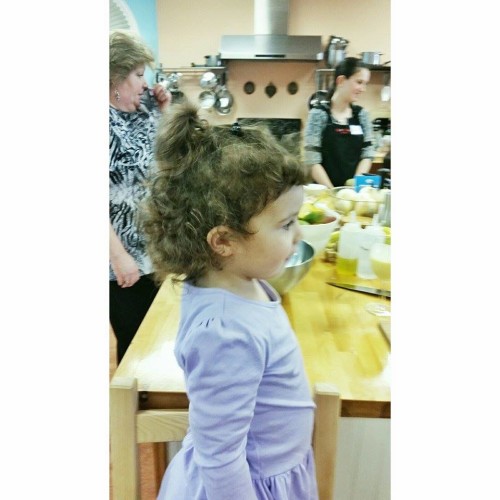 After we assembled the ingredients, the quesadilla came to life after grilling on a skillet for 5-10 minutes. I really REALLY liked this quesadilla recipe and was amazed that it was so delicious. There was perfect mild spice on the chicken because of the chili but the mango cooled the spice. When I made this at home, I accompanied each quesadilla with sour cream and more mango salsa. You simply HAVE to try this recipe.
Prep Time: 25 minutes
Cook Time: 10 minutes
Total Time: 35 minutes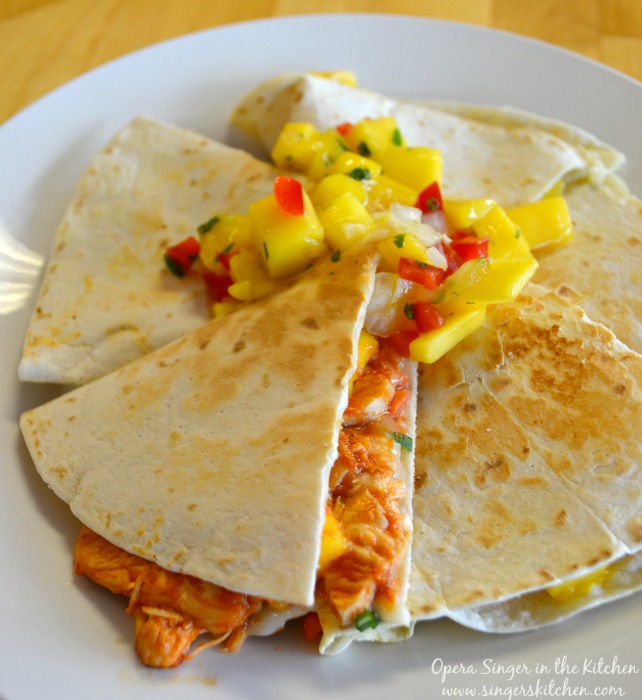 This is a recipe by www.mango.org
Ingredients
2 small boneless, skinless chicken breasts
1 (8-ounce) can tomato sauce
1 dried ancho / pasilla chile pepper, stemmed and seeded
4 burrito size flour tortillas
6 ounces thinly sliced Jack cheese
1 ripe mango, peeled, pitted and thinly sliced
1/4 cup minced red bell pepper
1/4 cup sliced green onion
1/4 cup cilantro, chopped

Mango Salsa!

1 large mango, peeled, pitted and chopped
1/3 cup chopped red bell pepper
1/4 cup minced red onion
1/2 tablespoon chopped fresh cilantro
1/2 tablespoon lime juice
pinch or dash salt
Instructions
Cook chicken on a lightly oiled grill over medium heat for about 5 minutes on each side or until lightly charred and cooked through.
Let cool slightly and cut into bite size strips.
Puree the tomato sauce and dried pepper in a blender or food processor.
Transfer to a small saucepan and simmer over medium heat for 15 minutes.
Add grilled chicken to pan and toss well to coat; season to taste with salt.
Place flour tortillas on a flat surface.
Top half of each tortilla with equal amounts of cheese, mango, bell pepper, green onion and chicken; fold over tortilla.
Cook in a large skillet on both sides until cheese is melted and tortilla is crisp, about 5 minutes on each side.
Serve with mango salsa.

Mango Salsa!

In a small bowl, stir together mango, red bell pepper, red onion, cilantro, lime juice, and salt.
https://singerskitchen.com/2015/04/mango-madness-with-cinco-de-mango-quesadillas.html/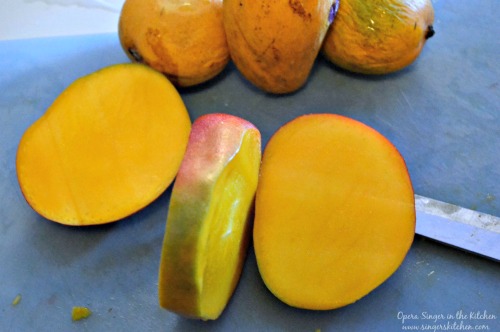 I asked my readers before this cooking event what they would want to know about mangoes and so I thought I would share a few facts that will prepare every family to enjoy mangoes like they have never before!
Simple, Satisfying Mango Snacks:

Mangos

pack a nutritional punch at just 100 calories per cup, making them a perfect snack any time of day.  

Mangos

provide 100% of your daily vitamin C, 35% of your daily vitamin A and 12% of your daily fiber.

Mangos

are fat free, cholesterol free and a good source of dietary fiber.
Mango

's sweet taste of summer make

mangos

a regular household snack to be enjoyed throughout the year with these simple tips for selecting, cutting and storing

mango

. 

Selecting

: Don't judge a

mango

by its color – red does not mean ripe. To find a ripe

mango

, just squeeze gently. A ripe

mango

will be slightly soft like a peach or avocado. A firm

mango

will ripen at room temperature over a few days.

Prepping

: To cut a

mango

, simply slice off the sides of the fruit, avoiding the large seed in the center.  Once you have these two sides, you can get to the flesh and slice or dice as needed. Then, simply scoop it out of the skin. For more on how to cut a

mango

or delicious new recipes, visit

Mango

.org.

Storing

: Keep unripe

mangos

at room temperature. Never refrigerate

mangos

before they are ripe. Once ripe,

mangos

can be moved to the refrigerator to slow down ripening for several days.

Year-Round Availability:

Mangos

are the world's most popular fruit and are available year-round, so you can always get your hands on a perfect

mango

.
Six varieties of

mango

make up most of what is available in the U.S. Because each variety comes into season at a different time of year, you'll always find a

mango

in your produce aisle.
While there are more

mangoes

in the market during the summer than any other season, this tropical fruit can bring a little sunshine to your table any time of year.
Visit www.mango.org for additional information on mango varieties, availability and recipes.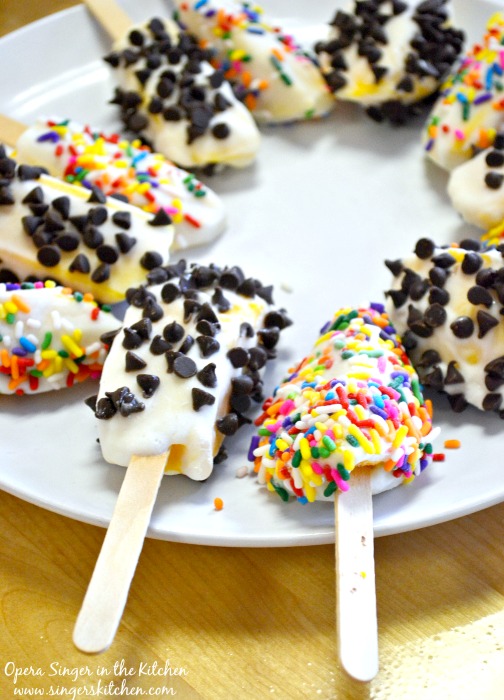 One last recipe I have to share are the Frozen Yogurt Dipped Mango Pops. I had only had frozen banana pops dipped in chocolate but nothing like what we learned in the class. I was super impressed by the simplicity of the recipe especially I knew it would be something my girls and I would love to make together.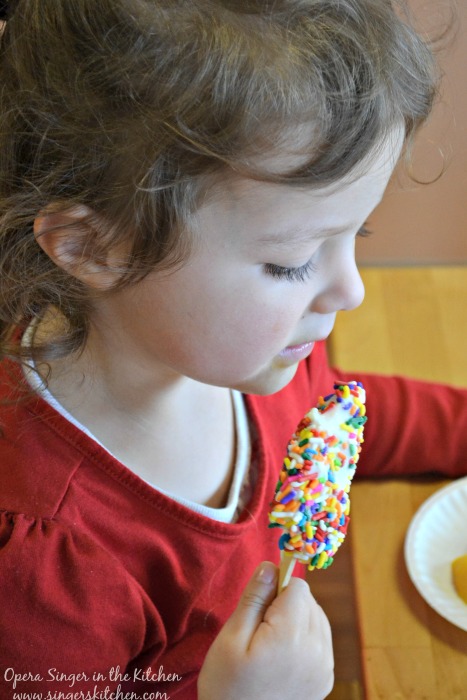 The instructor showed us how to cut the right size mango in order to place a popsicle or skewer stick to make a mango pop. Each mango slice then would be dipped in a mixture of yogurt and honey. Then any additional toppings could be sprinkled on each mango pop. My girls immediately asked for the pops with mini chocolate chips. It was so predictable! Check out the recipe to make with your kids!
Related