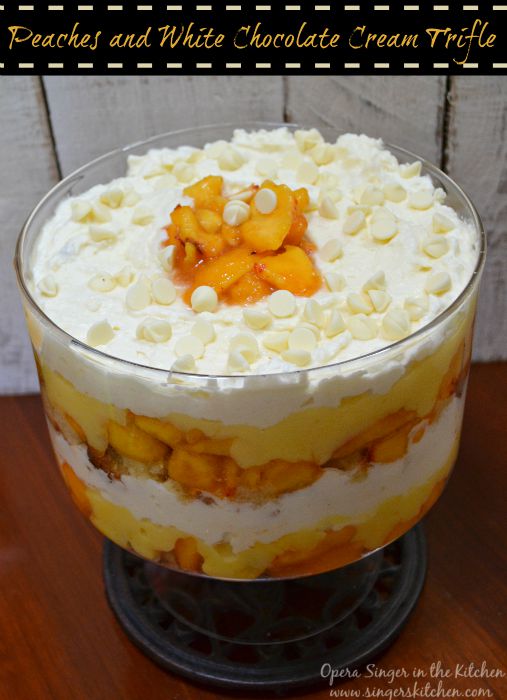 Before summer is officially gone I wanted to share this fabulous trifle I made for friends when we headed over to their place. I sometimes get bogged down with what to take to a dinner party for large families and then I remember that there is more to life than sheet cake. Trifle seems to be the dessert that continues on giving. No matter how much you scoop for the large amount of people in your party, there is still more to serve.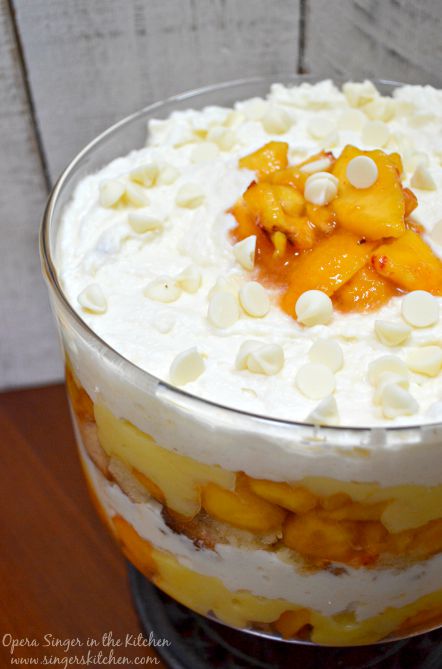 If you haven't noticed, peaches are still pretty popular, but I believe that will be over soon so before you start chasing after pumpkin recipes, make this peach recipe for your family or your next get-together. I have had several people asking me for the recipe since I posted it on Instagram:
SO lest I forget or anyone else, this is STILL a food blog, but somedays, I post what I ate on my Instagram page as a diary hoping to get the recipe on the blog. Just in case you did not know it fellow readers and friends, taking care of three kiddos and everything else in life is pretty challenging, so bear with me.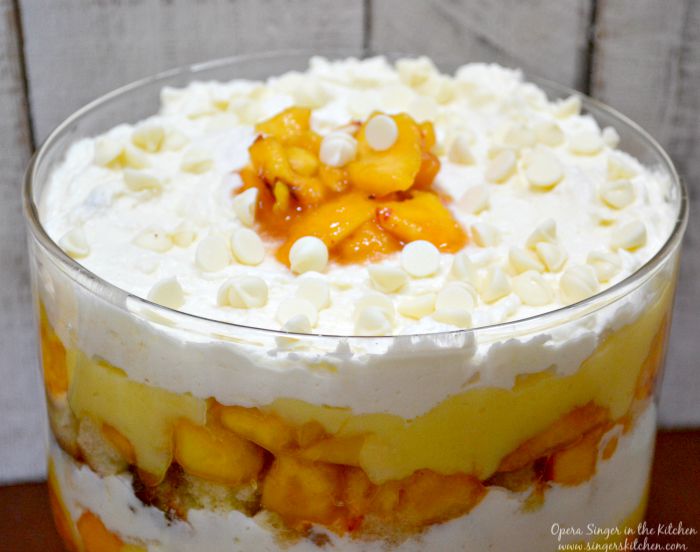 Check out my colorful pictures on Instagram because I have been able to get delicious lunches and dinners for our family. I forsee that family life with three kids and a husband will be different every day, but know that I will always be sharing something new and exciting often whether here or on my Instagram, Twitter or my Facebook page.
Let me know if you make this Peaches and White Chocolate Cream Trifle. It is decadent, sinful and oh so delicious.
Prep Time: 30 minutes
Cook Time: 45 minutes
Total Time: 1 hour, 15 minutes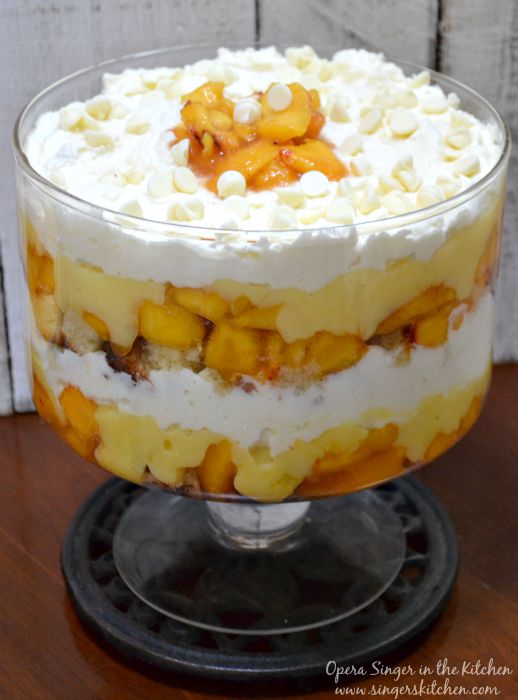 Ingredients
Duncan Hines Pound Cake Mix
Vanilla Pudding
3 cups peach slices (about 10-12 peaches), peeled and pitted
1/2 cup sugar
1 1/2 cups whipping cream
2 Tablespoons powdered sugar
1 1/4 cup white chocolate chips
Instructions
Cake:

Bake cake according to box directions. Allow the cake to completely cool and then remove from pan. Cut the pound cake into 1-inch cubes and set aside.
Prepare the vanilla pudding according to boxed directions. This is not the instant pudding but the one that is prepared over the stove.

White Chocolate Whipped Cream:

Add cold whipped cream to a bowl and using a hand mixer or regular mixer, whip until the cream reaches stiff peaks.
Add the powdered sugar and mix well.
Place white chocolate chips in a glass bowl and melt 45 seconds in microwave at 15 second increments. Mix chocolate chips with a spoon every time bowl is removed from microwave to prevent chocolate from seizing. You might need an additional 15 seconds.
You can also melt chocolate over a hot water bath by placing the glass bowl over a pot of hot water, allowing the steam to melt the chocolate.
Allow the melted chocolate to cool and then fold chocolate into the whipped cream until blended well.
Set aside.
Peel and pit all the peaches.
Slice the peaches into 1/2-inch slices and then add 1/2 cup sugar to the peach mixture.

Assembly:

Reserve 1/4 cup of peaches for garnish.
Start by layering with 1 cup of peaches.
Add half the cake cubes as the second layer and pressing into the peaches.
Add half the pudding over the cake then add a third of the whipped cream over the pudding.
Repeat the process ending with whipped cream. Garnish with peaches and sprinkle white chocolate chips over the top layer and refrigerate.
It can be consumed immediately but it tastes a lot better after 2 hours in the fridge.
https://singerskitchen.com/2015/09/peaches-and-white-chocolate-cream-trifle.html/
Related