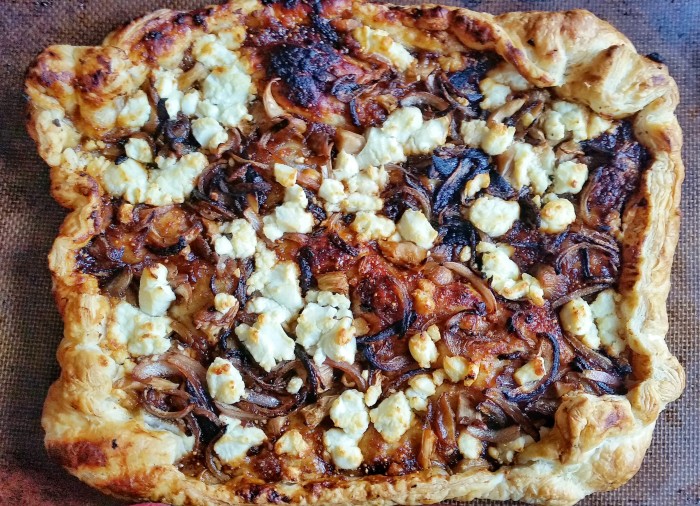 Last week I shared our trip out to Lancaster County but still forgot to share the rest of the activities that were planned in our day. When I plan to be away from our home more than 45 minutes away, I try to pack our schedule as much as we can in order to make the trip worth the travel. Although this is not necessary, I usually cannot help myself especially if there are places to see.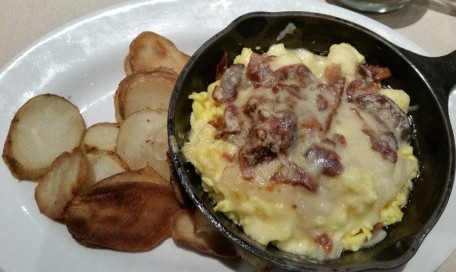 Before we got to Strasberg to catch the Sight and Sound production fo Joseph, we stopped at the Kitchen Kettle and had breakfast. We figured that if we were in the area, then we could eat breakfast and still make it to our show. Breakfast was not exciting but it filled our tummies until dinner. Before we left, I walked in the The Jam and Relish Kitchen located in the Kitchen Kettle Village. I was given some spending money to purchase products that caught my eye. It was a nice shopping spree until I realized I needed to get into the car to head to the show.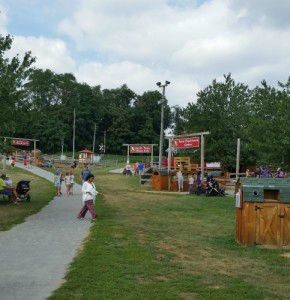 After the show was over we headed to the Cherry Crest Adventure Farm to check out the activities available for our little ones. When we arrived almost close to the peak time of day because it was really hot.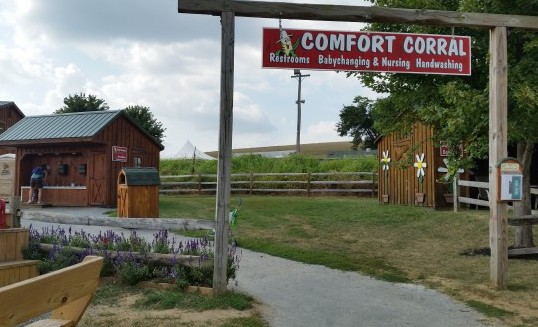 The first thing I saw was a shed with air-conditioning for nursing moms and a place to change diapers. I definitely kept it in mind for later. The kids and my husband scoped out the first activity and immediately the girls found themselves having fun. Was my husband?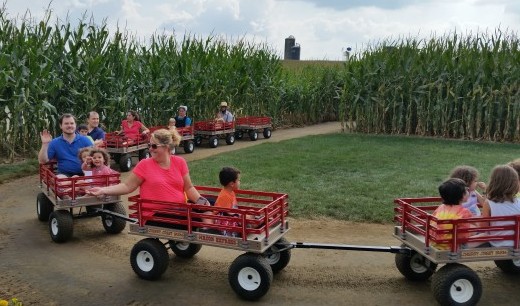 We continued walking through the farm until we came to an area for smaller kids. There was a playground, an area they could play with water and toy boats, and a jumping area which was immediately my oldest daughter's favorite.  There were a lot of places with fans to help cool off and also places for people to get drinks and snacks. I really was surprised with how many places were selling food.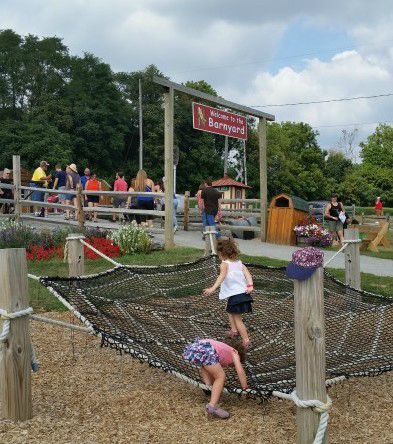 We continued to walk around the farm enjoying the different options for our girls and decided to skip the wagon ride because everyone was hungry. One of the things we have come to find is that smorgasbord dinners are THE thing in the Lancaster county. We headed to Miller's Smorgasbord and were really glad we called with a reservation because it was crowded, especially since it was Labor Day weekend. We were all SO hungry there was no way we could wait the long lines.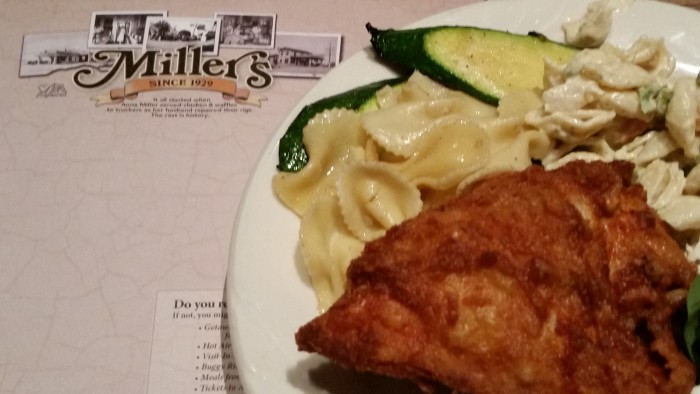 The restaurant was packed and while we never thought we were going to eat, because everyone needed to go to the bathroom or because our infant decided to throw a fit. My husband and I finally alternated and got food for ourselves and the kids. The fried chicken was the best! I had heard and could not wait since it is pretty much a novelty. My oldest daughter loved the crispy skin. We found the food to be fresh, hot and satisfying. We were not going home with an empty stomach for sure.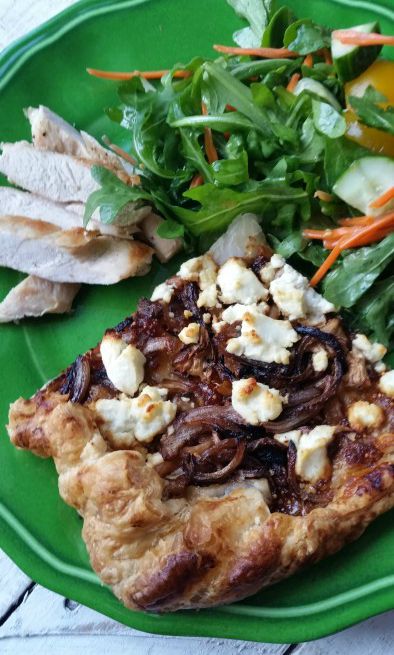 Since I have left you salivating, I decided to leave you with a recipe that I created using one of the jams I purchased at the Kitchen Kettle –  The Jam and Relish Kitchen called Fig Balsamic Jam.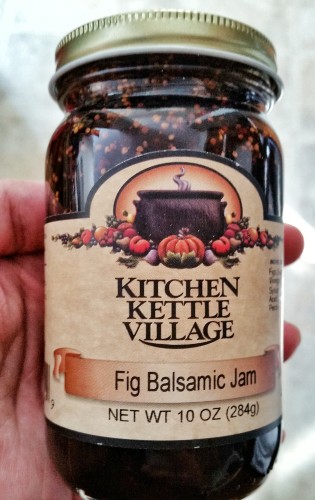 It tasted so delicious I immediately knew what I was going to do with it. I made a quick tart for dinner one night and accompanied it with a green salad and some grilled chicken.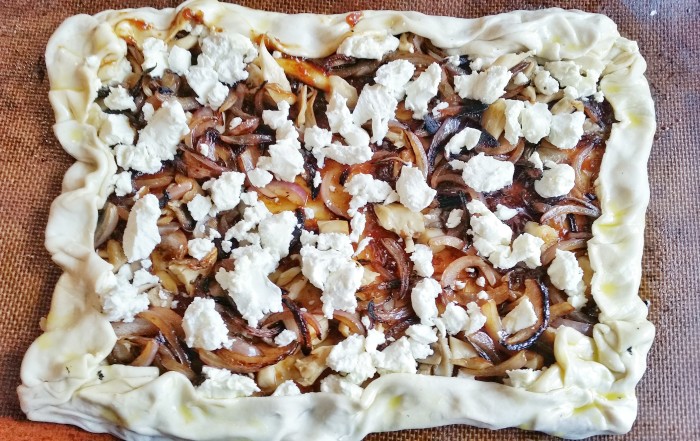 My husband could not believe that it only took 30 minutes to prepare and bake. I also loved seeing my toddlers devour it as well. Make this meal for a quick and gourmet meal for your family. It will not disappoint.
Ingredients
1 half package puff pastry, refrigerated
5 ounces Kitchen Kettle Fig Balsamic jam
1 large red onion, sliced thinly
2 Tbsp oil
1 cup oyster mushrooms, sliced
5 ounces goat cheese, crumbled
Instructions
Remove 1 puff pastry from the box and put away the other for later.
Unfold the pastry and thin it out using a rolling pin until it is closer to 9x13.
Spread the fig jam over the pastry.
Heat some olive oil in a pan and fry the red onion for about 10-12 minutes until completely caramelized. Spread onions over the jam. Cook the mushrooms in the same plan for 5 minutes and add over the onions.
Crumble goat cheese over the ingredients and fold the edges over some of the filling creating about 1/2-inch crust edge.
Bake at 400F and cook for 10-15 minutes until slightly golden.
Cut into 6 squares.
https://singerskitchen.com/2015/09/rustic-fig-balsamic-and-goat-cheese-tart-lancaster-county-must-dos.html/
Disclosure: We were given tickets to visit The Cherry Crest Adventure Farm and Miller's by DiscoverLancaster at no charge. The Jam and Relish Kitchen supplied me with product to create this recipe. All opinions and photos are my own.
Related