Disclosure: This post is sponsored by the Sabra Dipping Co. As a Sabra Tastemaker I was asked to create recipes using their product. All opinions and creations are my own.
Hopefully everyone had a lovely Thanksgiving holiday with family around delicious foods. Sometimes I am amazed that we are in the holiday season already. When this season comes around it makes me realize how quickly this year has flown by. Several things I like to do during the holiday season is baking, cooking, and inviting folks over. Even though it is a busy season we really like to sit back and relax with friends.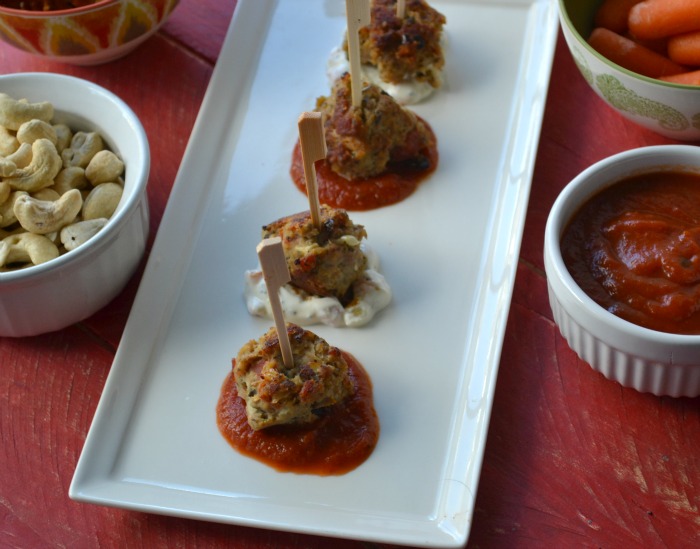 No matter how busy we get, my husband and I really make it a point to talk through who we want to have over for a meal or even for a special event like watching a football game or a holiday parade. Now that we have small kids we try to have other families over with young kids so that our girls will have other kids to play with. On other occasions we have other families over with no kids because we want to get to know them better.
Some past successes we have had when throwing a low-key get together or tailgating party is just making an assortment of appetizers for dinner. Sometimes it is easier to have a guests bring a variety of appetizers instead of doing a traditional potluck because the menu is focused on dips or bite-sized delights.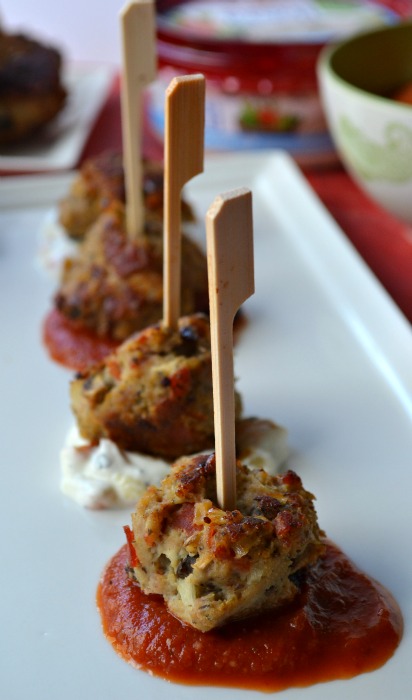 We have a few gatherings happening in the next couple of weeks and I am really excited to make different appetizers like these turkey sausage pizza bites. While they look like meatballs, these are great dipped into pizza sauce and ranch dip. I am a big pizza lover and while it would be easier to order pizzas for a tailgating party or gathering, these sausage pizza bites really do the trick without the carb overload.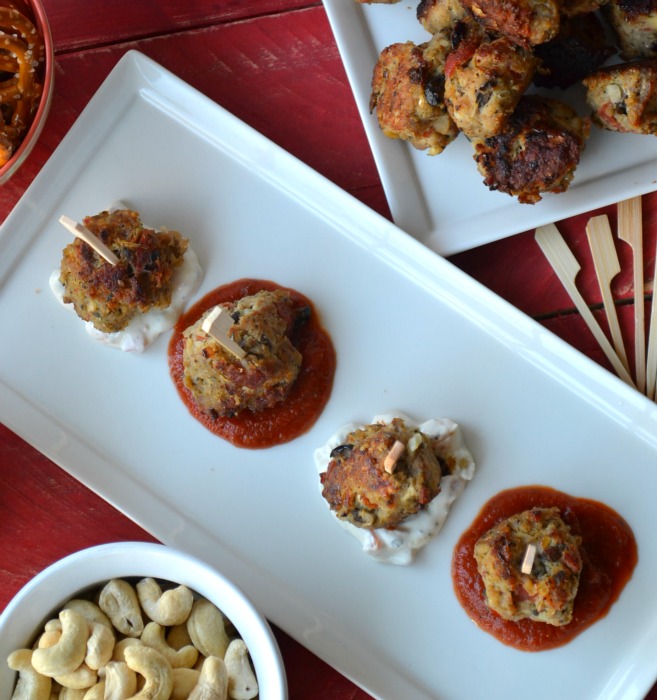 When it comes to turkey, we all know that it tends to be drier than regular meat. I like to use to because it is a leaner meat. I try to surprise my husband ever so often using turkey because he does not care for the leaner taste. I decided to use turkey sausage and used Sabra pizza hummus to bring moisture to the meat. The Sabra pizza hummus is a newer flavor that Sabra released this summer and is so tasty! It does not have any artificial flavors to make it taste like pizza but the spices it has makes it just like it.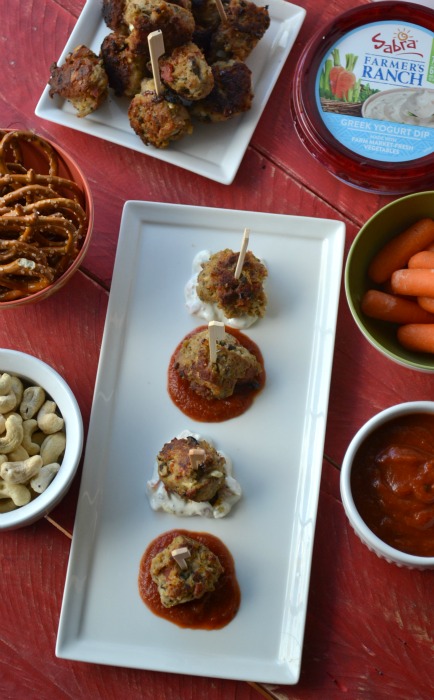 Baking these bites are great without a big mess, cooking on the stove. Not only are these flavorful but they are pretty too. Place them in a bowl or dip each of them in some Sabra Greek Yogurt Ranch Dip or pizza sauce and have them ready for your guests. Enjoy!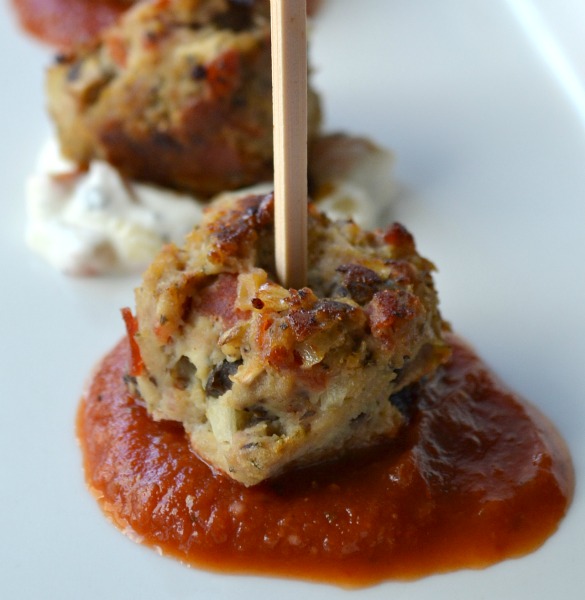 Ingredients
1 pound turkey sausage
1/3 cup Sabra pizza hummus
1/2 cup button mushrooms, diced
3/4 cup turkey pepperoni slices, chopped
3/4 cup black olives, chopped
1/2 teaspoon salt
1 Tablespoon Italian seasonings
2 garlic cloves, minced
1 teaspoon garlic powder
1/2 cup red onion, diced
Sabra Greek Yogurt Ranch Dip
Pizza Sauce
Instructions
Preheat oven to 400 degrees Fahrenheit.
In a large bowl, add the turkey sausage and the hummus and mix well.
Add the rest of the ingredients and mix well with hands.
Use 1 1/2 Tablespoons and form into 40 balls.
Spray the sausage balls with olive-oil spray.
Place balls on a baking sheet about 1/2 inch apart and bake for 15-20 minutes until golden.
Serve with pizza sauce for dipping as well as Sabra Greek Yogurt Ranch Dip
https://singerskitchen.com/2015/11/baked-turkey-sausage-pizza-bites.html/
Related