Family Traditions
We have been enjoying attending the same church the past 4 years and are looking forward spending more time there as we have more families joining. One of my favorite holidays, if I can even say that, is Easter. Not only is it because we get to spend it with friends and have delicious food, but really because I get a chance to share and relive what Jesus did for us on this Earth. My husband and I get a chance to share to our little ones about what Passion Week is all about starting with Palm Sunday.
Follow Opera Singer in the Kitchen's board Passion Week -Easter activities on Pinterest.

Activities and Traditions with Little Ones
Every year we tell a little more to our girls and it is amazing that at their ages, 3 and 4, they are able to understand so much. I am seeing very quickly that the cross, Jesus living on earth, and dying on the cross is resonating with my oldest daughter. While many might think that the Bible might be a little too deep for little ones, my husband and I have been reading out of the Gospels to our girls and a lot of it they listen to and sometimes they do not concentrate as well, but we are thankful we get a chance to share with them.
This year I have been much more intentional about doing a few crafts especially since there is so much to the week leading up to Easter. We talk about Jesus meeting with his disciples, the Lord's Supper, praying with his disciples and then being betrayed leading up to the cross.
Today we spent coloring and talking about the Lord's Supper and doing some spring crafts as well. It is great to vary and to introduce how after winter there is growth and life when spring arrives just like what Jesus does in our lives.
Follow Opera Singer in the Kitchen's board spring crafts on Pinterest.

Food
We look forward celebrating with friends this year as we did the last year, but this time instead of going to brunch, we decided to celebrate at our friends' home with their kids so we could be a lot more relaxed. When you get 5 kids under the age of 5, it can get pretty busy and hectic so we opted to stay at home.
I came up with a simple dessert that would be a great option for this Easter that could be for the kids and even the adults. While I do not feed my girls an immense amount of sugar, I feel like they desire it more or even expect a treat after meals. Sometimes we will offer a fruit and other times it will be a cookie or other type of treat. Since we have been making an effort to rid our lives of refined sugar we have been trying to do this with our kids as well.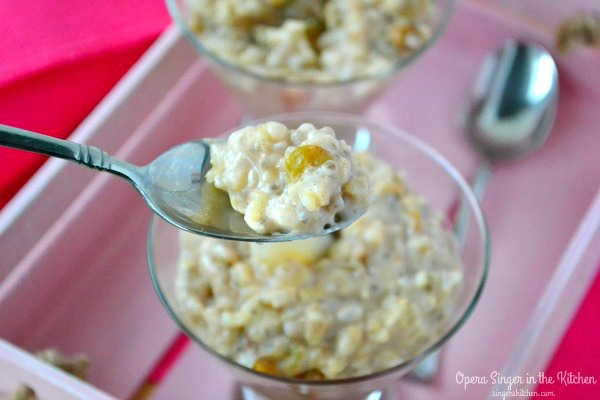 I made a Creamy Coconut Vegan Rice Pudding that was a huge hit. After we read about it in some children's book, the girls had been asking me to make some so I decided to make a healthy and creamy dessert that they would enjoy. I took a regular rice pudding that I grew up with and enjoy and replaced them with some healthier alternatives so my girls could enjoy.
I added full fat coconut milk, golden raisins, cinnamon, vanilla, chia seeds, stevia and erythritol to brown rice and let it boil down for a creamy thick dessert that was even more delicious after being in the fridge. I hope that you are able to enjoy the rest of the week and that you are able to attend a service with friends or somewhere nearby.
Prep Time: 5 minutes
Cook Time: 20 minutes
Total Time: 25 minutes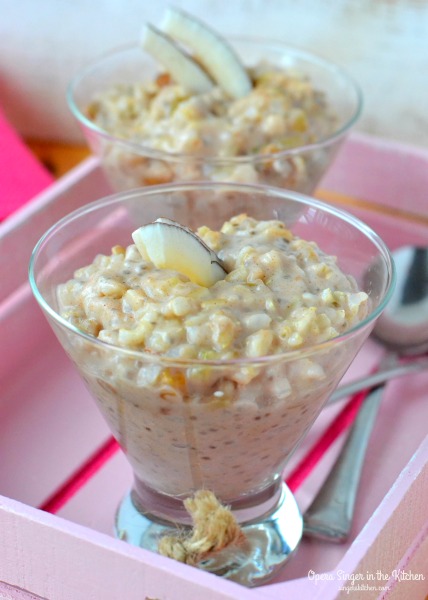 Ingredients
1- 11-ounce So Delicious full fat culinary coconut milk
2 cups cooked brown rice
1/4 cup water
1 Tablespoon orange zest
1 teaspoon vanilla extract
1 cinnamon stick
1/2 teaspoon ground cinnamon
1/2 cup golden raisins
2 tablespoons NuNaturals or Truvia (stevia + erythritol blend)
1 tablespoon chia seeds
Instructions
In a medium pot, add the cooked brown rice along with the rest of the ingredients except the chia seeds.
Mix well and heat on medium without a cover.
Allow the mixture to simmer for 10 minutes before adding the chia seeds.
Continue cooking for another 10-15 minutes until the mixture has thickened and some of the liquid has evaporated.
Allow to cool for 10 minutes and serve.
This is also delicious after being refrigerated.
https://singerskitchen.com/2016/03/vegan-coconut-rice-pudding-for-easter.html/
Related