This Pizza omelette is a delicious one serving recipe for low carb and low glycemic eating lifestyle.
I really enjoy eating pizza but we we have a bad relationship with each other. ha! I have found alternatives to enjoy the delicious flavors of pizza while maintaining and focusing on creating a healthy eating lifestyle.
While many talk about intuitive eating and not denying ourselves of eating our favorite foods, I've learned about the fact that one can have food triggers.
Do you know that how we relate to food can create unhealthy habits in our life? When I'm in stressful situations I used to reach for food but not just any food.  I've learned in the last year that my "comfort foods" are fatty foods but then it would make me gain excess weight and even more so because I didn't have a gallbladder.
My point is, we need to know ourselves and what we run to in stressful situations and that in essence and in the long run,  it will prove to be more harmful than anything else.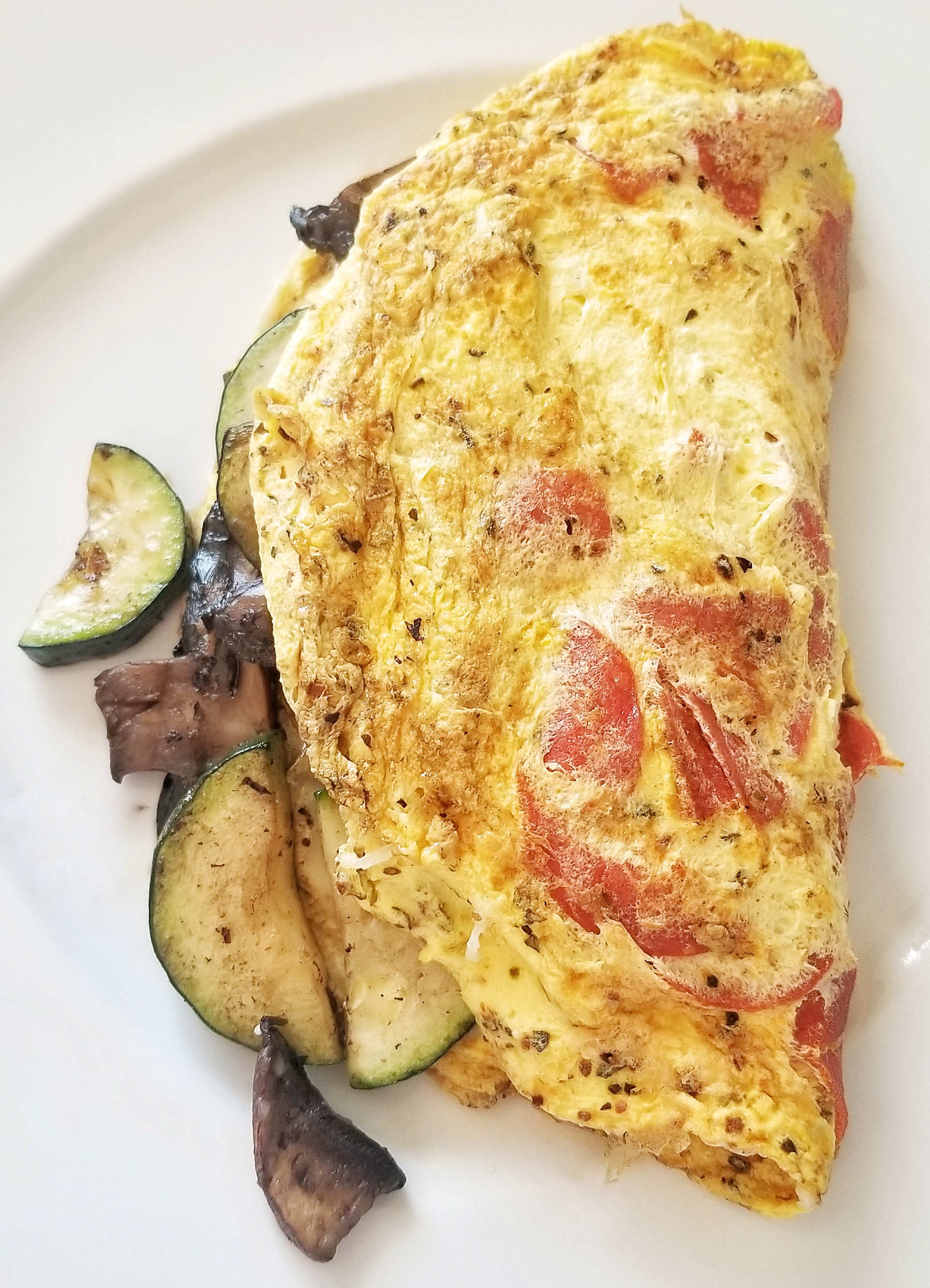 Print Recipe
Pizza Omelette
Low carb goodness using egg beaters
Keyword:
breakfast, low carb
Ingredients
Ingredients

1

cup

baby bella mushrooms

sliced

1/2

cup

zucchini

sliced

1

cup

egg beaters

1

teaspoon

pizza seasoning

pinch

of salt

1/4

cup

fat free mozzarella cheese

16

slices

Turkey pepperoni

chopped
Instructions
Ingredients

1 cup baby bella mushrooms, sliced

1/2 cup zucchini, sliced

1 cup egg beaters

1 teaspoon pizza seasoning

pinch of salt

1/4 cup fat free mozzarella cheese

16 slices Turkey pepperoni, chopped

Recipe

In a 8 inch non stick pan, spray with olive oil and add veggies and cook on medium high for 7 minutes. Remove from heat and prepare pan for eggs. In a bowl, add seasonings and egg beaters and whip. Add the chopped turkey pepperoni and add to greased 8 inch omelette pan. Cook for 5 minutes, using a spatula to allow uncooked egg to go onto pan. Flip omelette over when the middle is mostly cooked. Add cheese and veggies and fold and cook for 3 minutes and serve.
Notes
Comments
1 leaner / 3 greens / 2 condiments - need to add 1 fat
Nutrition
264 calories / 8.4 grams carbs/ 4.1 grams fat/ 45.5 grams protein
Enjoy this recipe and let me knowhow you like it.
Related